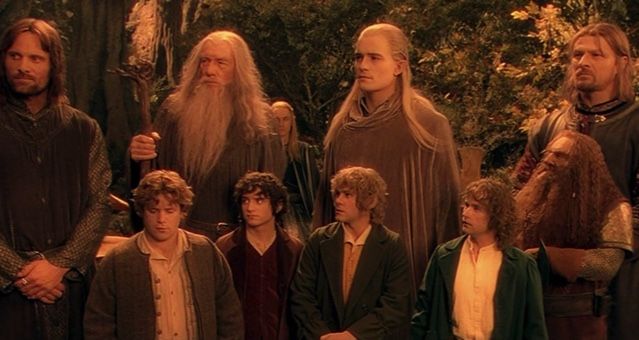 Lists
15 Books Like LORD OF THE RINGS
In general, there is one BIG SERIES that people consider the pinnacle of mainstream fantasy, but modern readers are constantly looking for books like Lord of the Rings. Whether you're not interested in Frodo's journey or just wanting to read something else that scratches the same itch, books like Lord of the Rings are good to have on hand. Below I've gathered up several books and series that tap into everything from mystical worlds to band-of-misfit adventures.
Set a few hundred years in the future, Aurora Rising follows a bedraggled group of cadets led by the jewel of the academy, a student named Tyler who becomes stuck with the dregs when his own act of heroism makes him late to graduation. The group quickly bonds around a startling mystery involving telekinesis, conspiracy, and a girl who has been in cybersleep for hundreds of years. The first in a series, this book promises to deliver on unlikely heroes and clashes between good and evil.
Hardcore sci-fi and fantasy fans know Salvatore's name—he boasts over 40 novels and is a prolific supporter of the modern epic fantasy. Drizzt is a spinoff character from an earlier trilogy, and this Dungeons and Dragons Forgotten Realms series is well reviewed and popular, with the first book giving background on Drizzt's life as an elf born into an evil society. Both described as satisfying for hardcore fans and a great intro for teens and people just getting into fantasy, this makes the don't-miss list.
Where Lord of the Rings is a sweeping epic, A Wizard of Earthsea brings more of a comparison to The Hobbit, in that the novel focuses on the story of Ged, a young wizard who struggles with the disastrous results of his pride and ignorance. Le Guin is a fantasy powerhouse (don't stop at this book!) with a breathtaking talent for rich world-building that feels effortless.
This series is so amazing in its complexity—thorny plot lines that carry for chapters and through several books, snagging where you'd never imagine they would even cross paths. The main characters are Laia and Elias, a slave and soldier in the Martial Empire. Neither content in their current position, they begin to examine the forces of evil that drive the brutality they live in, finding a unique mix of unsavory people and ancient magic. Choose this series for amazing world building, for deeply epic storytelling, and if audio is your thing, I highly suggest taking that route!
Jemisin is another don't-miss author, writing "decolonized fiction, for our post-colonial world" (author's bio). The Fifth Season is set on a far-future Earth where continents have shifted in one messy mass and the world is plagued by violent tectonic activity. People with the power to harness the Earth's energy and forestall the earthquakes are equally revered or reviled, depending on the area. This book has been celebrated for its unique magic system and inventive forms of narration. As one reviewer put it, "an extra star for the narrative's lasting power."
This story stands firmly on its own two feet, and fits into a list of books like Lord of the Rings where the appeal is the unlikely hero. Zacharias and Prunella are looked down on for their race and sex, and yet the return of magic to England rests in their capable (if underestimated) hands. The Regency era politics overlay the magical world and witty characterization for an extremely complex and enjoyable read.
This four-novel epic starts with The Demon King, a novel of stand-alone leads whose lives slowly spiral towards each other. We're introduced to different clans and classes as Han and Raisa establish their points of view in a series that slowly works its way to an action packed culmination. Queendom, wizardry, and magical amulets bounce off of topics such as the search for a sense of belonging and a wish to control personal destiny.
Readers looking for books like Lord of the Rings in general should start right here. The Deed of Paksenarrion follows many of the hallowed high-fantasy tropes—humble beginnings and magical gifts against a Middle-earth-esque world. The casting of the lead as a teenage girl brings a refreshing change, and although the story feels familiar, so many readers have remarked that Paks and her journey feel different, somehow- special, remarkable, and rereadable.
9. Sabriel by Garth Nix
Sabriel is a young woman, and her story follows as she leaves her comfort zone in search of her missing father. As she enters the Old Kingdom, her revelations have her confronting a world she has been shielded from. Readers who enjoy the journey aspect of Tolkien's books will appreciate the inventive world building we encounter as we follow Sabriel, and any reader at all will be glad to have met the tough and relatable title character.
10. Dragonsong by Anne McCaffery
In a timeline obsessed with "Mother of Dragons" memes and merch, Dragonsong is a worthy read. Mellony is a musical heroine who runs away to honor her thwarted love of music—and soon she has trained nine fire-breathing lizards to sing and become a Mistress of Music. While this is amazing enough on its own, her new charges may just have the power to save Mellony's world.
A story written in the Western fantasy tradition with elements of Japanese mythology, The Dragon Sword and the Wind Child features Saya, a teenager who largely ignores the war between the forces of light and the forces of darkness, until she finds out that is is a reincarnated priestess of the Goddess of Dark. Lord of the Rings readers will appreciate the reluctant lead and the confusion of feeling pulled between light and dark (although it's very interesting that light and dark do not translate simply to good and evil in this book), and it has been described as very atmospheric.
Described as light-hearted, thoughtful, inclusive, and epic, The Grace of Kings is worthy of the awards it has received. Kuni and Mata are opposites brought together in their fight against tyranny, but when the dust of their revolution settles, they find themselves leading separate groups with separate ideas about how to proceed. Trickster gods and mythic plot developments make this a bit different from Lord of the Rings, but the drawn-back perspective, allowing the point of view of almost an entire world, feels similar.
13. Graceling by Kristin Cashore
The first of three in the series, Graceling introduces us to Katsa, a young woman living in a world where people are Graced with different talents—singing, swimming, cooking…Katsa's talent is killing. Katsa happens to be the king's niece, which means she has been forced to use her talents for others as long as she has had them. She's done with it and slips away, bringing us to the journey portion of the story, which mirrors similar fantasy journeys that call to mind a Lord of the Rings connection.
New and very well reviewed, Song of Blood and Stone introduces us to a magical system of Earthsingers and The Silent, and two warring worlds held apart by a fragile veil called The Mantle. Jasminda, an Earthsinger living among The Silent, meets Jack, a spy from the other side of the Mantle, and learns that the separation is failing, putting peace at risk and many lives in danger. Tackling issues of race, homophobia, respectability politics, xenophobia, and more while also building a complex fantasy world, Penelope had delivered a satisfying story with strong characters.
A Middle East–inspired fantasy world, a throne held by force with both mortal and supernatural threats to contend with, and a cast of three-dimensional characters with both pros and cons to their names? This is Throne of the Crescent Moon, a series often compared by readers to the Robert E. Howard sword & sorcery Conan stories. Look here for a refreshing change to the medieval European setting that still retains the treachery and excitement of other high fantasy stories.
---
I'm sure you have other ideas for books like Lord of the Rings (I'd honestly love to hear them!) but the titles above should give a range, whether you're a fantasy reader looking for something new to read, or a librarian tucking away some back-pocket recommendations.
If you like the idea of getting recs based on your interests, you should try Book Riot's recommendation service, Tailored Book Reviews. You sign up, fill out a survey with interests, preferred genres, other favorite media, and space for anything else you can think of, and a real person reads through and goes to work handpicking recommendations for you specifically. You can either get a letter with some suggestions, or hardcover books mailed directly to your door!
If you're just looking for some more quality Lord of the Rings content, check out Your Guide to the Lord of the Rings Myers-Briggs Personality Types or The 23 Best Lines from the Lord of the Rings . Happy reading!