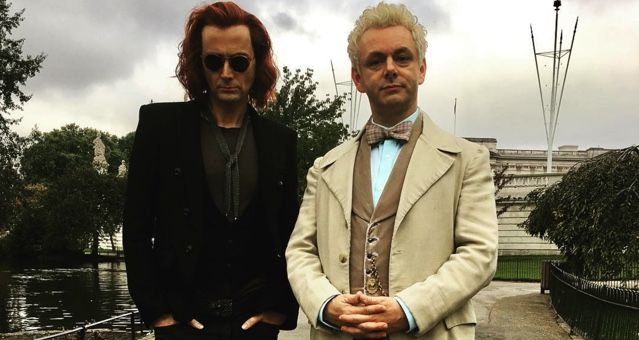 Lists
7 Quirky and Whimsical Books Like GOOD OMENS
This content contains affiliate links. When you buy through these links, we may earn an affiliate commission.
If you have the same book and television tastes as me, watching the Good Omens miniseries was bittersweet. On one hand, it was everything I could have wanted from a story. I rarely find myself laughing so hard or caring so much about characters as I did during this series. But once I'd read the book and finished the last episode, I felt a void in my TBR shelf that no book seemed to fill. But luckily, if you're desperate for more books like Good Omens, you don't have to go home from the library or bookstore unhappy.
These 7 books like Good Omens have a similar feel to Terry Pratchett and Neil Gaiman's comedic portrayal of armageddon.
Thanks to Marvel films, many of us are familiar with the trickster god Loki. But have you ever wondered what the Norse legends sound like from his perspective? The Gospel of Loki follows the rise of the Norse gods all the way to Ragnarok with a delightfully snarky narrator to tell you just what the myths got wrong about Asgard. That is, if you think you can trust him. Spanning from Loki's shunned childhood as a Jotun-born to the literal end of the world, this book explores the apocalypse in a similar tongue-in-cheek manner as Good Omens.
If you're looking for a book that captures a similar sense of whimsy and British humor as Good Omens, you can't go wrong with literally anything by Douglas Adams. But I think that of all his work, the Dirk Gently series is the best comparison. When a murder involving a 200-year-old academic's ghost, a dead cat, and the poet Samuel Taylor Coleridge occurs, not just any detective is fit for that case. Enter Dirk Gently, a private investigator who solves crimes in order to prove that everything existing thing is connected. But when you're dealing with the interconnectedness of the known universe, things can get a little tangled up—to say the least. Can Dirk Gently solve the mystery, save the world, and still have time for a pizza break in-between?
Didn't get enough apocalyptic fodder from Good Omens? In this series of short stories—some spanning pages and others just a few sentences—Lucy Corin imagines the end of the world in one hundred different ways. Some are actual armageddons, meaning the destruction of Earth as we know it, while others are the figurative or literal ends of the world for one person. Corin's portrayals of the apocalypse are as multi-faceted as it has been imagined throughout the history of humanity. These stories are at times exhilarating, somber, and thought-provoking as it attempts to forecast the end times.
Genie Lo is not the kind of person who loses. Like many teenage high achievers, she's determined to earn an acceptance letter to Harvard University—even if it means working herself to death from taking notes, playing in volleyball practice, and studying for the SAT. But that was before her Bay Area hometown was overrun with monsters from Chinese mythology. Now Genie has a new goal: battle these creatures alongside Quentin, a mysterious transfer student who claims to be the living incarnate of the Monkey King Su Wukong.
Now that you've got a taste of Terry Pratchett's writing, try embarking on the 40-plus novel adventure that is the Discworld series! The first novel follows Rincewind, an anxious and cynical "wizzard" whose magical skills leave something to be desired. Rincewind lives in the city of Ankh-Morpork, which no one in their right mind would ever want to visit. Until, that is, one does. A tourist from the Agatean Empire named Twoflower arrives and hires Rincewind to show him the dangerous and fascinating sights.
When Twoflower faces great peril, only Rincewind can save him and prevent the Agatean Empire from declaring war on Ankh-Morpork. But little does he know, he and everyone else's actions in the Discworld are not in their own hands but determined via a board game played by Fate and Lady Luck.
In a nutshell, Scott Pilgrim's life has become comfortably uncomfortable. He's 23 years old, jobless, and mooching off his roommate Wallace while moonlighting as a bassist in the band Sex Bob-omb. When Scott meets the enigmatic delivery girl Ramona Flowers, he must battle her seven evil exes in order to date her. Suddenly, Scott's entire life is thrown into chaos as he competes in final boss-style battles with a variety of quirky exes. This hilarious and fast-paced graphic novel is the first in a five-part series following Scott's quest to go out with Ramona and make some awesome music along the way. Like Good Omens, every scene in the Scott Pilgrim series is more absurd than the last and packed with characters who are equally lovable and laughable.
The state of magical affairs in England could not be worse. The once powerful English magicians have become nothing more than academics who write papers more than they perform spells. But the bibliophile Mr. Norrell remembers the wondrous past and seeks to preserve and restore it. When a promising rival magician named Jonathan Strange arrives on the scene, Norrell reluctantly takes him on as a student. The two, however, have very different ideas about what magic should be and how to control it. When Jonathan finds himself drawn to the story of the Raven King, a boy raised by fairies who becomes the legendary ruler of England and Faerie, he doesn't just risk his friendship with Norrell but the destiny of his realm.
---
Whether you're in the mood for Norse retellings, magical realms carried on the back of an intergalactic turtle, or as many apocalyptic tales as possible, I think these novels are the perfect picks for fans of books like Good Omens. For more whimsical books, check out these eight magical fantasy books perfect for curling up with after a long day.