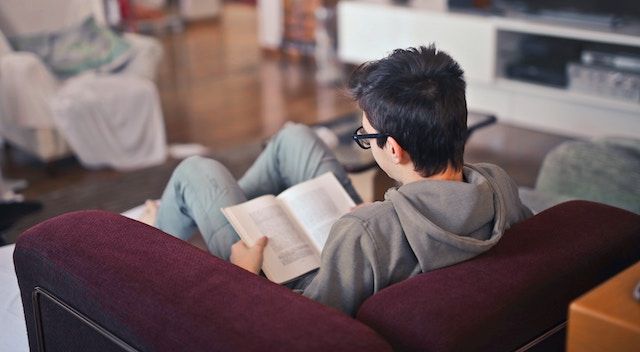 Children's
10 Funny Books Like Dog Man For Kids Who Inhale The Series
This content contains affiliate links. When you buy through these links, we may earn an affiliate commission.
Every couple of years or so, a book comes out which reignites the fire in children's literature. One of the most recent additions to this club is Dav Pilkey's Dog Man and kids (and parents) everywhere are looking for more books like Dog Man whenever they can.
My own son is a huge fan of this series. We recently visited a new local bookstore for the first time. I let him go to the children's section so I could browse with a friend. As I was leaving I noticed a display for the latest in the series, Dog Man: For Whom the Ball Rolls. I observed to her, "I wonder how long it will take for him to notice?"
Not five minutes later I heard a gasp from across the store followed by, "MOM!!"
My son can tell you everything that happens in every single Dog Man book, because yes we own every single one. Whenever a new book comes out and he sees it in a store, he gets so excited. He clutches it in his hands from the moment he sees until the moment we leave and will only release it (begrudgingly) to the cashier so they can scan it.
It does have its fair share of potty humor, so be forewarned on that. However, there are also lessons in there about being true to yourself. It also touches on not letting someone else's opinion or view of you affect the type of person you are. It also teaches that we can change for the better, not matter our circumstances.
With the holidays around the corner, you may be looking for some books like Dog Man to give as gifts. Here some books you might want to to put under the tree for your own little reader.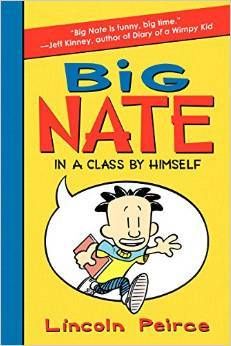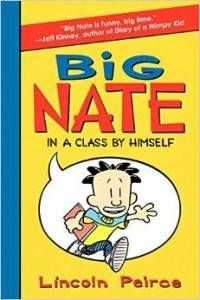 Originally released as a comic strip, these books are about Nate, a mischievous 6th grade boy and the various misadventures he faces. These include run-ins with his teachers, adventures with his friend, and battle of wits with his arch nemesis Gina. As with most other collections of comic strips there isn't one long story, but rather vignettes which can be perfect for readers who may not have long attention spans or read for short bursts at a time.
The first book in this series is called Episode 1: The Quest for Screen Time. My purchase of this was a passive aggressive attempt to get him to read more when he was younger. After all, they both already had something in common; parents who restricted their screen time. So far there are five episodes in this series but they are fairly quick and easy reads. They are also entertaining, which is sure to satisfy the pickiest of readers.
Unlike some of the others on this list of books like Dog Man, this isn't a graphic novel. But it is an easy reader with a fair amount of of pictures in it. The premise is about Axel, a die hard gamer, and the runaway robot, BEAST. The first book is about Axel rescuing BEAST from the evil organization that made him. There are multiple books in this series about the various adventures that these two go on after they meet up and initially escape the clutches of the organization. The premise of this will speak to any young reader who loves video games and has ever wanted their own robot
Olga
by Elise Gravel
This book series opens up with Olga, a young scientist, discovering a new creature. Naturally she wants to learn absolutely everything about it! This is considered a graphic-heavy novel as it is written mainly in Olga's notebook of observations. I love books that teach while entertaining and this one would certainly fit the bill. Plus, since Olga wants to know everything about this new creature, there should be a fair share of gross-out humor here as well, if your young readers are into that.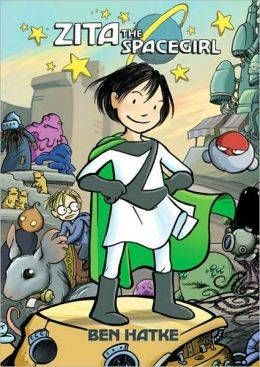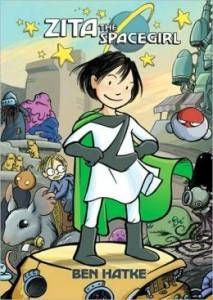 This book centers around the titular character zipping off to a new planet to help save her friend Joseph after he is abducted by aliens. While I love the switch up on who saves who in this one, it is an empowering book for all readers. Full of adventures in a new world with new creatures and beautiful illustrations. This is a trilogy so it is not a long-standing series, but it should still be a welcome addition to any personal library.
This is a semi-autobiographical story about the author's own experiences as a hard-of-hearing child. Young CeCe has to wear a 'Phonic Ear' in order to hear her teachers, which leaves her a bit bereft. She discovers, however, that this gives her superpowers and turns into 'El Deafo, Listener for All'. Also told in graphic novel form, this book helps to each empathy for those who have a differing ability as well as working as a way to help those with one find their place in the world.
This series centers around a group of animals typically thought of as bad guys. They want to break out of their stereotypical roles and do good. They sometimes have trouble breaking out of that persona with each other, evidenced by Mr. Snake repeatedly swallowing Mr. Piranha. These guys have hearts of gold which are always in the right place, and earnestly try to do good. And ultimately they always do, even if their methods are outside the norm.
This series is about the friendship between an awkward little girl and the magical creature who becomes a dear friend. Their friendship has rather auspicious beginnings. First Phoebe hits Marigold, the unicorn, in the face with a rock. Then Phoebe uses her one wish to force Marigold to be her friend. Despite that, these two forge a deep friendship and go on many adventures together. This book should be well loved by anyone who has ever felt like a misfit and worried that there was no friend in the world for them.
Okay so this is technically the second book in this series. This not necessarily a linear series, though, and can be read in any order. It centers around Zoe, a bright little girl who prefers being by herself building robots and watching classic monster movies. One day she finds a magic ring and puts it on with a twist and a "FRZAAKK!"
The next day she wakes up to a familiar kaiju waiting outside her window, wanting to be her friend. But with a friendly kaiju comes not-so-friendly kaiju. Zoe and her new kaiju friend have to work together with other classmates and would-be friends to save her town. The first in this series is called Cosmic Commander and it is also a fun book.
Moth Hush is a 13-year-old girl who is a huge fan of all things witch related. Imagine her surprise when she discovers that she is in fact a witch herself after inadvertently getting revenge on some of her bullies. Moth is sent into a whirlwind adventure and mystery involving a mystery in her hometown and her family's involvement in it. Full of humor and adventures, including falling into an enchanted diary and meeting up with a talking cat, this graphic novel debut is sure to please many fans with its humor and illustrations.
---
This list of books like Dog Man is by no means an exhaustive one. Hopefully you were able to find one for your young book dragon to start them down the path of a new reading adventure!