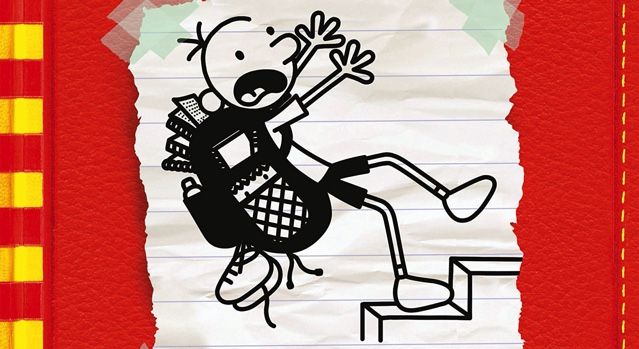 Children's
16 Fun and Funny Books Like Diary of a Wimpy Kid
This content contains affiliate links. When you buy through these links, we may earn an affiliate commission.
Jeff Kinney's Diary of a Wimpy Kid series has been popular among readers of many ages as long as they've been in print. Their combination of humor, illustrations, and memorable characters means that fans are always eager to read the next installment. But don't despair, there are lots of books like Diary of a Wimpy Kid to read once you've reached the end of Kinney's series!
The books on this list offer both alternatives to Diary of a Wimpy Kid for when a fan is looking for something new. Some are graphic novels, some are straight-up chapter books; some are funny, some a bit more heartfelt. But we think that any of these books would be great choices to read after Diary of a Wimpy Kid.
Books Like Diary of A Wimpy Kid – Graphic Novels
Amelia Rules (series) by Jimmy Gownley
This graphic novel series follows the adventures of a girl named Amelia. After her parents' divorce, she moves to a new town, where she finds new friends and faces a number of challenges from the silly to the serious.
Start with book #1: The Whole World's Crazy.
The Last Kids on Earth (series) by Max Brailler, illustrated by Douglas Holgate
This chapter book-graphic novel hybrid is sort of like what would happen if the kids from Diary of a Wimpy Kid were dropped into a monster apocalypse. Thirteen-year-old Jake keeps holed up in his armed treehouse, preparing to fight the gruesome monsters with a group of friends.
Start with book #1: The Last Kids on Earth.
Perfect for fans of Diary of a Wimpy Kid and fans of Raina Telgemeier, this graphic novel shares the story of 12-year-old Astrid's unexpected newfound love of roller derby.
If you like this book, try Jamieson's other book, All's Faire in Middle School.
This biographical graphic novel shares the story of Cece, who transfers from an all-deaf school to one where she's the only kid with a hearing aid. But then she discovers that her Phonic Ear, the same tool that makes the other kids not want to be friends with her, can secretly hear through walls…like a superpower. And so Cece becomes El Deafo, Listener For All!
Books Like Diary of A Wimpy Kid – Chapter Books
Jake the Fake (series) by Craig Robinson
Robinson, known as a comedian for his roles in Hot Tub Time Machine and Brooklyn 99, bring his famous sense of humor to this middle-grade series. Jake can't play any kind of musical instrument, but his skill at lying has got him admitted to a special school for musical prodigies. What will he do when he's called upon to perform?
Start with book #1, Jake the Fake Keeps It Real.
The Crossover (series) by Kwame Alexander
This book series, told in verse, share the stories of 12-year-old twins Josh and Jordan. Both are great at basketball, but Josh is also skilled at writing rap verses. While these books don't have the illustrations of a Diary of a Wimpy Kid, the concise writing style makes these books just as accessible.
Follow this up with book #2: Rebound
Academy Award–winning actress Octavia Spencer brings her sense of humor and creativity to this action-packed middle grade series. Randi Rhodes and her best friend D.C. are equally inspired by Bruce Lee and Nancy Drew as they set out to solve mysteries in their small town.
Follow this up with book #2: The Sweetest Heist in History.
Ellie has cerebral palsy and uses a wheelchair. She also tells it like it is, which surprises people who expect she's going to be all sunshine and cuddles. When she moves to a new town, it all feels like one challenge too many, until Ellie starts to make her first-ever friends. Now she just has to convince her mom that this town might just be the best thing that ever happened to them!
This series is a spinoff from Cabot's popular YA Princess Diaries series. Olivia has been growing up like a normal girl in New Jersey, until Princess Mia arrives to tell Olivia that they're long-lost half-sisters…meaning Olivia is a princess, too!
Start with book #1: From the Notebooks of a Middle School Princess.
If Stanford flunks his summer-school English class, he'll fail Sixth Grade. And if he fails Sixth Grade, he won't get a spot on the school's basketball team. And if he's not on the basketball team, he might lose all his friends. What's a kid to do?
If you like this one, try its prequel Millicent Min, Girl Genius.
Alvin Ho by Leonard Look, illustrated by LeUyen Pham
This series for younger middle grade readers follows the misadventures of Alvin, an Asian American second grader who is afraid of everything.
Start with book #1: Allergic to Girls, School, and Other Scary Things.
Books like Diary of a Wimpy Kid – YA
Spud (series) by John van de Ruit
Set in 1990 South Africa, 13-year-old Spud is about to start attending a boys-only boarding school. Armed with only his wits and his diary, this book takes readers on a rowdy boarding school romp full of illegal midnight swims, raging hormones, and catastrophic holidays that will leave the entire family in total hysterics and thirsty for more.
Start with book #1: Spud.
Greg and Earl are high schoolers who spend most of their time making goofy YouTube movies. When Greg is forced to reconnect with his childhood friend Rachel, who has leukemia, she becomes involved in their filmmaking plans as the trio set out to make the Worst Film Ever Made.
Winger by Andrew Smith
Fourteen-year-old Ryan attends boarding school where he's stuck in the dorm for troublemakers. This book, which includes his doodles and other illustrations, shows how he deals with life's challenges both small and silly as well as what to do when the unthinkable happens.
Start with book #1: Winger.
Sixteen-year-old Graham has been in love Roxy since they first met eight years ago. When the creator of their favorite comic will be at this year's New York Comic Con, he's inspired to create with the perfect plan to tell Roxy how he really feels about her. But no one at a comic book convention is who they appear to be…even Roxy. And Graham is starting to realize fictional love stories are way less complicated than real-life ones.
This graphic novel is one part Glee, one part Scott Pilgrim, one part battle robots, and all fun. When Nate, president of the robotics club, declares war on the cheerleaders in a battle for school funding, easygoing Charlie becomes caught in the drama.
---
Looking for even more books like Diary of a Wimpy Kid? Check out our lists of the Best Children's Books for Every Age and the Ultimate Guide to Books for Reluctant Readers Ages 12–13.