This content contains affiliate links. When you buy through these links, we may earn an affiliate commission.
I don't think I'm alone in wanting to read more books in translation. I hear readers saying that they, too, want more translation in their lives. I don't think I read nearly enough books written in languages other than English, but I have five recent books in translation that I enjoyed and want to pass along to you. All of these books were made available in English in the last year or two, and all, I'm noticing now, are by women. Cool!
Umami by Laia Jufresa, translated by Sophie Hughes
Set in Mexico City, this is a story of a neighborhood. It's composed of various narrators telling their stories, all centered on the theme of loss and grief. At the heart of the story is Ana, a 12-year-old who is trying to make sense of the loss of her sister. From there, the novel branches out into other characters and other stories, each one about secrets and pain. It's also a novel about food, gardens, and community. It's beautifully written and sad, but never oppressive or humorless.
Before by Carmen Boullosa, translated by Peter Bush
This is a book for people who like their fiction strange. Boullosa is a novelist, poet, and playwright from Mexico, and in this work she creates a haunting first-person narrator—literally haunting, as the narrator tells us she is a ghost. We spend the novel wondering what to make of this fact. The narrator describes her childhood and adolescence, including her memories, her anxieties, and her feeling of being followed by footsteps. She goes through a series of increasingly strange and inexplicable events. It's a wonderfully odd coming-of-age novel that gets us deep into the mind of a girl trying to figure out how to make sense of her world.
Seeing Red by Lina Meruane, translated by Megan McDowell
Chilean author Lina Meruane first published this searing novel in 2012, and the translation became available last year. Seeing Red tells the story of a young woman facing blindness: she has known for a while that she could lose her sight, and then one night at a party it happens. Her boyfriend doesn't get it and thinks she's drunk as she stumbles around. But her eyes have filled with blood and while she hopes an operation might help, she knows it may not. The novel is written in the first person and we spend the entire book living through her thoughts and emotions with her. It's a powerful experience.
Human Acts by Han Kang, translated by Deborah Smith
Human Acts is a difficult, violent novel, but it tells an important story, that of the Gwangju massacre in South Korea in 1980. The novel is told in interconnected chapters that move forward in time, each one filling in the picture of historical events and the human consequences of political violence. It begins in the second person, telling the story of Dong-ho, a boy who tries to help the clean-up and recovery after the initial wave of violence and who witnesses unspeakable suffering. We hear from his friend (who speaks to us from the dead), and later from survivors as they struggle with guilt and sorrow. This is a difficult book to read, but it feels vital and important.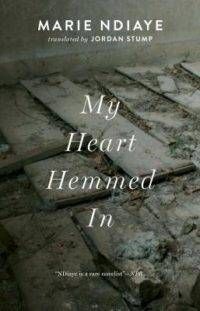 My Heart Hemmed In by Marie NDiaye, translated by Jordan Stump
Marie NDiaye's novels are deeply unsettling. In this one, published in France in 2007 and translated just this year, the main character Nadia begins to realize that her world has completely changed: for no reason she can understand, people now despise and avoid her, the city around her feels sinister and dangerous, the streets are filled with never-ending fog, and a mysterious wound appears in her husband's stomach. It's a nightmare, and she has no idea how to escape. NDiaye knows how to make us live that nightmare with her, but she also knows how to make us want to keep reading.
Save