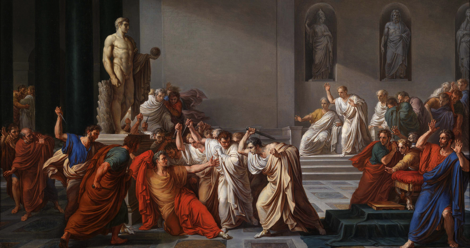 Lists
6 Books to Help You Beware the Ides of March
This content contains affiliate links. When you buy through these links, we may earn an affiliate commission.
The ides of March are upon us! As the soothsayer famously warned Julius Caesar in Shakespeare's Julius Caesar, "Beware the ides of March." And then Caesar was murdered. You know the story; the play is one of the most famous books about betrayal of all time.
Shakespeare took this from a real-life Ancient Roman tradition. The Romans celebrated a certain time each month known as the "ides," usually around the midpoint of a month, depending on the full moon. The ides were dedicated to the god Jupiter and involved several different religious rituals.
Although the calendar we use is different from the Roman calendar, the ides of March correspond roughly to March 15, aka tomorrow. In Shakespeare's play, the ides are an ill omen, a time for betrayal and murder. Hopefully we all get through March 15 unscathed. In the meantime, here are some books about betrayal and back stabbery (not a word) to get you in the mood.
The Count of Monte Cristo by Alexandre Dumas
The Count of Monte Cristo is one of the most famous books about betrayal and revenge. After Dantes is wrongly imprisoned, he learns of a treasure hoard…and decides to escape prison and use the fortune to seek revenge against those responsible for his imprisonment. In order to do that, he recreates himself as the Count of Monte Cristo, a mysterious and wealthy figure unrecognizable to his enemies.
A Map of Betrayal by Ha Jin
Yes, A Map of Betrayal literally has the word in its title, but it is a complex story about espionage and loyalty. After her parents' death, Lilian Shang discovers her father's diary, which contains new details about his secret life as a Chinese spy. Traveling to China to confront his other family, Lilian starts to realize how the damage caused by betrayal can be passed on through generations.
His Bloody Project by Graeme Macrae Burnet
In 19th-century Scotland, young crofter Roderick Macrae betrays members of his own community by killing them…or does he? Cleverly constructed as historical documents related to Macrae's trial, including a transcript and police statements, His Bloody Project reconstructs a brutal crime with a deceptively straightforward solution.
Hateship, Friendship, Courtship, Loveship, Marriage by Alice Munro
Alice Munro writes about betrayals all the time—the kind of small, achingly normal betrayals that most of us commit without even thinking about it. In the title story from Hateship, Friendship, Courtship, Loveship, Marriage, two girls betray a family friend—with surprising results. In another, "Family Furnishings," the narrator betrays her family's story by using it as the inspiration for her own writing. And infidelity forms the centerpiece of many of the other stories here. Munro is never afraid to turn a spotlight—always devastating, however small and precisely aimed—on the most commonplace betrayals.
A Separation by Katie Kitamura
After infidelity, a husband and wife agree that they will separate. He asks to keep it a secret, and she complies. But when he goes missing on a trip to Greece, and she agrees to go and search for him, she realizes that she understood almost nothing about the man she thought she loved. A Separation is a story about infidelity, betrayal, marriage, and how impossible it is to know another person.
Julius Caesar by William Shakespeare
Go back to where it all began with Shakespeare's play. Julius Caesar is actually a pretty interesting play—if you were forced to read it in high school, give it another shot now. The plot is full of intrigue and betrayal, and the language is Shakespeare at his very best, with lots of great lines that have lived on. Take Caesar's insistence that he's "constant as the Northern Star," the eternally popular "Et tu, Brute?" and "The fault, dear Brutus, is not in our stars, but in ourselves" (borrowed by John Green for The Fault in Our Stars), to say nothing of Mark Antony asking us to lend him an ear.
Shakespeare covered the topic of betrayal like no other. Check out King Lear and Othello for more.