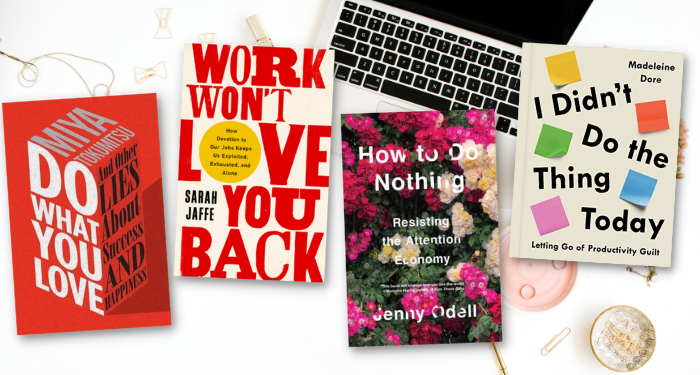 Lists
Books for the Recovering Girlboss
The age of the "GIRLBOSS" is officially over, but a lot of us are still hanging on to some of the toxic ideals of #GirlBoss culture. How do we shake the girlboss out of us for good? Read on to find out!
Let's take a quick rewind first though. Let's go back to January 2020. It was not only the beginning of a new year. We were all looking forward to a new decade full of possibilities. Like many people in 2020, my New Year's resolution for the year was all professionally focused. I wanted to be a "Boss Bitch." I wanted to work hard and crush my goals. I had fully bought in to hustle culture and I was ready to be one of the people who profited from that lifestyle.
Do I know look back at 2020 Me and cringe a little? Am I ashamed to even share this shameful past with you, reader? Absolutely. 100%.
In fact, a lot of us probably look back at our pre-pandemic goals for ourselves and cringe a little. The pandemic has been a terrible experience in so many ways. We've lost friends and loved ones. There's a new, heightened anxiety about leaving the house and how to care for the health of ourselves and others. But the pandemic did do one positive thing: it forced many of us to slow down a little and reassess what really matters.
And you know what I (and you) should refuse to value in 2023? Girlboss culture. The Girlboss saw merit in the cutthroat capitalist society established by white men and sought to profit from that way of life. For so many reasons, in 2023, we know that this lifestyle does not make sense. That hustle mentality is officially over.
Are you ready to let go of your toxic #GirlBoss ambitions for good? Read these books.
---
Looking for more to read to escape your past Girlboss tendencies? Check out these books about capitalism and the antiwork movement. Or try to rest more by reading these books about how to do nothing. Good luck out there, former Girlboss.