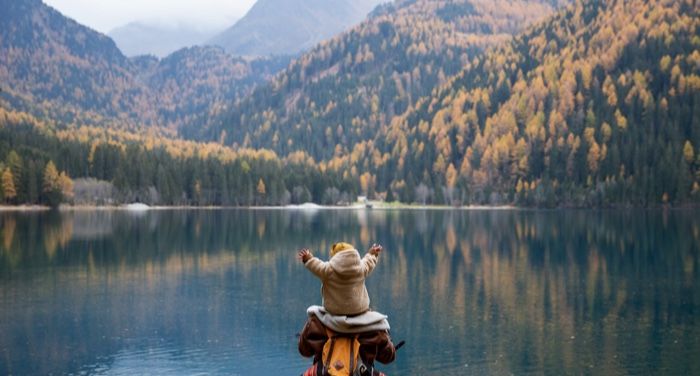 Children's
Books for the Budding Young Naturalist in Your Life
This content contains affiliate links. When you buy through these links, we may earn an affiliate commission.
If you have a young child, chances are you've at least heard of the importance of being outside for kids. In her book Balanced and Barefoot, pediatric occupational therapist (OT) and TimberNook founder Angela Hanscom writes about the benefits of outdoor play and how the sensory aspects of nature can have a big impact on kids. (I've noticed this myself with my own son, as has his OT). The average American child spends about four to seven minutes a day outside — yet they spend over seven hours a day on a screen.
Spending time in nature improves mood, helps with self-regulation, and can help with focus. Richard Louv writes about these things extensively in his books Last Child in the Woods and Vitamin N. But perhaps even more so, spending time in nature and appreciating the natural world builds on the inherent sense of wonder that kids have about the world. It helps them appreciate forests, understand the need for clean air and water, and makes the abstract concepts of climate change and other environmental issues very real, in a concrete way. Spending time outside can instill a love for nature, which is crucial for the future of our Earth.
My son and I started going to a weekly nature class in September. I am not naturally outdoorsy; this was a conscious choice to expose my son to more nature, since it's not always easy to do so as a single mom who works full-time (and then some). The two of us go on hikes, learn about that day's lesson, and then we come home and add the topic to our homeschooling for the week, doing a deep dive into the subject. We also started exploring the national parks, monuments, and trails last year, earning Junior Ranger badges while also learning about the history of these places and the ecological issues they face today.
The result has been wholly unexpected: both my son and I have fallen in love with nature. My son eagerly flops down on the ground in the woods to look at lichen, moss, and fungi. He learns about birds and trees, types of wildflowers, and insects. He has become, to my delight and surprise, quite the young naturalist.
That being said, the outdoor/ecology/conservation space has a history of ableism, racism, and exclusion that has not always made it easy for those who don't fit a certain mold to feel comfortable in those spaces. This is reflected in nature and outdoors books, as well. There have been more books being published in this genre by non–cis men, but there's still a gender disparity. While we are seeing slightly more diverse nature writers in adult books, in my experience, diversity in children's books is lagging behind, especially in children's nonfiction about nature.
Social media, on the other hand, is blossoming with diverse resources for those who are outdoors-minded and budding naturalists. Accounts like @DiversifyOutdoors, @nationalparkcapable, and @blackgirlstrekkin are just some of these. But again, for children, it's a little more difficult. Kids are probably less likely to be scrolling Instagram (that's a good thing!), but for those with smartphones, there are lots of naturalist apps where they can connect with people around the world, nurturing their budding young naturalist skills — apps like iNaturalist, eBird, and Nature's Notebook are great. April is Citizen Science Month, and SciStarter has resources that get everyone involved!
But despite all of the technology, sometimes it's nice to just curl up with a stack of books. Here are some that are sure to pique the interest of any young naturalist, and inspire them to keep observing and wondering.
If you're looking for even more science and nature books, check out this post on nature books for kids, and this post on science books for kids! What will you read first to start your nature adventures?