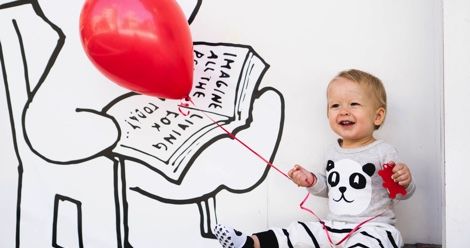 Children's
9 Sweet Books for Teaching Toddlers Good Manners
This content contains affiliate links. When you buy through these links, we may earn an affiliate commission.
Over the past few months, we have been waging war in my house. On one side, there are two moms: intelligent, capable, slightly exhausted, definitely sweaty. On the other side, our formidable opponent: our two year-old son. Each day finds a new battle—put your clothes in the hamper, let me change your diaper, eat something for dinner, don't climb the cat tree. But perhaps the biggest has been The Battle of Please and Thank You. Now, my sweet angel baby has an adorable little voice, big opinions, and he's quite charming. But it took months to get him to follow up his demands with "please," to accept an offering and then say "thank you."
We've won that battle, but not the war. And one way we show up to emerge victorious from this thing to guide him gently away from pushing, biting, pitching fits, and generally wreaking havoc on people is to use one of the best tools out there: the board book. And because that sacred tool has worked wonders for us, I've created a list of board books (and a few picture books) to help the little ones learn good manners.
the little blue truck by Alice Schertle, Illustrated By Jill McElmurry
The Little Blue Truck bumps down the road, giving a "beep beep" hello to all the farm animals. But the Dump Truck? Nah, that guy is super rude. But when he gets stuck in the mud, he'll need Little Blue's help, as well as all those farm animals, to get out of that situation. A great book for learning the virtue of being friendly and kind to everyone.
room on the broom by Julia Donaldson, illustrated by Alex Scheffler
The witch and her cat are out for a ride on the old broomstick when the wind takes her hat, her wand, and her bow! Luckily the items are found by three kind animals and all they want in return is a ride on the broom. But is there room for everyone to share? (Short answer: yep.)
You know what my kid does? He flashes this impish grin when he knows he's about to do something naughty. Enter No, David, a similarly impish and decidedly mischievous boy who gets told "no" a lot.
penguin says please, etc., By Michael Dahl, Illustrated by Oriol Vidal
Y'all, this is firsthand endorsement here: these books are amazing. My son learned that when you want food, drinks, and socks, the right way to ask is to say "please." All thanks to Penguin Says Please. Michael Dahl has an entire line of animals with manners, so collect these and help your kid memorize them.
decibella by Julia Cook, Illustrated by Anita Du Falla
Isabella loves to yell so much that it has earned her the nickname Decibella. But Isabella must learn that there's a time and a place, and the five volumes of voice can come in handy in different situations.
What is the right way to ask Mr. Panda for one of his delicious donuts? To say "please" and "thank you," of course! But the animals Mr. Panda meets don't quite understand that yet, and so our story unfolds.
Harry the Mouse lives in the English countryside. One day, he helps a frog, and he says the frog can repay him by doing something kind for someone else. We watch the kindness get paid forward with all the animals, making everyone as happy as Harry in the process.
These final two are picture books, and admittedly they are likely for a slightly older audience (preschool rather than toddler), but as the messages are really entwined with the idea of good manners (that is, to be kind to ourselves and to others), I wanted to include them.
Everyone dreams of a taste of Omu's delicious soup, and one by one, they show up to ask for a bit. Omu generously shares, but soon the pot is empty! What will Omu do now that she has no soup for herself?
Esperanza finds a heart-shaped rock and sees it as a reminder to spread love and kindness to all. But when the school play doesn't go how she expected it to, Esperanza is challenged with showing love and kindness to herself as well, an even greater challenge for lots of people.
For more great book recommendations, check out 50 Must-Read Board Books for Babies; 5 Excellent Board Books That Are Not Good Night Moon; and 50 Must-Read Preschool Books.