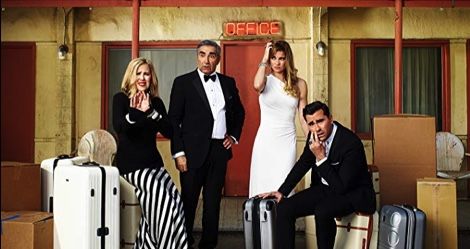 Lists
5 Books For When You've Finished Marathoning Schitt's Creek
This content contains affiliate links. When you buy through these links, we may earn an affiliate commission.
Have you heard of Schitt's Creek? The Canadian sitcom, starring a hilarious ensemble led by Catherine O'Hara and Eugene Levy, has been stealthily winning hearts around the world. The series follows the wealthy Rose family who, after losing their fortune, relocate to a small town named Schitt's Creek. As the family adjusts to their new lives, their well-to-do attitudes come into conflict with the more unsophisticated (but usually down-to-earth) residents of Schitt's Creek.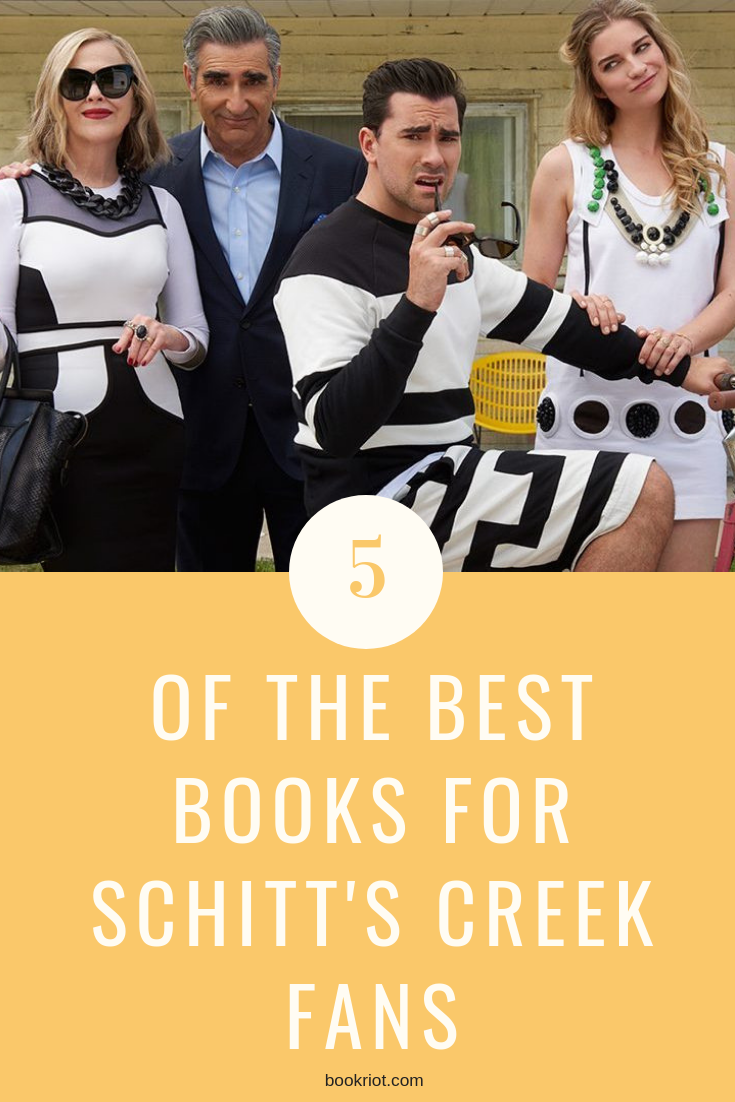 The show's particular mixture of joy, sweetness, heart, and hilarity has made it a stealth hit to anyone who's happened upon one of its episodes. Once you've marathoned all the episodes, here are some books with a similar vibe to keep you in the Schitt's Creek mood.
Twenty-nine-year-old Raina is still unmarried, much to the dismay of her family. The pressure to settle down reaches new heights when her grandmother decides to play matchmaker in order to find her the perfect man. Eager not to disappoint her family, Raina goes along with the plan, but when the love of her life returns, she's forced to confront her true feelings and decide what she really wants.
Prudence Burns, a well-intentioned New Yorker full of back-to-the-land ideals, just inherited Woefield Farm—thirty acres of scrubland, dilapidated buildings, and one half-sheared sheep. But the bank is about to foreclose, so Prudence must turn things around fast! This book's sequel, Republic of Dirt, also has a Schitt's Creek style of sweet hilarity.
The British-born Punjabi Shergill sisters—Rajni, Jezmeen, and Shirnia—have never been close. But when their mother's dying wish is for the three women to make a pilgrimage together to carry out her final rites, they set out on a trip. Arriving in India, these sisters will make unexpected discoveries about themselves, their mother, and their lives.
The Beijing Duck House in Rockville, Maryland is its own world, inhabited by waiters and kitchen staff who have been fighting, loving, and aging within its walls for decades. When disaster strikes, this working family's controlled chaos is set loose, forcing each character to confront the conflicts that fast-paced restaurant life has kept at bay.
Mr. and Mrs. Jha's life is upended when Mr. Jha comes into an enormous and unexpected sum of money, and moves his wife from their housing complex in East Delhi to the super-rich side of town. This move sets off a chain of events that rock their neighbors, their marriage, and their son, and brings unintended consequences, ultimately forcing the Jha family to reckon with what really matters.