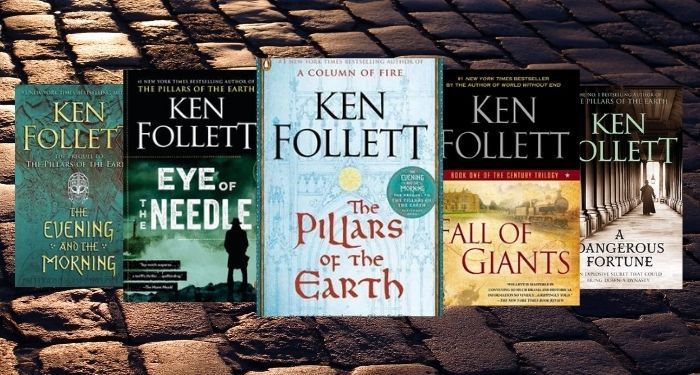 Lists
Books for Ken Follett Fans
This content contains affiliate links. When you buy through these links, we may earn an affiliate commission.
You might be here because you felt bereft at the end of the Kingsbridge story, or because Fall of Giants made left you gasping for more. Or perhaps you've never even heard of Ken Follett, the Welsh novelist who got into writing because he needed money to fix his car — and a colleague had been paid a book advance which was exactly the amount Follett needed. Within a few years, Follett had published Eye of the Needle, a thriller which became an international bestseller.
Follett did well on the bestseller list from that point on and has published some 44 books. His early work was in the spy thriller genre, but in 1989 he published Pillars of the Earth, a novel about a cathedral built in the English village of Kingsbridge during the Anarchy in the 12th century. To date it's sold 26 million copies and been adapted to a well-regarded video game. He followed it up with World Without End, set 157 years after Pillars, and finished the trilogy with A Column of Fire. Follet's Kingsbridge series has captured the hearts of millions because it comprehensively explains the development of a civilisation as a whole: institutions, families, beliefs and laws are all brought to life by Follett's pen.
The story of Kingsbridge was a magnum opus all on its own, but then Follett started publishing the Century trilogy — Fall of Giants, Winter of the World and Edge of Eternity, following the fates of five interrelated families through the First World War right through to the second half of the 20th century. The breadth and scale of the Century trilogy is almost beyond belief, it's one of my absolute favourites.
I've recommended Follett to lots of people, and almost inevitably, they come back saying 'More! I want more!' Whether you're between Folletts, or fancy a Follett follow-up, this list might give you some ideas for more immersive, historical and thrilling fiction in the vein of Mr Follett. But of course, if you love Follett, the recommendation stands that you should consider reading even more Follett!
For the Spy Thriller Lovers
For the Kingsbridge Lovers
For the Century Trilogy Lovers
All of this has made me desperate to reread Dracula, clamber into the Hindu Kush with Pilgrim, and yes, start Pillars of the Earth all over again. If you need me, I'll be lost in a good book.