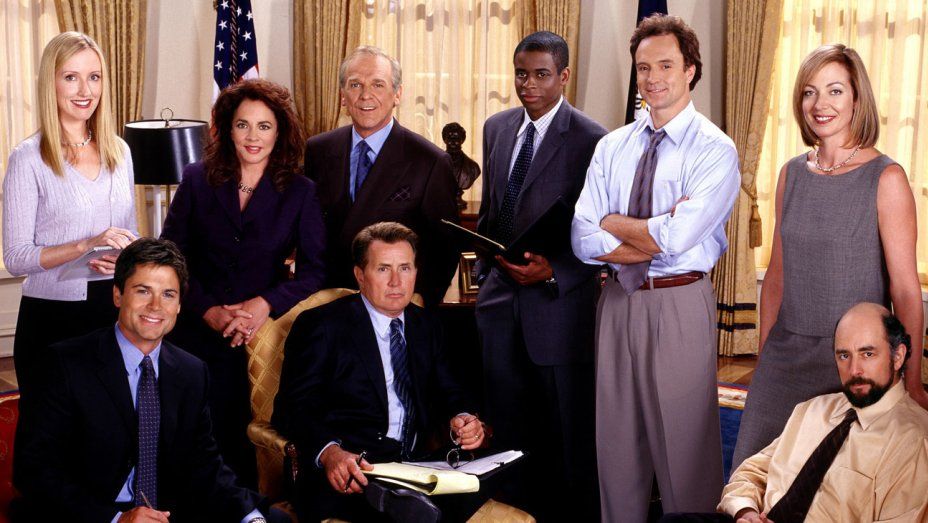 Lists
50 Must-Read Books for Fans of THE WEST WING
This content contains affiliate links. When you buy through these links, we may earn an affiliate commission.
Happy Election Day, everyone! Firstly, if you haven't already, go and vote. Secondly, on what may well turn out to be the brightest political spot we've had in a while, allow me to transport you back to another time when politics were hopeful and inspiring. Yes, that's right: the Bartlet administration.
If you've ever bumped into me online, you probably know about my West Wing­, um, obsession. I even moved to DC because I love the show so much. (Yes, really.) But before living here was a reality, I spent a lot of time living here in my head by reading novels set in the political world. I've rounded up those novels here so you can do the same, and added other books you'll likely enjoy if you're a fellow Wingnut, whether fiction or nonfiction (no poetry yet, but if you know of some, feel free to recommend it!).
All book descriptions with quotation marks are taken from Amazon.
Novels Like The West Wing
"A kind, bookish only child born in the 1940s, Alice Lindgren has no idea that she will one day end up in the White House, married to the president. In her small Wisconsin hometown, she learns the virtues of politeness, but a tragic accident when she is seventeen shatters her identity and changes the trajectory of her life. More than a decade later, when the charismatic son of a powerful Republican family sweeps her off her feet, she is surprised to find herself admitted into a world of privilege. And when her husband unexpectedly becomes governor and then president, she discovers that she is married to a man she both loves and fundamentally disagrees with–and that her private beliefs increasingly run against her public persona. As her husband's presidency enters its second term, Alice must confront contradictions years in the making and face questions nearly impossible to answer."
"Cady Davenport is living the American dream…At least she's supposed to be. But when her husband-to-be hits the road for the upcoming presidential election, Cady realizes she's on her own. Until she finds herself thrust straight into the heart of the most influential inner circle in Washington, DC: the campaign widows. As friends, they're an unlikely group—a fabulous Georgetown doyenne; a speechwriter turned mommy blogger; an artsy website editor; and a First Lady Hopeful who's not convinced she wants the job. But they share one undeniable bond: their spouses are all out on the trail during a hotly contested election season. And their friendship might be just what Cady needs to find the strength to pursue her own happiness."
Capitol Hell by Jayne J. Jones and Alicia M. Long
"When recent college graduate Allison Amundson, a small town girl from South Dakota, lands the highly sought-after job of scheduler to the newly-elected and rising star of the United States Senate, Senator Anders McDermott III, she initially thinks she is on the fast track to success. However, she quickly learns that crazy co-workers, a high maintenance boss, the boss's over-the-top demanding family, and an unexpected Presidential bid make Capitol Hill seem even more dysfunctional than it looks on TV. In fact, it is Capitol Hell."
Capitol Offense by Barbara Mikulski and Marylouise Oates
"Gorzack to serve out the term of a suddenly deceased senior senator has angered some extremists from her home state, and after two murders Norie must find out who wants her dead and why." I just love that Barbara Mikulski co-wrote this.
"A searing, suspenseful story of political ambition, marriage, class, sexual politics, and infidelity, Charlotte Walsh Likes to Win is an insightful portrait of what it takes for a woman to run for national office in America today. In a dramatic political moment like no other with more women running for office than ever before, Jo Piazza's novel is timely, engrossing, and perfect for readers on both sides of the aisle."
Dog Days by Ana Maria Cox
"Melanie Thorton's promising career as a campaign staffer for presidential hopeful John Hillman is compromised by a renegade political group that possesses scandalous information about the candidate and a gossip columnist who would exploit Melanie's affair with a married political journalist."
"When twenty-something political fundraiser Olivia Greenley is recruited by her close friend Jacob Harriston to join the Presidential campaign of Georgia Governor Landon Taylor, she is intoxicated by optimism and opportunity. Taylor's commitment to social equality and economic responsibility in the post-housing-bubble era is palpable. Sacrificing her sleep, comfort and income are certain to help make the world a better place. Right?"
"Charlotte Kramer, the 45th US President, Melanie Kingston, the White House chief of staff, and Dale Smith, a White House correspondent for one of the networks are all working tirelessly on Charlotte's campaign for re-election. At the very moment when they should have been securing success, though, Kramer's White House implodes under rumors of her husband's infidelity and grave errors of judgment on the part of her closest national security advisor. In an upheaval that threatens not only the presidency, but the safety of the American people, Charlotte must fight to regain her footing and protect the the country she has given her life to serving."
"Talcott Garland is a successful law professor, devoted father, and husband of a beautiful and ambitious woman, whose future desires may threaten the family he holds so dear. When Talcott's father, Judge Oliver Garland, a disgraced former Supreme Court nominee, is found dead under suspicioius circumstances, Talcott wonders if he may have been murdered. Guided by the elements of a mysterious puzzle that his father left, Talcott must risk his marriage, his career and even his life in his quest for justice. Superbly written and filled with memorable characters, The Emperor of Ocean Park is both a stunning literary achievement and a grand literary entertainment."
"A New York newlywed, Beth was supportive when her husband, Matt, decided to follow his political dreams all the way to Washington. Yet soon after they move to D.C., Beth realizes that she hates everything about it: the traffic circles, the ubiquitous Ann Taylor suits, the humidity that descends each summer, and, most of all, the lonely dinner parties where anyone who doesn't work in politics is politely ignored. Things start to change when the couple meets a charismatic White House staffer named Jimmy and his wife, Ashleigh. The four become inseparable, coordinating brunches, birthdays, and long weekends away. But as Jimmy's star rises higher and higher, the couples' friendship—and Beth's relationship with Matt—is threatened by jealousy, competition, and rumors."
"From a former Politico reporter, a fast-paced debut novel about a young journalist at D.C.'s hottest (and most cut-throat) political rag who uncovers a scandal sure to turn the Beltway inside out."
"Emily Bird was raised not to ask questions. She has perfect hair, the perfect boyfriend, and a perfect Ivy-League future. But a chance meeting with Roosevelt David, a homeland security agent, at a party for Washington DC's elite leads to Bird waking up in a hospital, days later, with no memory of the end of the night."
"Michael Picetti: a cynical Democrat who has seen too many failed campaigns. It's not his first primary, and it's been a while since he's truly believed policy and public good trump all. Lydia Reales: young, hard-working, optimistic…Republican. Getting her candidate in office means everything to her, and leaves zero time for a love life. As the campaign rages on and a reckless affair becomes a relationship, the inevitable reality sets in. In the end, loyalty to the campaign has to win. It doesn't matter at what cost."
"What happens if the President-elect of the United States dies before the Electoral College has a chance to officially vote him in? What happens if the Vice President-elect is a man who nobody dreams could be President? What happens if the highest office in the land is suddenly up for grabs—and the most ruthless pols, the smoothest power brokers, the minions of the media, and just plain ordinary citizens get into the wildest act in the three-ring circus of American politics?"
"Fifteen years after his career-defining case against Cole Oil, Jay Porter is broke and tired. That victory might have won the environmental lawyer fame, but thanks to a string of appeals, he hasn't seen a dime. His latest case—representing Pleasantville in the wake of a chemical fire—is dragging on, shaking his confidence and raising doubts about him within this upwardly mobile black community on Houston's north side. Though Jay still believes in doing what's right, he is done fighting other people's battles. Once he has his piece of the settlement, the single father is going to devote himself to what matters most—his children."
"A brilliant and penetrating look behind the scenes of modern American politics, Primary Colors is a funny, wise, and dramatic story with characters and events that resemble some familiar, real-life figures. When a former congressional aide becomes part of the staff of the governor of a small Southern state, he watches in horror, admiration, and amazement, as the governor mixes calculation and sincerity in his not-so-above-board campaign for the presidency."
"Liza Palmer couldn't be happier when her sorority sister and closest guy friend hit it off and announce their engagement. Chante is a partner at a prestigious law firm. Robert is running for the North Carolina senate. They're a power couple made in heaven ― until Liza discovers Robert with another woman. She can't possibly support his campaign, much less marry Chante. But when Liza tries to reveal the truth, Robert pulls out every corrupt trick in the book."
"Kristin Gore, comedy writer and daughter of Tipper and Al Gore, made her hilarious and touching fiction debut with her entertaining look at Capitol Hill as seen through the eyes of Samantha 'Sammy' Joyce a particularly charming young staffer."
"Never let them see you sweat-that's White House Assistant Chef Olivia Paras's motto, which is pretty hard to honor in the most important kitchen in the world. She's hell-bent on earning her dream job, Executive Chef. There's just one thing: her nemesis is vying for it, too. Well, that and the fact that an elusive assassin wants to see her fry."
"First Daughter Audrey Rhodes can't wait for the party she has planned. The decorations are all set and the pizza is on its way. But the Secret Service must be out to ruin her life, because they cancel at the last minute, squashing Audrey's chances for making any new friends. What good is having your own bowling alley if you don't have anyone to play with? Audrey is ready to give up and spend the next four years totally friendless―until she discovers Alice Roosevelt's hidden diary. The former First Daughter's outrageous antics give Audrey a ton of ideas for having fun…and get her into more trouble than she can handle."
"Kate Quinn's mom died last year, leaving Kate parentless and reeling. So when the unexpected shows up in her living room, Kate must confront another reality she never thought possible—or thought of at all. Kate does have a father. He's a powerful politician. And he's running for U.S. President. Suddenly, Kate's moving in with a family she never knew she had, joining a campaign in support of a man she hardly knows, and falling for a rebellious boy who may not have the purest motives. This is Kate's new life. But who is Kate? When what she truly believes flies in the face of the campaign's talking points, she must decide. Does she turn to the family she barely knows, the boy she knows but doesn't necessarily trust, or face a third, even scarier option?"
"Rachel Grossman will stop at nothing to protect her daughter, Aviva, even if it ends up costing her everything. Jane Young is disrupting a quiet life with her daughter, Ruby, to seek political office for the first time. Ruby Young thinks her mom has a secret. She's right. Embeth Levin has made a career of cleaning up her congressman husband's messes. Aviva Grossman: The Internet won't let her or anyone else forget her past transgressions.
This is the story of five women . . . and the sex scandal that binds them together."
Books About The West Wing Itself
"This collection of essays on the work of Aaron Sorkin affords greater insight into the complexities of his writing, drawing connections between the film and television output of today's most prominent and influential screenwriter. Scholars from various fields—film, literature, art history, political science, and more—examine the thematic content and rhetorical strategy of Sorkin's writing. Eleven essayists explore the subtle, pervasive and often contradictory messages woven throughout Sorkin's work, from politics to portrayals of women, and consider his impact on film, television and culture. An interview with Aaron Sorkin precedes the essays, each of which has notes and a bibliography."
"Essential reading for every fan of the multi-award-winning drama."
"This book examines how film and television drama contribute to shaping the presidency and the way most Americans understand it, and particularly the processes of political education. The text discusses The West Wing's didactic potential, its representation of White House politics, and its depiction of race and gender, with commentary on how fictional representations of the presidency become important elements of American political consciousness."
(Disclaimer: I'm the editor!)
"In this anthology of quotes and essays, contributors from six countries, ranging in age from twenty to seventy years old, tell their West Wing stories."
"McCabe begins by examining the series' broadcasting history, including its scheduling in the United States and around the world, and how the show defines channels and television markets. McCabe goes on to explore the role of the show's creator Aaron Sorkin as a TV auteur and investigates the program's aesthetic principles, including the distinctive look, feel, and sounds of the series. McCabe concludes by considering the political discourse of The West Wing, as the show spoke back to a U.S. culture divided by politics, race, and gender as well as the trauma of 9/11 and anxieties over terrorism and the wars in Iraq and Afghanistan. McCabe's analysis of The West Wing provides an intriguing look at the institutional, formal, and cultural politics of television."
"Eminent scholars Peter C. Rollins and John O'Connor make an important contribution to the field with an eclectic mix of essays, which translate visual language into on-screen politics. While the series may be criticized as "idealistic," its clever techniques of camera work, lighting, editing, and mise en scene reflect America's best image of itself, and entertains a loyal audience that desperately wants to believe in the nobility of the American dream. This collection introduces readers to the sensibilities to appreciate the show's nuances and the necessary knowledge to avoid any misreadings. It will be of interest to students of politics, popular culture, fans and critics alike."
The West Wing: The Official Companion by Ian Jackman and Paul Ruditis
"The official companion volume to the critically acclaimed NBC television series journeys behind the cameras to provide a close-up look at the cast and crew of The West Wing, along with a profile of its creator, Aaron Sorkin, a history of the series, comprehensive episode summaries, and full-color photographs."
First-time publication of 8 full scripts from the hit NBC show, winner of 9 Emmy Awards, including Best Drama. (There's also another volume.)
Memoirs by West Wing Actors
I've listed a few of these before in another post, but there's also:
Along The Way by Martin Sheen and Emilio Estevez
"In this remarkable dual memoir, film legend Martin Sheen and accomplished actor/filmmaker Emilio Estevez recount their lives as father and son. In alternating chapters—and in voices that are as eloquent as they are different—they tell stories spanning more than fifty years of family history, and reflect on their journeys into two different kinds of faith."
The audiobook is narrated by Martin Sheen and Emilio Estevez, too.
Memoirs and Biographies of the White House
Bradley Whitford read this book to prepare for his role as Josh Lyman.
"What Liar's Poker did to Wall Street, this book will do to politics. It is an irreverent & intimate portrait of how the nation's weighty business is conducted by people whose egos & idiosyncrasies are no sturdier than anyone else's. Including sharp portraits of the Clintons, Al Gore, Dick Morris, Colin Powell, & scores of others, as well as candid & revelatory accounts of the famous debacles & triumphs of an administration that constantly went over the top, All Too Human is, like its author, a brilliant combination of pragmatic insight & idealism. It is destined to be the most important & enduring book to come out of the Clinton administration."
Becoming by Michelle Obama
"In her memoir, a work of deep reflection and mesmerizing storytelling, Michelle Obama invites readers into her world, chronicling the experiences that have shaped her—from her childhood on the South Side of Chicago to her years as an executive balancing the demands of motherhood and work, to her time spent at the world's most famous address. With unerring honesty and lively wit, she describes her triumphs and her disappointments, both public and private, telling her full story as she has lived it—in her own words and on her own terms. Warm, wise, and revelatory, Becoming is the deeply personal reckoning of a woman of soul and substance who has steadily defied expectations—and whose story inspires us to do the same."
"Never before has a journalist penetrated the wall of secrecy that surrounds the U.S. Secret Service, that elite corps of agents who pledge to take a bullet to protect the president and his family. Kessler portrays the dangers that agents face and how they carry out their missions–from how they are trained to how they spot and assess potential threats. With fly-on-the-wall perspective, he captures the drama and tension that characterize agents' lives and reveals what they have seen, providing startling, previously untold stories about the presidents, from John F. Kennedy and Lyndon Johnson to George W. Bush and Barack Obama, as well as about their families, Cabinet officers, and White House aides."
"Reggie Love is a unique witness to history, whose introduction to Washington was working in Junior Senator Barack Obama's mailroom. As "body man" to Obama during his first presidential campaign, Love's job was to stay one step behind the candidate, but think and act three steps ahead during a typical eighteen-hour workday. As President Obama's personal aide during that momentous first term, Love sat yards from the Oval Office and often spent more time with the President than anyone else. While his experiences were unique, the lessons he learned during his tenure with the President are universal. Persistence. Responsibility. Passion for a cause greater than yourself. In short, maturity."
"Adrian Miller vividly tells the stories of the African Americans who worked in the presidential food service as chefs, personal cooks, butlers, stewards, and servers for every First Family since George and Martha Washington. Miller brings together the names and words of more than 150 black men and women who played remarkable roles in unforgettable events in the nation's history."
"America's First Families are unknowable in many ways. No one has insight into their true character like the people who serve their meals and make their beds every day. Full of stories and details by turns dramatic, humorous, and heartwarming, The Residence reveals daily life in the White House as it is really lived through the voices of the maids, butlers, cooks, florists, doormen, engineers, and others who tend to the needs of the President and First Family."
"When we elect a president, we elect with them an entire team that will join them in the West Wing to help run the country. Each of these staffers has a story to tell, and in West Wingers, Barack Obama's White House staff reveals how these extraordinary citizens shape the presidency and the nation. In these moving and revealing personal stories, eighteen Obama staffers bring us deep inside the presidency, offering intimate accounts of how they made it to the White House, what they witnessed, and what they accomplished there."
"Reflecting on her own tenure as White House press secretary and her work as a political analyst, media commentator, and former consultant to NBC's The West Wing, Dee Dee Myers blends memoir and social history with a call to action, as she assesses the crucial but long-ignored strengths that female leaders bring to the table. With intelligence, courage, candor, and wit, she looks at the obstacles women must overcome and the traps they must avoid on the path to success, and she challenges us to imagine a not-too-distant future with more women standing tall in the top ranks of politics, business, science, and academia."
Political Memoirs and Biographies
These books tend to be a bit of a mix of personal story and manifesto.
"David Plouffe not only led the effort that put Barack Obama in the White House, but he also changed the face of politics forever and reenergized the idea of democracy itself. The Audacity to Win is his story of that groundbreaking achievement, taking readers inside the remarkable campaign that led to the election of the first African American president."
Believer by David Axelrod
"David Axelrod has always been a believer. Whether as a young journalist investigating city corruption, a campaign consultant guiding underdog candidates against entrenched orthodoxy, or as senior adviser to the president during one of the worst crises in American history, Axelrod held fast to his faith in the power of stories to unite diverse communities and ignite transformative political change. Now this legendary strategist, the mastermind behind Barack Obama's historic election campaigns, shares a wealth of stories from his forty-year journey through the inner workings of American democracy. Believer is the tale of a political life well lived, of a man who never gave up on the deepest promises our country has to offer."
Love & War by Mary Matalin and James Carville
"For twenty years, James Carville and Mary Matalin have held the mantle of the nation's most politically opposed, ideologically mismatched, and intensely opinionated couple. In this follow-up to their groundbreaking All's Fair: Love, War, and Running for President, Carville and Matalin take a look at how they—and America—have changed in the last two decades. If nothing else, this new collaboration proves that after twenty years of marriage they can still manage to agree on a few things."
"The first Hispanic and third woman appointed to the United States Supreme Court, Sonia Sotomayor has become an instant American icon. Now, with a candor and intimacy never undertaken by a sitting Justice, she recounts her life from a Bronx housing project to the federal bench, a journey that offers an inspiring testament to her own extraordinary determination and the power of believing in oneself."
This is an old book (2001), but fascinating and inspiring.
"The Women of the United States Senate have forever changed the political landscape. Their backgrounds, personal styles, and political ideals may be as diverse as the nation they serve. Yet they share a commonality that runs deeper than politics or geography — they desire to give a voice to all their constituents while serving as role models for women young and old. Weaving together their individual stories of triumph, adversity, adaptability, and leadership, Nine and Counting gives voice to these charismatic women as never before, offering a rare, insider's glimpse into Washington and sending the powerful message that membership in the "world's most exclusive club" is open to every woman in America."
"By reckoning with the big challenges we face together, drawing on the hard-won wisdom and insight from her own career and the work of those who have most inspired her, Kamala Harris offers in THE TRUTHS WE HOLD a master class in problem solving, in crisis management, and leadership in challenging times. Through the arc of her own life, on into the great work of our day, she communicates a vision of shared struggle, shared purpose, and shared values. In a book rich in many home truths, not least is that a relatively small number of people work very hard to convince a great many of us that we have less in common than we actually do, but it falls to us to look past them and get on with the good work of living our common truth. When we do, our shared effort will continue to sustain us and this great nation, now and in the years to come."
"In United, Cory Booker draws on personal experience to issue a stirring call to reorient our nation and our politics around the principles of compassion and solidarity. He speaks of rising above despair to engage with hope, pursuing our shared mission, and embracing our common destiny.
Here is his account of his own political education, the moments—some entertaining, some heartbreaking, all of them enlightening—that have shaped his civic vision. Here are the lessons Booker learned from the remarkable people who inspired him to serve, men and women whose example fueled his desire to create opportunities for others. Here also are his observations on the issues he cares about most deeply, from race and crime and the crisis of mass incarceration to economic and environmental justice."
You can also find more memoirs from Obama staffers here.
Other Relevant Nonfiction Like The West Wing
In July 2004, Barack Obama electrified the Democratic National Convention with an address that spoke to Americans across the political spectrum. One phrase in particular anchored itself in listeners' minds, a reminder that for all the discord and struggle to be found in our history as a nation, we have always been guided by a dogged optimism in the future, or what Obama called "the audacity of hope." Basically, wonky and political.
One of my favourite books in the world, this is the memoir of Christina Haag, who dated both Bradley Whitford and John F. Kennedy, Jr, linking her with both fictional and nonfictional White Houses. I've written about this book, the story of her friendship and love affair with JFK Jr, more than any other – I love it. It's beautifully written and deeply evocative.
This Town by Mark Leibovitch
"Hailed as "vastly entertaining and deeply troubling", "as insidery as Game Change", and a "hysterically funny portrait of the capital's vanities and ambitions" This Town captured America's attention as the political book of 2013." (But it's still a fun read in 2018.)
The Venn diagram intersection of West Wing and Hamilton fans is probably close to a perfect circle, and it's no secret that Lin-Manuel Miranda was hugely inspired by his own love of The West Wing in writing his masterpiece.