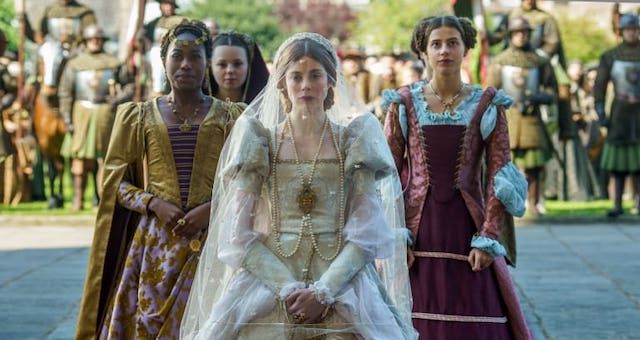 Fiction
Books For Fans Of THE SPANISH PRINCESS's Mighty Women
This content contains affiliate links. When you buy through these links, we may earn an affiliate commission.
If you haven't caught up yet, The Spanish Princess (airing on Starz) is the feminist historical costume drama you've been waiting for. Boasting an all-female production team and all female directors, the series is loosely based on Philippa Gregory's novels The Constant Princess and The King's Curse. Showrunner Emma Frost was the force behind Starz's previous adaptations of Gregory's The White Queen and The White Princess, and this new series presents another group of multi-layered, ferocious and fabulous female characters. The first season just wrapped up, so the time is right to read up on the real-life stories of these fascinating women to prepare for the second season.
The hero of the series is the titular princess, Catherine of Aragon (Charlotte Hope), best known as the first wife of Henry VIII. In the series, Henry is just young Prince Harry (Ruairi O'Connor), initially Catherine's brother-in-law and later her would-be husband. The series subtly reminds viewers that Catherine's story is so much more than that of the middle-aged woman shown rejected by Henry in productions like The Other Boleyn Girl and Wolf Hall. Here, Catherine is a spirited, passionate, determined young woman who Harry is basically hopeless not to fall in love with.
Most books written about Tudor-era England (including those noted below) have been written by and about white people. As with so much of history, this approach sidelines and ignores the people of color living in this time and place, most of whom did not have their actions recorded as those of white royals and courtiers. Frost has added the real-life Black couple Lina (Stephanie Levi-John) and Oviedo (Aaron Cobham) to The Spanish Princess, using what scant information can be found about their marriage to inspire a major storyline in the show.
Catherine of Aragon (Charlotte Hope)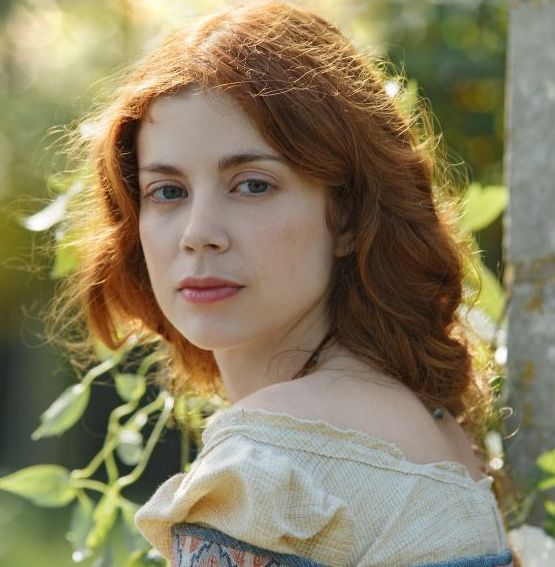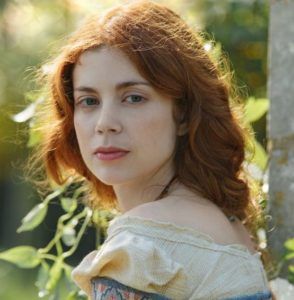 The Spanish Princess shows many of the traits Catherine was known for during her life. This series shows her as a clever, resilient young woman with the most incredible hair (true story: Catherine was known IRL for having gorgeous red-gold hair). Read up on the real-life Princess-turned-Queen in Catherine of Aragon: An Intimate Life of Henry VIII's True Wife by Amy Licence.
Margaret Tudor (Georgie Henley)
Margaret, nicknamed "Meg" in The Spanish Princess, is the sister of Henry VIII. Married off to the Scottish King, Meg will later become grandmother to Mary, Queen of Scots. Learn more about this lesser-known royal in Margaret Tudor, Queen of Scots: The Life of King Henry VIII's Sister by Sarah-Beth Watkins.
Margaret Pole (Laura Carmichael)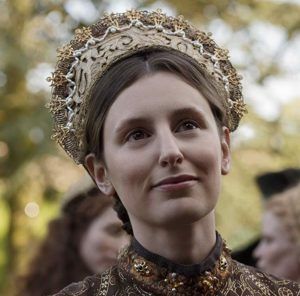 This role is not too far removed from Carmichael's eternally put-upon Edith in Downton Abbey. Renamed "Maggie" Pole (due to the surplus of Margarets in the real-life story), we find her yet again overlooked compared to the other, more glamorous women of the royal court. Learn more about Henry VIII's aunt in Margaret Pole, Countess of Salisbury 1473-1541: Loyalty, Lineage and Leadership by Hazel Pierce.
JOANNA of Castile (Alba Galocha Vallejo)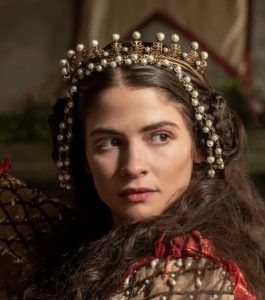 Catherine's older sister Joanna makes a memorable guest appearance alongside her terrible husband midway through season one of The Spanish Princess. Joanna, sometimes known as Juana, was eventually imprisoned by ambitious male relatives who wanted to usurp her inherited power. The full extent of Joanna's story is well illuminated in That Other Juana (Juana La Loca) by Linda Carlino.
Catalina de Cardones (Stephanie Levi-John)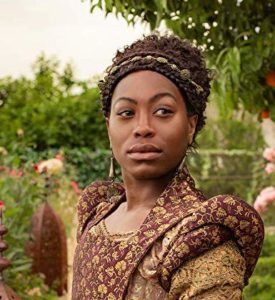 Known as Lina on the show, the real-life Catalina was a Black woman from the Iberian peninsula who served as Catherine's lady-in-waiting for more than 25 years. Her story, as well as that of her show boyfriend Oviedo, are among the many told in Black Tudors: The Untold Story by Miranda Kaufmann.
Can't get enough Tudor books in your life? Try our list of books about the wives of Henry VIII, or what about 50 must-read books about the Tudors, and dig into books about the real history of A Game of Thrones.