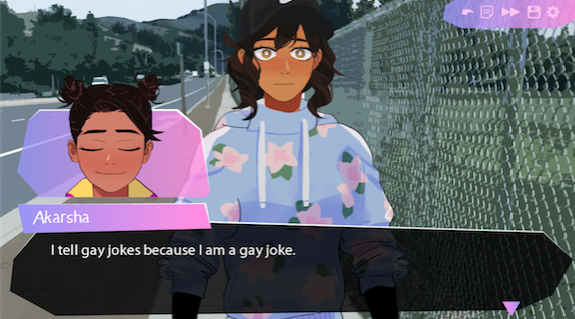 This content contains affiliate links. When you buy through these links, we may earn an affiliate commission.
Anyone who's had the misfortune to fall into my orbit during the last month knows that I've fallen deeply in love with the visual novel game Butterfly Soup. I know, the hot thing of late is Dream Daddy: A Dad Dating Simulator (Book Riot has you covered with book recs for that here), but right now, all I have eyes for is Butterfly Soup. I played the whole thing in two days, and it was an Experience (TM).
Um, Jessica, what are you talking about? Okay, let me rewind. Butterfly Soup is described on its site as a "visual novel about gay asian girls playing baseball and falling in love" and an "interactive coming-of-age story in four acts." In summary: It's what you need in your life. You can download it here. (Read the Trigger Warning before proceeding.)
Playing Butterfly Soup was so much fun on so many levels. The jokes were A+, I was overwhelmingly invested in the romance, and the friendship was super endearing. The queer Asian and Bay Area immigrant experiences depicted were sometimes way too real, and I recognized so much of my life in it. When I finished playing, I felt like I'd gained and lost something. To fill the void, I turned—as usual!—to books. For those going through the same thing, here's my list:
Butterfly Soup starts out with a prologue set during always-ready-to-fight-you Min-seo's childhood. Min-seo and Diya play pretend—there's dragons and princesses, sure, but it's no ordinary make-believe. Katie O'Neill's comic is another queer princess story that doesn't go quite the way you'd expect, and it's just adorable.
This YA book centers around overachiever Genie Lo, whose life is turned upside down when Quentin Sun (AKA basically Monkey King of Chinese folklore) recruits her to fight the monsters descending on her hometown. The entire story is very, very grounded in the Bay Area, from the competitive school atmosphere to how Genie interacts with her immigrant mother. Butterfly Soup takes place in a similar setting.
Also known as Laurinda, Pung's novel is one that I can't stop recommending to people. As someone from a working class immigrant family, the heroine Lucy is a fish-out-of-water at a cutthroat all-girls school, where she fights to stay true to herself while navigating the politics of school life. Lucy and Linh is an amazing and heartbreaking depiction of an Asian immigrant family. Butterfly Soup's got you feeling melancholy about your immigrant Asian feels? Check out Lucy and Linh, and…uh, keep that going? Yeah.
I know, this is a little bit of a stretch, but hear me out. Through the ups and downs of life, Aristotle and Dante become fast friends—and then something more. If you need a slow burn, heartwarming gay YA romance in your life after Butterfly Soup, then this book is for you.
Three words—queer, Asian, superhero. As she struggles with her lack of superpowers, Jess Tran snags an internship with the local supervillains, where she gets to work alongside her crush, Abby. Light and fun books centered around a queer Asian heroine are pretty darn rare, so I had to include this in the list. Enjoy!
If/when there is a sequel to Butterfly Soup, I'll be over the moon. But until then, I'll fill the void with books to satisfy my queer Asian immigrant needs. Have you played Butterfly Soup? Are there any books that are missing from this list? How do you deal when you've finished [insert awesome piece of media here], and you hunger for more? No, really. I want to know.