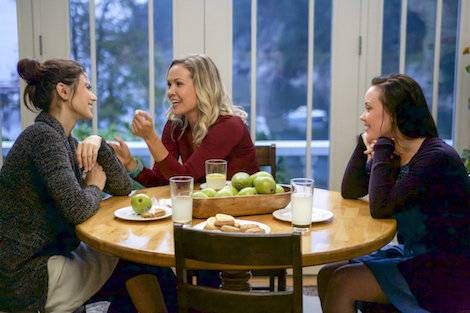 This content contains affiliate links. When you buy through these links, we may earn an affiliate commission.
I just can't resist the allure of Abby, Trace, Bree, Jess and the entire Chesapeake Shores gang. With its stunning visuals and sweet romance, I've begun to look forward to the next episode of this Hallmark Channel original each week. Sadly, the season two finale of Chesapeake Shores is quickly approaching. You better believe I'll be searching out some sweet, small-town romances to fill the void!
There are lots and lots of small-town romances out there but finding one that mimics Chesapeake Shores vibe is harder than it sounds. The show is surprisingly complex, weaving together several budding romances and the convoluted family dynamics of the O'Briens. If you are looking for a romance that emphasizes emotional intimacy and that relies heavily on big family gatherings, here are five recommendations to hold you over until the next episode of Chesapeake Shores releases.
If you haven't read the series that inspired Chesapeake Shores, why the heck not? The Inn at Eagle Point is the first book in Sherryl Woods' Chesapeake Shores series. The book covers Abby and Trace's romance along with an intro to Bree, Jess, Megan, and Mick. Word to the wise: The TV show isn't a carbon copy of Woods' series; artistic liberties were definitely taken. The entire book series is definitely worth a read, though, if you haven't already given it a shot.
One Summer Night, like Chesapeake Shores, is the perfect mix of urban vs. seaside and work vs. play. Pineiro perfectly sets up the romance between family friends Maggie and Owen in One Summer Night, but the book also introduces readers to their long-standing family feud. One Summer Night is quite a bit steamier than Chesapeake Shores, though, which is A-OK by me, but please note that this book is best suited for romance readers who aren't afraid of some explicit bedroom scenes.
The first book in Robyn Carr's Grace Valley series, Deep in the Valley, is similar in a sense to the Chesapeake Shores in that it follows a family and community for a long period of time. In Deep in the Valley, we meet small-town doctor, June, her meddling father, and the entire Grace Valley cast of characters. We also meet Jim, June's DEA agent soon-to-be-boyfriend, as she finds herself in the middle of a secret, forbidden romance. Over the entire three-book series, we see the town fall into crisis and neighbors rally together. There is a series-long arc that begins in Deep in the Valley, but luckily for readers with massive TBR piles, this series is a relatively quick read.
A Better Man by Candis Terry
Candis Terry's Sunshine Creek Vineyard series is practically perfect in every way. The series follows the Kincaid siblings as they work to rebuild their family's vineyard after their parents are killed. The first book in the series, A Better Man, follows ex-hockey player Jordan Kincaid as he tries to woo a high school acquaintance, Lucy. The results are not only hilarious but also heartwarming. This series works for fans of Chesapeake Shores due to its complicated family dynamics and its emphasis on families living and working in close proximity to one another.
Suzie O'Connell is a master at writing small-town romances that are intimate and unintimidating for readers new to the genre. O'Connell's newest series, Sea Glass Cove, takes place on the Oregon coast. In book one of the series, The Abalone Shell, we follow Hope St. Cloud and her daughter as they visit a cottage owned by Hope's extended family. Once settled in the small, seaside village, Hope meets a local artist and sparks fly.
What books are you reading to fill the Sunday night, Chesapeake Shores void?