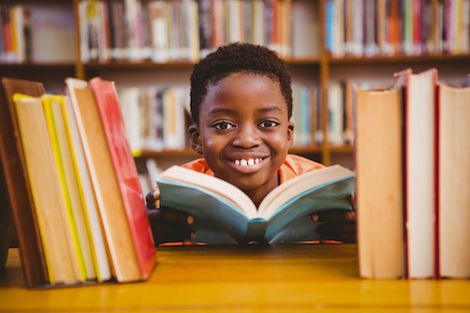 This content contains affiliate links. When you buy through these links, we may earn an affiliate commission.
Books for 3rd graders and beyond are obviously the best gift. When buying for kids, books are even better because you can pick out something that will directly help them build skills they need for school. Picking out a book can be fraught. What do kids today even read? Are comic books considered books or not? How do you know what reading level kids are at? And which classic books are too racist, too sexist, or too distant to connect with kids today?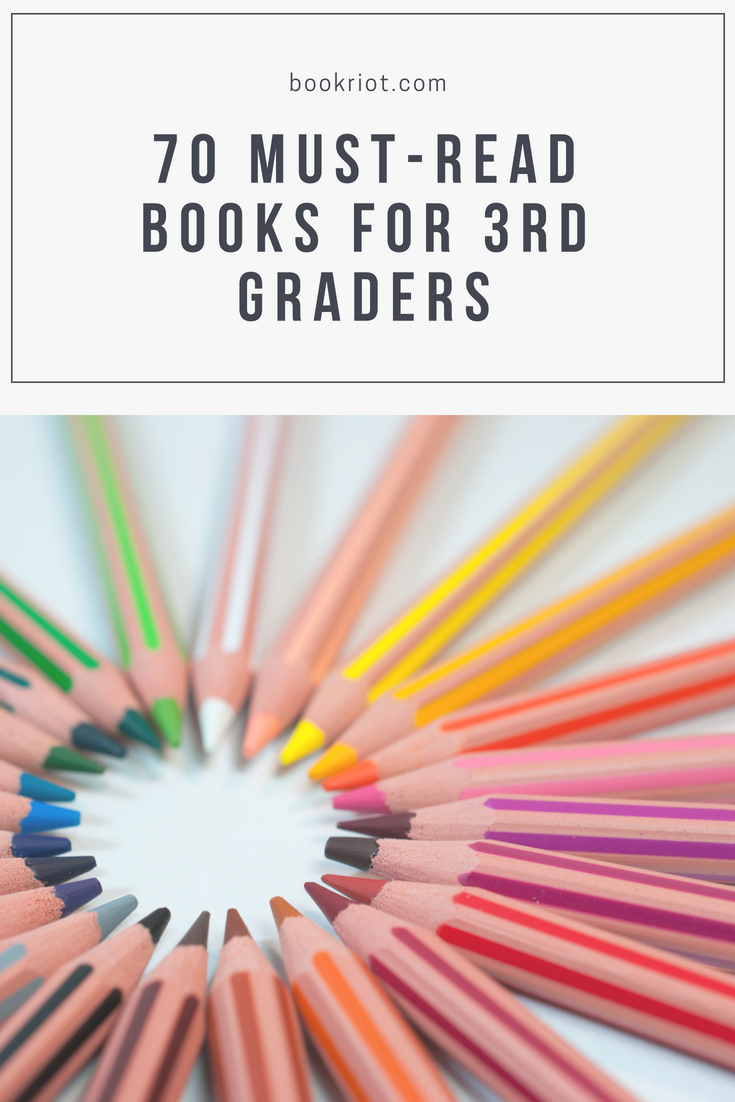 Third grade in particular can offer a real challenge when figuring out a bookish gift. The two main things to keep in mind when picking books for 3rd graders are 1) the wide range of reading capabilities for 3rd graders, 2) that reading needs to be fun for kids who are developing their relationship with reading.
Third graders reading abilities can vary widely. In 3rd grade, 7- and 8-year-olds might read a couple of grade levels in either direction, meaning kids could be reading anywhere from what's considered average for a 1st grader to what's average for a 5th grader. And that's fine. Reading takes practice, so helping kids find books that will give them confidence and help them practice is key.
One of the biggest things for kids at this age is getting books they'll enjoy reading. Reading skills are developed through reading practice, but if reading isn't fun, it's so hard to practice. When picking out a book for your 3rd grader, picking out something fun is just as important as picking out something that is good quality. We want to lay down a foundation of good experiences with books!
Graphic Novels For 3rd Graders
Graphic novels are ideal for building up fun reading experiences for kids. The art provides context for words and draws in readers who may find a page full of words intimidating. Though they are ideal for any reader who likes good stories!
Join Cucumber bunny as he's forced onto a quest to save the Dreamside kingdoms from the Nightmare Knight, even though all he wants to do is leave the adventuring to his sword-wielding sister Almond and go to magic school.
The zombie apocalypse has happened and as usual the adults are useless, so it's up to a group of kids to rescue their friend June. For anyone who like monsters, emotional intelligence, and gross-out humor!
Princess Amira, astride a unicorn and sporting a mohawk and military jacket, helps Princess Sadie decide to leave behind her tower and her self-doubts about her big body as they go off on adventures, encountering flustered princes, difficult older sisters, and, finally, a happily ever after.
Adapted from the popular Wings of Fire fantasy series, the five dragonets of The Dragonet Prophecy have been hidden underground for their whole lives and emerge to find their world overrun with violence and treachery. Plug your dragon-lover in here.
Amulet by Kazu Kibuishi
Ever popular with kids who have a taste for things that are slightly dark and creepy, this graphic novel series follows siblings Emily and Navin as they set out to rescue their mom from a world below the ground filled with freaky monsters and strange allies.
If you are looking for a book with Calvin and Hobbs vibes, look no further! Whimsical Phoebe and her snarky unicorn bff, Marigold Heavenly Nostrils make everyday experiences charming and silly in a clean and colorful art-style.
Similar to Princess Princess Ever After, but with a longer story arc and deeper exploration of the characters. Princess Adrienne gets tired of being in her tower so she runs off with the dragon guarding her to rescue her sisters locked away in their own towers. A great example of how many ways one idea can be explored!
Real Friends by Shannon Hale, illustrated by LeUyen Pham
Navigating friendships is hard and no one captures it quite like Shannon Hale and LeUyen Pham. Hale tells the story of her own struggles to find a healthy friendship throughout elementary school, taking us from her first day of Kindergarten through to Sixth Grade. Pham's art is beautiful as ever and parents may want a hankie while reading.
Your graphic novel reader will be charmed by self-assured Zita, who accidentally transports herself and her diffident best friend Joseph to a planet in turmoil.
Ghosts by Raina Telgemeier
Cat and her sister Maya move with their family to Northern California because of Maya's poor health. Everything gets more interesting when they find out there are ghosts in their new town, and Cat finds that the ghosts can be more than just outside of you. Wildly popular Telgemeier is always a hit with kids.
Nickelodeon's fantastic cartoon series serves as the jumping off point for these comic which continue the adventures of Aang and Co. after the end of the series. Kids who love Aang and Korra will gobble these books up!
Master storyteller Hatke gives a twist to Jack and the Beanstalk. This Jack, his sister Maddy, and his friend Lilly grow a magical garden, battling to keep it under control, all while his mom works two jobs.
Stately Academy is rife with mysteries and coding puzzles with Hopper and Eni finding sidewalk cleaning robots and bully-neutralizing inventions. Readers will learn the basics of coding through thoughtful illustrations and bright art.
Starting Chapter Books For 3rd Graders
Ling and Ting are twin sisters, but they are not exactly the same. Quick stories told in a few pages, Ling and Ting enjoy gentle silliness, each story ending with a little twist.
Kate and her talking horse Cocoa look out for each other in this sweet early chapter book paired with beautiful watercolor art.
Arnold Lobel knows how to create the perfect little story for young readers. They are sweet and silly and affirming, with a twist that delights adults as well as children. Easy to read and rewarding to finish.
What do you get when you combine a princess and a superhero? The Princess in Black, a superhero working hard to save the goats from the monsters who want to eat them AND to keep her alter-ego, Princess Marigold, meeting all the social conventions a princess is expected to meet!
Mercy Watson is a pig who lives with her doting owners, Mr. and Mrs. Watson. She loves hot buttered toast and finds herself in silly situations. Prep your own hot buttered toast before reading!
Mermaid best friends Shelly, Echo, Kiki, and Pearl take the familiar friendship stories of elementary school readers undersea. The friends learn social skills like inclusion and how to get along with friends and siblings, which is just want young elementary kids love to read about. Also everyone is a mermaid, so the fish puns will catch you!
Written by an Olympic soccer player with a gold medal, The Kicks series starts off with ten-year-old Devin moving to Kentville, California, and trying to settle into her new soccer team—who really need some direction!
Geronimo is a mouse journalist who wants a quiet life, but himself on wild adventures in far off lands, sometimes accompanied by his sister, Thea, a detective who has her own spinoff series. This wildly popular series was translated from Italian and offers a multitude of books for kids who get obsessed with the series.
Spin traditional Greek myths on their heads! Zeus made it all up! It's all lies! Hades sets things straight while introducing kids to fractured versions of Ancient Greek mythology.
Considered some of the best early chapter books for kids reading on their own, the A–Z Mysteries start off with three kid-detectives solving a case for every letter of the alphabet. Firmly in the cozy mystery sphere, rather than scary mysteries, early chapter book readers love this series.
Lola Levine is a soccer-obsessed, word-loving second-grader who has a loving family, a believably affectionate/antagonist relationship with her younger brother, and not as many friends as she'd like. Lola embraces both sides of her Peruvian/white Jewish family and grows and changes in her own lovable way!
Hilarity and wordplay are the themes running through A.J.'s account of his time at his school, Ella Mentry School, where the staff are wacky and the kids have got things figured out.
J.J. is a retired search-and-rescue dog who now spends his days looking after a group of four baby chicks who get themselves into all sorts of trouble, despite his best efforts. Farmyard hilarity!
Scholastic Branches is a collection of books targeted at kids moving between leveled readers and longer chapter books. With illustrations on most pages and six-page chapter, new readers can build up their skills following the stories of a boy who finds that his school is actually a building with malicious intent, a good-natured boy who gets chosen to befriend a dragon, and the diary of an owl girl who has a life very similar to most elementary school kids.
Anna Hibiscus lives in amazing Africa with her extended family and her white Canadian mother. Anna longs to see snow, while having quiet adventures with her family.
Switching from Anna Hibiscus's privileged world to Oluwalese (or No. 1) who lives in a small village in Nigeria, Atinuke shows another face of childhood. No. 1's story has the same gentle humor and interconnected storytelling as Anna Hibiscus, as he helps out his family and engages in his favorite pastime, spotting cars that drive by.
Zoey and her cat Sassafras discover they can see the magical creatures who come to their barn for help. Zoey uses her "Thinking Goggles" and her adherence to scientific method to solve the magical mysteries of what is making the plants and animals sick.
Bubbly Ruby Lu loves her life, which she lives at full volume. She gets herself into a few scrapes along the way that Ramona Quimby fans will enjoy, such as introducing herself as a frog when she starts Chinese school, and when her baby brother learns to talk and spills her best magic show secret.
Second grader Alvin is upfront about his anxiety, which leaves him in situations that, while not scary, the book is matter-of-fact about his difficulties. Alvin has a loving family who help him as he suffers through moments of anxiety, and Alvin himself has a strong, endearing character voice. The book doesn't give him any magical solutions, but he does learn to deal with some of his worries.
Spinning off of his adult series about Botswana's No. 1 Ladies Detective Agency, Smith takes us back to Precious's childhood with her father when she first develops a taste for solving-mysteries.
Third grader EllRay finds himself on the receiving end of bullying and doesn't quite know what to do about it. A relevant topic for kids, this book offers solutions without being saccharine about them.
While it's not stated in the first book in the series, our hero Hank deals with learning disabilities, including dyslexia. Regardless, he does his best to get along in second grade and finds his own way to make his mark. The typeface is specifically designed to help readers with dyslexia, one way this book puts its money where its mouth is.
Sugar Plum Ballerinas: Plum Fantastic by Whoopie Goldberg, Deborah Underwood
Friendship and ballerinas take the lead in this book about Alexandrea, who moves to a new ballet school in Harlem and somehow lands the leading part in the recital, even though she's not the best dancer.
Gentle fantasy adventures ensue as Prince Lucas and his friend Clara, the seamstress's daughter, strike up a friendship and help the kingdom with any troubles that arise.
At home in Oahu, Calvin scares up delightful mischief, especially when a live-in nanny comes to stay and takes over his room.
Nikki and Deja are best friends, until a new girl on their street who is also in their class changes their dynamic, which puts their friendship to the test.
Longer Chapterbooks For 3rd Graders
Crenshaw by Katherine Applegate
Ten-year-old Jackson can see another period of homelessness and living in the van coming up for his family. He can also see Crenshaw, a giant talking cat he hasn't seen in several years…since the last time his family was homeless. Crenshaw helps Jackson deal with the difficult time in his life, and humanizing homelessness.
Based on a real gorilla, Ivan, who lived at a mall in Tacoma, Washington, this Newbery Award–winning book imagines being inside Ivan's head and explores the complex humanity of animals.
Marshall explores the ideas of what it means to be Indian, as well as what it means to be a hero, through the stories Grandpa Nyles tells Jimmy on their road trip following Crazy Horse's life story.
Re-imagine "The Snow Queen" with Hazel, who accidentally hits her friend Jack in the eye with a snowball, and then he is taken away by the Snow Queen. Hazel has to journey through the snowy woods to rescue her friend, who may not even want her rescue.
A robot, Roz, washes up on deserted island and discovers the wonders of nature as she figures out how to live and to survive.
Beverly Cleary is much-beloved classic children's book author (and librarian!) for a reason. Her books dig into how being a kid can lead to misunderstanding and mishap, into the humor of the mundanity of being a kid, and how mundanity is still great.
Another children's classic stuffed with puns and word play. Bored Milo finds himself in a fantastical world on the search for the missing princesses of Rhyme and Reason, balancing the two fighting brothers of Dictionopolis and Digitopolis, and getting into all sorts of interesting scrapes with his new watchdog friend, Tock.
Bean is a lively girl with nerves to match; Ivy is a dreamy sort of girl with plenty of know-how about other worlds. Of course they are the best of friends, with Ivy coming up with creative activities and Bean having the gumption to pull them off.
Magical apothecary Raffa finds that boundaries might be in place for a reason and that pushing passed them might unfold unforeseen tragedies.
Described by the author in her TED Talk as a sort of Chinese Wizard of Oz, our heroine Minli sets out to find fortune for her struggling family and community, encountering a dragon, a magic goldfish, a king, and a green tiger. Lin is a genius and everyone should read this book.
A magical story about families and love, the way that sorrow can be amplified when ignored, and how power can be corrupted by the wielder. This book is engrossing and thoroughly magical!
Mya thinks that she's going to be partnered with her best friend for Spirit Week, but instead gets Mean Connie for her partner. Mya learns the true depths of people, even when you think you already know them, and Allen offers up friendships of all kinds for readers to learn the many ways to be a good friend.
Dara finds herself prevented from playing the perfect part in the school play…because she was adopted from Cambodia as a baby, so doesn't apparently look the part. Struggling with her identity and place in her family and community, Dara explores her history and her present to figure out her future.
Delphine and her two younger sisters go to spend the summer with their distant mother in Oakland, California. Since it's the summer of 196-, the girls meet the Black Panthers and untangle some family secrets.
Artemis Fowl is a 12-year-old Irish master criminal looking for his parents when he gets caught up with the fairies who live underground in a bunker. With humor designed to appeal to kids, and a hero powered by his incredible brain for future Sherlock fans, this series deserves the love it gets.
A white-supremacist attack brings turmoil to Stella's North Carolina community during the Depression. Draper allows readers to experience the Jim Crow South through a safe and confident narrator.
This novel in verse follows Kim Ha as her family flees Vietnam in 1975 for Alabama, where there aren't many other refugees or Vietnamese people. Poignant, but Lai also allows readers to laugh with Kim as she learns a new culture and language.
Infused with Haitian folklore, Corinne's story finds her followed by the ghost of her aunt, who wants to take over the whole island. Baptiste explores themes of colonization and of family with deliciously spooky ghosts!
Set in 1970s America, against the backdrop of the Iranian Revolution, Cindy works to fit in to her new school in California at the same time that her parents worry over friends and family left in Iran during the revolution.
Mildred Hubble is the worst witch at Miss Cackle's Academy. Her spells go wrong and Ms. Hardbroom is always unhappy with her, but Mildred has a solid group of friends to fall back on. Published well before Harry Potter, Mildred is an endearing, if clumsy, heroine that you can't help but root for.
Ghost by Jason Reynolds
The first in Reynold's Track quartet, Ghost's difficulties at home translate to difficulties at school until he finds his way to the track team. Now Ghost just has to figure out how to be on the team.
City kid Genie spends a slow summer at his grandparents' house in the country, forging a relationship with them and dealing with his anxiety through his notebook of questions.
Rife with jokes, two friends hypnotize their principal into believing he's Captain Underpants, out to save the world from bad guys with Wedgie Power. While frequently on lists of banned books, Captain Underpants never fails to thrill kids with toilet humor. (Comedy is all about taboos.)
George by Alex Gino
In this sweet story, Melissa really wants to play Charlotte in her 4th grade class's upcoming performance of Charlotte's Web. Unfortunately, her teacher, classmates, and family all think that Melissa is a boy.
Maddie must overcome her nerves as she fills in for Romeo in the class play, because her crush is playing Juliet opposite her.
If you've never read a book with a hamster princess, then meet Harriet. She's unrestrained and feminist in her princessing, so she take her evil fairy's curse as a chance to do good deeds before returning home to foil her own curse.
Exuberant Danny Dragonbreath (sans fire breathing) drags his reticent iguana friend Wendell off to meet sea serpents for a class assignment for their reptile and amphibian school.
Peter lives on the edge of 1970s Central Park with his parents and his two year old brother Fudge. Fudge is an adorable terror and for Peter, 4th grade is hard enough without a little brother.
Political ethics start young when Brianna wants to be president of her 5th grade class, despite knowing a secret that could devastate her opponent.
Aru accidentally wakes up the Destroyer and has to join up with her spirit sister, Mini, to travel through spheres of Hindu mythology in order to save the world.
Potter-mad parents can want to introduce their kids to Harry, Ron, and Hermione asap, but kids' readiness for the books might not manifest until close to 9 or 10. Upper elementary is a pretty good time for kids to start the books, especially as the books get darker as Harry gets older.
If you're looking for more recommended books for 3rd graders and other elementary school kids check here and here and here and here! What recommendations do you have for appropriate books for 3rd graders?
Thank you to Ms. Kathleen at John Stanford International Elementary School for her input!