This content contains affiliate links. When you buy through these links, we may earn an affiliate commission.
This is a guest post from Zoe Strickland. Zoe is a writer, editor, and caffeine-addict living in Oregon. She likes wine, pop culture, space, and tattoos. She's one of those 'loud feminists' and wouldn't have it any other way. Follow her on Twitter @zoealea.
---
It's no denying that the current political state is a crapshoot. You can't go on social media without seeing posts upon posts about the void of politics. Like many people, I've coped with this by sinking into a couch with a mug of coffee, and reading. While I love the escape, it's also important to face what's going on, and to connect with the different points of view of people and how they've been affected by the administration. We all know that books give us the reassurance that we're not doing this thing alone, so I've begun to explore books that were put together and published after this last November's election. Think of it as a sort of quest of literary hope. These are my findings: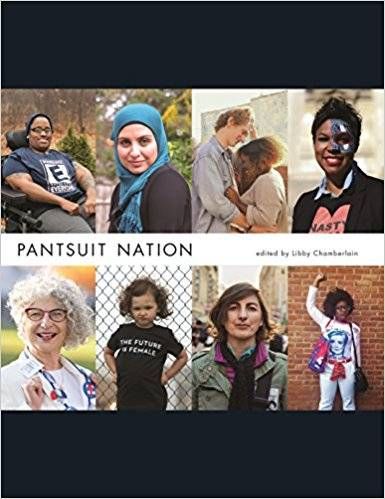 Pantsuit Nation edited by Libby Chamberlain
Pantsuit Nation is a book that collects the reasons and stories behind people who voted for Hillary Clinton. I picked this book up without really reading the description. My brain flagged it as a feminist political read, and I immediately checked it out of the library. Regardless of whether or not you agree with Clinton, Pantsuit Nation is a fantastic read. It is a book that's less about the politics, and more about the stories of everyday people and what makes them tick.
Radical Hope: Love and Dissent in Dangerous Times edited by Carolina de Robertis
Radical Hope is just what the title leads you to think it is. It's a collection of essays by people who are trying to find hope in a world where it may be difficult to find it. The essays are written in the form of letters to people in the past, present, and future. Some contributors write to their ancestors and relatives, and some write to historical figures. Radical Hope is emotional, it's real, and it's a great book to keep you company.
Our Stories, Our Voices edited by Amy Reed
This book hasn't actually come out yet: Our Stories, Our Voices is slated for a Summer 2018 release, and contains essays by YA writers. The essays are described as ones that explore, "diverse experiences of injustice, empowerment, and growing up female in America" with the goal of offering "hope and solidarity to young readers." Though it doesn't come out for another year, Our Stories, Our Voices is bound to be exceptional.
These books are more than just political collections; they're pieces of literature that may just help you feel like you aren't alone.