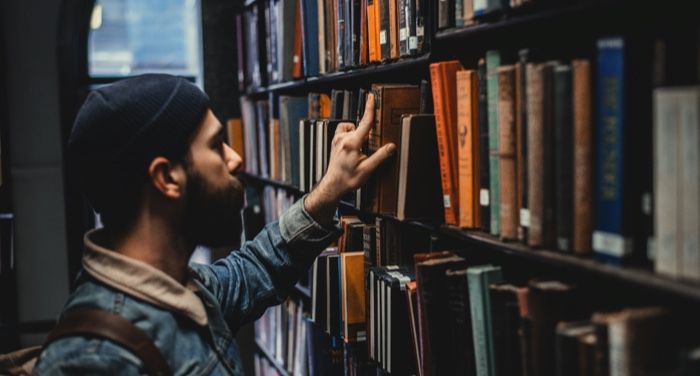 Libraries
6 Excellent Books Featuring Libraries or Librarians
This content contains affiliate links. When you buy through these links, we may earn an affiliate commission.
If there's anything library fans love more than anything else in the world, it's books. So what could be better than a book about a library, or featuring a librarian as its main character? Beyond the few obvious and well-known choices —The Shadow of the Wind, The Time Traveller's Wife— I've rounded up a few more for you to try.
A kidnapping, a road trip, and a librarian helping a kid escape from his overbearing parents? Sign me up.
If Rebecca Makkai's name sounds familiar, it's likely because you've read—or heard buzz around—her latest novel, The Great Believers, which won a Carnegie Medal and was a Pulitzer Prize finalist, among many other awards. The Borrower was Rebecca Makkai's debut, and Richard Russo called it when he blurbed it: "Rarely is a first novel as smart and engaging and learned and funny and moving as The Borrower. Rebecca Makkai is a writer to watch, as sneakily ambitious as she is unpretentious."
Long before she became the bestselling author of Daisy Jones and the Six, Taylor Jenkins Reid wrote a novel I found by accident, fell in love with, and haven't stopped talking about. Forever, Interrupted is the story of Elsie Porter, who loses her husband Ben to a bicycle accident just nine days into their marriage.
The novel tells the story of their whirlwind romance and interweaves it with the story of Elsie's healing and her friendship with Ben's mom, who met her for the first time at Ben's hospital bed. It's a warm and compassionate book, and I loved that Elsie is a librarian, and that this isn't just a passing reference, but an integral part of the book and of what makes her such a compelling character. "I loved holding books in my hands," she says. "I loved smelling their pages."
"I have always imagined that Paradise will be a kind of library." You probably know that quote — you might have cross-stitched it, embroidered it, or written it out in calligraphy. If you want to read more from the man who wrote it, or if you want to get philosophical about not just books and language but the universe in general, this short essay-length book is a great place to start.
British author Matt Haig is beloved in his home country, and he's a champion of mental health, which makes him a great person to follow on Twitter. He's best known for the novel How to Stop Time, but he has a new novel just out on September 29 called The Midnight Library, which sounds equally intriguing. In this library, Nora Seed finds endless books which contain different versions of the life she could have lived. This is a must-read for those of us given to endless what ifs.
If you like a little bit of strangeness in your fiction, Murakami is always a good place to go. This short book, for kids and adults alike, is unusual, even for him. Here's how Elle Magazine put it: "Japanese master Haruki Murakami's short fantasy tale The Strange Library, designed by Chip Kidd with sublime vintage Japanese graphics, takes readers on a wondrous journey to the mysterious underbelly of a Tokyo library."
This is my favourite book of 2020 so far, and I'll be shocked if anything dethrones it from the top of my list. In What You Wish For, the main character is a librarian who loves her job at an elementary school in Texas where the entire ethos is one of joy. And then into the school walks a new principal whose ethos is…exactly the opposite. And if that wasn't complicated enough, she knew him previously. Not only did she know him, but she had a massive crush on him — a crush so massive, in fact, that she left her last school to get away from him. And the crush was not on a joyless guy: it was on the most fun person she'd ever met. So what happened to him? How did he become like this? And how is she going to fight for her school?
What I love about this book — apart from the warm, witty voice that drew me in instantly — is that it's not about sugarcoating reality. Instead, it faces the fact that in life, hard things happen, but that there is always joy, and that we can make the conscious choice to embrace it.