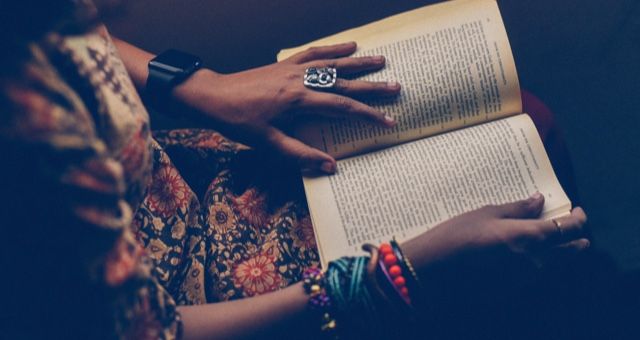 Lists
Get to Know 5 Pulitzer Prize-Winning Critics
This content contains affiliate links. When you buy through these links, we may earn an affiliate commission.
Sure, it's not exactly a bookish award, but the Pulitzer Prize for Criticism is earned through good writing. While not all past recipients have had their work collected in books, work by most can be found online through their respective newspaper's or magazine's website, or even on the Pulitzer website.
Here's a look at five Pulitzer-winning critics. For more collections of essays and criticism, check out this article from Julia Rittenberg.
Robin Givhan
Currently in her second stint as fashion editor for The Washington Post, Robin Givhan won the Pulitzer in 2006. Peruse her work and you won't find just runway coverage. Givhan instead examines singers, movie stars and even moviegoers; her piece "Wookiee at me! Clothes make the myth," dealing with Star Wars fans who dress up as their favorite characters at the latest movie's opening, is a highlight. ("Here are people with a remarkably high threshold for public embarrassment.") Her sharp comments about politicians (Hillary Clinton, Dick Cheney) have caused the biggest stir. Her first book is The Battle of Versailles: The Night American Fashion Stumbled Into the Spotlight and Made History.
Hilton Als
A formidable presence in New York City journalism for 30 years now, Hilton Als has been a New Yorker staff writer since 1994 and theater critic since 2002. Informed by second-wave feminism, the sexual revolution, and the Civil Rights movement, Als reflects this melding, and sometimes clashing, of ideas in his writing, often down to the form itself; his second book, White Girls, was praised for its free blend of fact and fiction. Als won a Pulitzer in 2017 for his theater criticism. It only takes reading one review to know you're in the hands of a critic steeped in his subject's history; in reviewing Dear Evan Hansen, he digs up the relatively obscure Gershwin-Weill-Hart musical Lady in the Dark to chart the history of psychoanalysis's treatment on stage. Recently, he was featured documentary Toni Morrison: The Pieces I Am.
Emily Nussbaum
"It looked like a good way to kill time," Emily Nussbaum writes of Buffy the Vampire Slayer, a random episode of which she settled in for one late-'90s night. One episode was all it took for Nussbaum to know she had found her niche. She left her doctoral program in literature behind and began writing obsessively about television. Since 2011, she has been the television critic for The New Yorker and won a Pulitzer in 2016. I Like to Watch: Arguing My Way Through the TV Revolution, released today, is her first book, collecting many of her recaps, essays, profiles and commentaries, including a good chunk of the ones that earned her the Prize. Respect is paid to dramatic milestones like The Sopranos, but it's obvious Nussbaum's heart lies with comedies. In one 2008 piece, she proclaims 30 Rock the best show on network television. In the introductory note to another essay, she heaps similar praise on Jane the Virgin. There's a daunting amount of television out there. Nussbaum's writing assures you that critically viewing any program is worthwhile and meaningful.
Roger Ebert
Everybody's favorite film critic, or at least the first whose opinions cinephiles familiarize themselves with, the Chicago Sun-Times's Roger Ebert won a Pulitzer in 1975, becoming the first film critic to do so. He earned the award for reviews of titles like Chinatown ("A 1940s private-eye movie that doesn't depend on nostalgia or camp for its effect"), The Texas Chainsaw Massacre ("I can't imagine why anyone would want to make a movie like this, and yet it's well-made, well-acted and all too effective."), and The Godfather Part II ("The stunning text of 'The Godfather' is replaced in 'Part II' with prologues, epilogues, footnotes, and good intentions.") The bulk of his published writing can be found on the website that bears his name and carries on, through reviews by Matt Zoller Seitz, Monica Castillo, Odie Henderson, and more, six years after his death.
Inga Saffron
A three-time Pulitzer finalist who finally took home the award in 2014, Inga Saffron has been The Philadelphia Inquirer's architecture critic for 20 years. She focuses on "projects of all sizes and shapes, but especially those that form the backdrop of our daily lives," as her author page from the newspaper puts it. You wouldn't expect a column about a proposal for a new casino to be interesting until you read Saffron's "Best-laid plans for city casinos." What is ostensibly an account of the latest gaming hall hearing instead becomes a deft illustration of how enthusiasm for a newfound freedom (to gamble, in this case) quickly fades into the background of life. ("Most people now treat casinos like supermarkets.") The other four critics on this list make movies, television, fashion and/or theater mean everything. Saffron does the same for buildings. She has written one book, Caviar: The Strange History and Uncertain Future of the World's Most Coveted Delicacy.