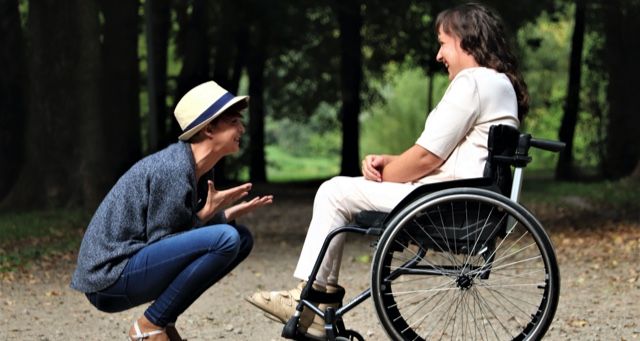 Lists
6 Powerful Books By Disabled Authors
This content contains affiliate links. When you buy through these links, we may earn an affiliate commission.
As a disabled writer myself, I'm thrilled that more and more books in the past few years feature disabled protagonists. The disabled community is so diverse that it's especially important to publish and read #OwnVoices books by authors with various disabilities. Most of these books are also by LGBTQIA authors and authors of color. I try to read a lot of disability lit in different genres, so here are a few of my favorites.
This SFF novella is a murder mystery featuring a blind queer protagonist of color. Azulea's mother is the Head Archivist on a diverse but inaccessible, ableist planet that relies on libraries and trade. Azulea has a phenomenal memory, but some relatives think that her blindness might prevent her from being a librarian. Her grandmother believes in her unconditionally. This slim, fast-paced book depicts a fantasy world and culture and shows how Azulea navigates her environment and relationships, and how interdependence is important.
In her third collection of poems, Weise uses imagination and acerbic wit to satirize literary ableism. She reimagines Raymond Carver's famous story "Cathedral," countering the popular interpretation that the sighted, married woman and the blind man can't possibly be sexually attracted to one another. In a poem formatted as an imaginary interview, the speaker says defiantly: "…the one you call artificial and fake and prosthetic. The one I call my leg." Another poem, "Attack List" starts in the book and continues on Twitter. It's still updated regularly, reminding readers since 2014 of how frequently disabled people are assaulted. The book uses innovative forms to expose ableist assumptions.
In her essay collection, Keah Brown, creator of the viral #DisabledAndCute hashtag and recent Today Show guest, describes her life growing up with cerebral palsy. She covers everything from her family life to accepting help from able-bodied friends and fighting back against ableist, racist societal messages. She showcases her sense of humor and her pop culture favorites. The book also makes serious points about the importance of representation, especially for Black disabled people.
Readers who malign romance in general for outdated, sexist, racist tropes should read authors like Hoang and Jasmine Guillory. Like the author, The Kiss Quotient's protagonist Stella has Autism Spectrum Disorder. She hires a male escort, Michael, to teach her to be more comfortable during sex. Of course, their rational plans to avoid emotional involvement fail. Like the best romantic comedy films, the book has ironic personal and family misunderstandings. The emphasis on consent, respect, and learning each other's boundaries is equally feminist and fun.
This memoir from 2012 is a bit older than the other books on the list. In 2011, my college writing mentor, who really understands my approach, saw an excerpt of Richard's then-upcoming book in a magazine and showed it to me. Richard, who grew up in the 1960s with a physical disability, shows how isolating it can feel to be labeled "special." He also develops his voice as a writer and finds a faith community.
Alice Wong, a disability rights activist, writer, and founder of the Disability Visibility Project and its podcast, edited this anthology of essays by other disabled activists. Contributors include ADAPT member Anita Cameron; Talia Lewis, lawyer and creator of the hashtag #DeafInPrison; and Mia Mingus, who coined the term "access intimacy." Comedian and actress Maysoon Zayid lampoons the Trump administration's ableism in both hilarious and serious ways. For maximum access, it's available in eBook and audiobook formats.
---
These amazing books help readers understand how ableism intersects with other issues, like racism and sexism, and show disabled writers' ingenuity.
More by Disabled Authors
Unbroken Counters Stereotypes of Disabled, Teen Characters
Featured Trailer: Cyborg Detective by Jillian Weise