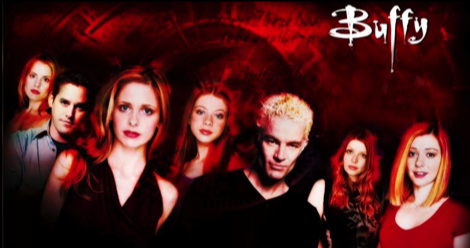 Sponsored by Buffy the Vampire Slayer: The Official Grimoire written by Andrea Robinson.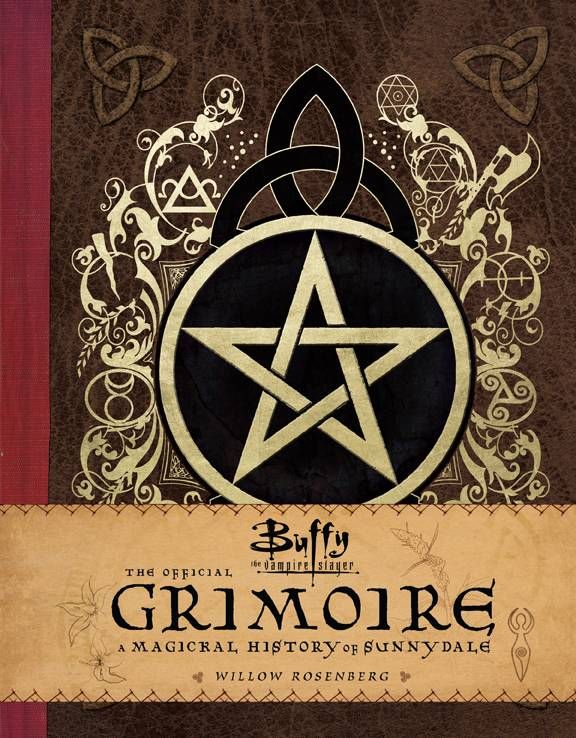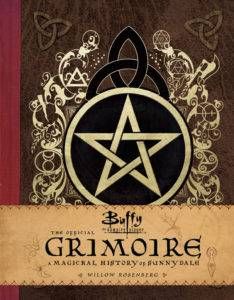 Every good witch has a grimoire, and Willow Rosenberg is no exception. The Official Grimoire is the first and only truly comprehensive collection of every magical moment from all seven seasons of Buffy the Vampire Slayer, humorously narrated by beloved resident witch Willow Rosenberg. Completely illustrated and annotated by the rest of the gang, this book of spells is a unique keepsake for fans of the Buffyverse and an incredible celebration of the show's twenty-year legacy.
---
Few of us can really describe the experience of entering the world of Sunnydale for the first time. A little bit of "What the heck?" coupled with "I totally want more of this," maybe? For me, I think, it wasn't just the witty dialogue, or the creepy but relatable monster-slaying that made me stay, though those were deliciously fun. It was about how dynamic and multidimensional Buffy and her friends were. Buffy wasn't just the special one. Willow wasn't just the school nerd. Cordelia wasn't just the popular one. These girls honored their femininity and their right to break out of the categories that supposedly defined them, and that was something that spoke to me deeply.
So since becoming a great lover of the Buffy universe, naturally, I've often found myself on the lookout for other characters who do the same. As flawed as Joss Whedon's universe was (and yes, it was flawed), I want characters like Buffy, who strive to find a balance between what they want and who they are. Like Willow, who never stop searching for a way to be more true to themselves. Like Cordelia, who aren't afraid to redefine themselves again and again.
Here are a few books I've found along the way.
The Epic Crush of Genie Lo by F.C. Yee
The front blurb for this book is "A demon invasion is no excuse for bad grades." Like Buffy, Genie is a high school student living her life until, well, things are revealed to her and she realizes she's the only thing that's between the normal world and hell. Along with this very Buffy-esque set up, Genie's story is a great answer to the question, "what if Buffy had been Asian?" because, speaking from my experience, you'd better believe that "But MOM, I had to close the hellmouth again!" would not have been an acceptable excuse for any lapses in grades, ever.
Who Fears Death by Nnedi Okorafor
Onyesonwu is, quite simply, amazing. She is unapologetic and bold, scrappy as hell and true to herself. Like Buffy and the gang, Onyesonwu fights for every single thing she wants. She defies expectations again and again. Like Buffy, her bullshit-o-meter is incredibly strong, and she never, ever gives up or gives in. And like Buffy, she loves fiercely. Her quests throughout the story are very reminiscent of Buffy's forays into different worlds, and are richer, too, as Okorafor uses the incredible, mystical landscape of her homeland to bring the magic in her story to life.
The Hundred Thousand Kingdoms Trilogy by N.K. Jemisin
Speaking of amazingly rich worlds, The Hundred Thousand Kingdoms has one of the most utterly compelling ones that I've ever come across. The story takes on the incredible act of myth-making, spanning across gods, clans, war, betrayal, and world-creation, while never losing sight of what's most important—family. And, too, the trilogy has an incredible redemption arc, something which I think both Angel and Spike fans would love.
Rebel Belle by Rachel Hawkins
What I love most about the protagonist of this book, Harper Price, is that she is a debutante. No, really. Like Buffy, Harper has a lot on her plate. She's a southern belle gearing up for her debutante ball, while also being editor of the newspaper, while also being one of the most high-achieving students in her school…oh, yes, and also happens to be a Paladin—aka a powerful guardian, and the only one that can protect the world from falling into hell. Sound familiar? With great humor, Harper's story takes on very familiar themes of coming of age, of balancing what you want with who you are, and with the multifaceted power of young women.
The Immortal Rules (Blood of Eden, #1) by Julie Kagawa
To me, Julie Kagawa's post-apocalyptic vampire saga is an excellent exploration of the question, "What if hell actually reigned on earth, and Buffy was turned into a vampire?" It's a compellingly dark, gritty take on Buffy's world, set in a world where the vampires control everything and humans are, well, the food. Enter Allison Sekemoto, who, just like Buffy, is full of steely determination to do good in the world, even as she grapples with becoming the very thing she hated most.
Sorcerer to the Crown by Zen Cho
If you love the wonderful, witty dialogue of the Buffyverse, then definitely put Sorcerer to the Crown on your list! The story might be set in an alternate universe of Victorian England, where sorcerers rule the land and political machinations abound. Think Giles and the magic shop, if you will, but, you know, with a ton of Jane Austen sprinkled in. But its themes, too, feel wonderfully familiar. Cho's narration is sparkling with wit from start to finish, with a lovely, diverse cast of characters, my favorite of whom is Prunella, because, much in the tradition of nearly every female character in the Buffyverse, she doesn't take crap from anybody, and won't stop fighting for what she believes or what she deserves.
And I Darken by Kiersten White
Speaking of history-based retellings, if you haven't read Lada's story, GET ON THAT IMMEDIATELY. This story is a historical retelling about Vlad the Impaler, but with one major twist—the Impaler is a girl. Lada is 100% not here for anybody's crap. She holds herself with immense self-respect, and goes after what she wants with a single-minded fury that leaves you kind of breathless. She is the kind of leader who never stops, never gives up, no matter how bad things get. Besides all of the work she puts into carving a name (sometimes literally) for herself, there's also a knotty, sometimes-breathtaking romance in the story that reminds me a lot of Buffy's romances—as crazy as they were!
Flame in the Mist by Renée Ahdieh
Think Buffy, but set in feudal Japan. (Right?!) What I enjoyed about Mariko's story is not just that she's clever and badass, but that, like Buffy, Willow, and many of the other women in these books, she works hard for everything she becomes. She's tenacious, and she's determined to find out who wanted her dead. But I think what I love most of all about her story is that Mariko works with a pretty amazing team. Because that, to me, is the most amazing thing about coming-of-age stories like Mariko's or Buffy's. It's not just that they take down the bad guys with flair and style—and MAN do they—but that no matter how crazy or ridiculous things get, they'll never do it alone.
—
So, book lovers and Buffy fans! Got any more recommendations to add to this list? Let me know!