Lists
10 Books That Break Genre Rules
Sponsored by Alfred A. Knopf, publisher of GNOMON by Nick Harkaway.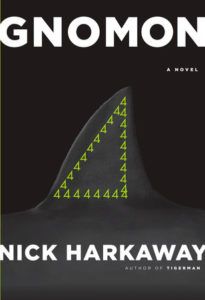 Acclaimed author Nick Harkaway presents a near-future, high-tech novel that is equal parts dark comedy, detective story, and mind-bending philosophical puzzle.
The System has created the safest society in history by monitoring all citizens' thoughts and memories. So when a woman dies in government custody—the first person killed during an interrogation—Inspector Mielikki Neith is assigned to find out what went wrong. What she uncovers in the woman's tangled memories will have staggering consequences that will reverberate throughout the world. A dazzling achievement, Gnomon is profound, captivating, and irreverent—a story of matchless wit infused with a deep humanity.
---
Every time a book smashes genre conventions, literature evolves. Authors who fearlessly push against help genres progress rather than stagnate. That doesn't mean it's always comfortable to experience, but, indeed, the controversy and dialogue that surrounds these books tear down paradigms of publishing. This list gathers 10 of the most groundbreaking books that break genre rules.
Outlander by Diana Gabaldon
One reason why Diana Gabaldon's Outlander has such a huge fanbase is the series appeals to many readers simply because of its unclassifiable genre. Before I picked up the first book, I seldom read historical fiction or romance or science fiction or adventure stories. But the TV show was about to be released and I was curious. Boom! I tore through that huge book in under three days. Outlander appeals to all kinds of readers because this riveting page turner is driven by an addictive mix of adventure, suspense, love and historical intrigue.
In Cold Blood by Truman Capote
Long before there was the controversy behind the not-quite-accurate memoir A Million Little Pieces, Truman Capote blended truth and fiction until they blurred beyond recognition with In Cold Blood. Capote's initial reporting for The New Yorker magazine on the 1959 massacre of a family in Kansas morphed into a full-length book billed as fact but faced several allegations of fabrication. In Cold Blood significantly bent genre rules for true crime (emphasizing "true") and literature, setting the precedent for future works of fictionalized reportage.
An Extraordinary Union by Alyssa Cole
A daring genre bender that combines genres of historical fiction, romance, spy thrillers, and adventure is Alyssa Cole's An Extraordinary Union, which was named one of Book Riot's best books of 2017. Cole's novel centers around the romance that blossoms between two undercover spies during America's Civil War. Elle Burns, a former slave with a photographic memory, is drafted by the Union to go undercover as a mute slave in a Confederate senator's home. Malcolm McCall is a Scottish immigrant also sent to the senator's house to spy for the North and pose as a Confederate soldier. He is immediately drawn to Elle, and when the two try to work together, a heated, forbidden, but aching passion springs up between them. An Extraordinary Union breaks genre rules by refusing to fetishize an interracial relationship or exploit the very real danger in such an attraction purely for plot, especially in a thriller infused with suspense and tension.
Mastering the Art of French Cooking by Julia Child
The release of Julia Child's Mastering the Art of French Cooking: Volume 1 in 1961 brought the delicacies of French cuisine into American homes. At the time, many American home cooks (read: mostly wives and mothers) were familiar with a less ambitious canon of staple recipes from magazine and iconic cookbooks like The Joy of Cooking. The publication of Mastering the Art of French Cooking made classic dishes of the French tradition accessible but not dumbed down. Child's masterpiece broke genre conventions by writing a cookbook for both home cooks and professional chefs alike without compromising the integrity of French techniques or flavor.
The Secret History by Donna Tartt
Donna Tartt's The Secret History is often described not as a whodunnit but a whydunnit. It's a mystery that tells you who committed the crime in the opening pages. After teasing the immediate aftermath of a group of close-knit friends who kill one of their own, Richard, our narrator, circles back to the beginning to explain what could drive a group of fiercely intelligent, precocious students to murder. The Secret History breaks mystery genre rules by solving the crime first and then working backward, creating a psychological thriller where you already know the ending but can't stop reading to find out how you get there.
Binti by Nnedi Okorafor
While a great deal of speculative fiction is set in Western Europe, the United Kingdom, or lands that resemble them, Nnedi Okorafor frequently plants her science fiction and fantasy in Western Africa. Okorafor's books span galaxies and epochs and are often influenced by the culture and traditions of the author's Nigerian heritage. Binti, the first installment in Okorafor's Hugo and Nebula winning trilogy, sends a young woman, Binti, traveling through space to train at the elite Oomza University while avoiding intergalactic conflict. In Okorafor's lavish world-building, people of color and diverse populations are not just secondary characters or ornamentation; they are every bit a part of the future. A subversive takedown of genre conventions, Binti and Okorafor's prolific fiction challenges the way race and diversity has traditionally functioned in speculative fiction.
In the Woods by Tana French
If you are part of the cult of Tana French (and I definitely am), then you better be comfortable with ambiguity. When Tana French's debut novel, In the Woods, was released in 2007, the book flew off the shelves. My friend who was working in a library that summer said they were working through a huge hold list. Why? Besides the mounting suspense, a gripping central mystery, and intoxicatingly lyrical prose, the ending was controversial. French boldly denies resolution to some of the central questions in the novel. This is an open rebellion against one of the basic components of police procedurals: cases get solved. You'll either love this ambiguity or hate it, but you won't be able to stop talking about In the Woods.
The Shadows by J. R. Ward
When you start a romance novel, there's one thing you're always guaranteed: a HEA, or a Happily Ever After. Closing the final pages, you want your love interests to be spending the rest of "after" together, blissfully content. The HEA is practically a guarantee, so when things don't end, well, happy for the couple, readers can understandably get angry. Legendary author J. R. Ward bucked this iron-clad romance rule in The Shadows, the thirteenth installment in the Black Dagger Brotherhood paranormal suspense series. This steamy page turner ends with a tragic twist rather than a triumphant future. It's a controversial finale that divides romance readers and threatens a golden rule of the genre.
A Visit from the Goon Squad by Jennifer Egan
From the inventive mind of Jennifer Egan, A Visit from the Goon Squad swept the literary awards season winning both the Pulitzer and the National Book Award. Trying to classify this highly postmodern work of interconnected short stories is difficult, though, when the stories span decades and Egan plays with inventive formats (the Power Point chapter!). But I loved Goon Squad for this very reason. Amid the different stories (or chapters), unifying themes like fame, failure, and redemption shone through to become a truly epic commentary on celebrity, image, and connection in an increasingly alienated world. By defying classification, Goon Squad pushed the boundaries of literature and brought a welcome kick of experimentation to the mainstream.
The Brief Wondrous Life of Oscar Wao by Junot Díaz
Again and again, you'll hear readers describe Junot Díaz's The Brief Wondrous Life of Oscar Wao as like nothing you've read before. This coming of age novel follows the titular Oscar Wao as he tries to transcend a curse of death that stalks his family. A notable feature of the book is its inclusion of nerd slang and passages in Spanglish, totally immersing the reader in Oscar's world without translating everything for the reader, a rule many English language literary fiction novels follow. The author also incorporates magical realism, which cleverly blends fiction and reality as you'd expect from one of Oscar's beloved sci-fi and fantasy novels, and creates a hybrid genre. By doing so, Díaz creates a ballad of mythic proportions for Oscar. He becomes another thread in the tapestry of American folklore, immortal.