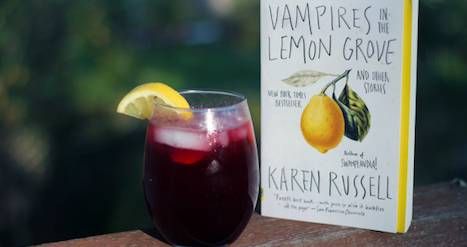 Fiction
Books and Booze: Karen Russell Edition
This content contains affiliate links. When you buy through these links, we may earn an affiliate commission.
There's nothing I like more than curling up in my favorite reading chair with a good book and a drink in hand. Coffee, tea, they're all good. I'll take a good cider or a glass of wine, too. But what I really love is a perfectly paired cocktail to complement my current read.
So I thought it'd be fun to share some of my favorite books paired with great boozy drinks each month. First up: Karen Russell edition.
Russell's short stories and novel are delightfully offbeat, blurring the lines between reality and fantasy. Her characters are vivid, her writing elegant and witty. Her novels are exuberant cocktails full of unlikely ingredients that definitely satisfy my palate. Here are my suggested boozy drinks to accompany her novel and short story collections.
Swamplandia! is the story of Ava, the youngest member of an alligator-wrestling family who is trying to save their failing farm after the death of her mother, but this cocktail is named for my favorite character in the book: The Bird Man, who helps Ava on her journey.
Okay, really, this is a horsefeather, but with a (slight) twist. I've sampled all the ginger ale and ginger beer varieties at my local soda shop to find the best combo with rye whiskey and a dash of bitters, and in my opinion, nothing tops Swamp Pop.
Bird Man
2 oz rye whiskey

6 oz ginger ale

Peychaud's bitters
Pour two shots of rye whiskey over ice in a highball glass, top with half a bottle of Swamp Pop ginger ale, add two dashes of Peychaud's bitters. Swizzle your straw in it, sit back, and enjoy. It's an unfussy cocktail for a laid back guy.
Vampires in the Lemon Grove is a hilarious and absurd collection of short stories and was my first introduction to Karen Russell. I'm not going to lie; I'll pretty much read anything vampire related, and that's what initially caught my eye, but by the time I got to "The Barn at the End of Our Term," a story about American presidents reincarnated as horses, I knew I'd found a new favorite author (and let's be honest, potential BFF. I was right – I got to have cocktails with her when she spoke at an event at my library, and she's as endearing in person as her stories suggest).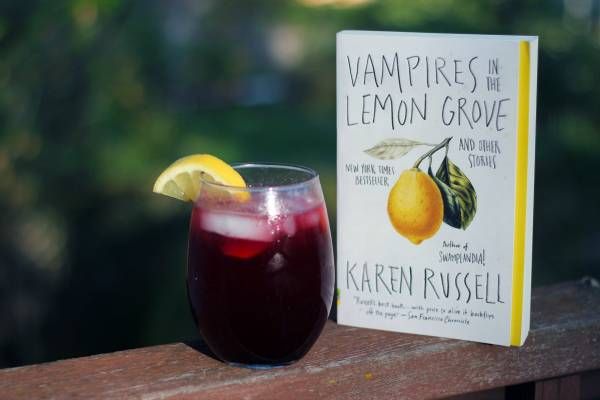 When choosing a cocktail to pair with Vampires, the obvious would have been a strawberry based cocktail mentioned in the first story in this collection, and I almost went with a strawberry-basil lemonade. Then, one of my favorite local bar and coffeeshops featured the most refreshing new cocktail on their spring menu. It had a very complex flavor that I thought would delight our vampires Clyde and Magreb: a hibiscus clove lemonade, and the bartender taught me out to make it in exchange for book recommendations (and you know, cash tips).
Vampires in the Lemon Grove
1 oz hibiscus-clove simple syrup

2 oz gin

Juice of 2 lemons

Top with sparkling water or club soda

lemon slice
To make the simple syrup: combine ¼ cup dried hibiscus flowers and 1 tablespoon dried cloves with 1 cup sugar and 1 cup water. Bring to boil, stirring until sugar is dissolved. Remove from heat, cool, and strain out the flowers and spices.
Add one shot hibiscus-clove syrup, 2 ounces gin, lemon juice over ice. Stir. Top with soda water. Sip it while pretending your in an Italian lemon grove.
St. Lucy's Home for Girls Raised by Wolves is another short story collection full of wicked humor. It calls for a robust drink. Again, I had a few ideas for the perfect pairing—what would they serve at the Crustaceous Cocktail Lounge from "The Star-Gazer's Log of Summer-Time Crime" besides a Coco Loco (which is not my style)? I decided to go with a bourbon cocktail with herbal notes that first introduced me to Averna Amaro, an Italian apertif.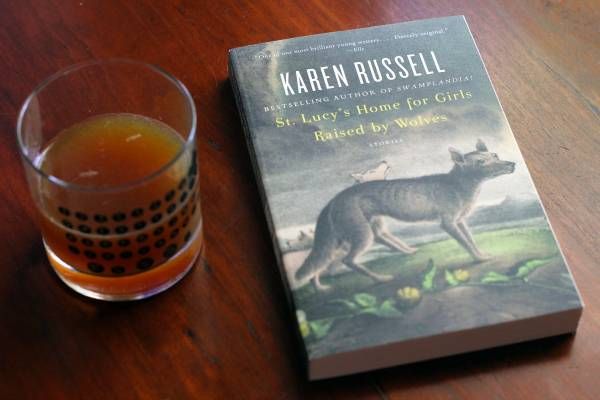 Raised by Wolves
2 dashes cardamom tincture

2 oz bourbon

1 oz lemon juice

½ oz Averna Amaro liqueur

½ oz gomme or simple syrup
To make a cardamom tincture, soak 1 oz cardamom pods in vodka for 5 hours until the pods open; drain pods. Combine ingredients in cocktail shaker with ice. Shake and serve garnished with a lemon peel. Try not to get too wild.
Books. Booze. It doesn't get much better.