Fiction
Books And Rock & Roll: Seven Books That Rock
Recently I was sent a copy of Pepperland by Barry Wightman, a new book from Running Meter Press, an indie publisher in Colorado. A rollicking read set in the 1970s against a backdrop of advancing technology, it was one of the most surprising reads to find its way into my mailbox.
The FBI chasing down a struggling musician and his computer genius girlfriend, both of whom are just trying to make their respective dreams come true as the economy struggles in the mid-70s? Gripping and quite hilarious. Seriously recommend it.
Pepper Porter (yes I'm aware he sounds like a Marvel character) and his music filled adventures across the country got me thinking though… there sure are a lot of great novels out there with music playing a major role. So what are some other outstanding novels that truly rock?
I've pooled together a nice little list for you. Rock on. \m/\m/
A VISIT FROM THE GOON SQUAD by Jennifer Egan: I picked up a copy of Egan's book while on vacation, and promptly spent an entire day on the beach reading it. I couldn't put it down. I've always found it to be one of those books that's hard to accurately describe to someone, which is frustrating because I'm frequently insisting people read it.
I'll try now, and will apologize for my failure right now.
In Goon Squad, we experience a number of fantastic characters all at different points in their lives, all rotating around a punk rocker / record label owner and the woman who works for him.
It's a fantastic novel that jumps around through time, and even breaks out some charts at one point. Just read it please.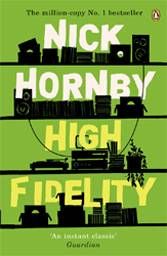 HIGH FIDELITY by Nick Hornby: Oh come on, of course I'm going to toss High Fidelity up in here (have you met me?) as a great book that rocks. A heartbroken record store owner recaps his Top 5 breakups, and learns a great deal about himself in the process. I won't say that much here, because you could just read this.
Hornby is pretty well known for music filled books. Additional Hornby music books include Juliett Naked and his book of essays, Songbook.
CASSETTE FROM MY EX by Jason Bitner: In the mood for an anthology of sorts? Cassette From My Ex collects a number of beautiful stories about love and mixtapes (not to be confused with Love Is A Mixtape, which we'll talk about later). A number of authors, DJs, editors, and musicians contribute tales of analog love, and how mixtapes played an important role in their love lives.
NICK & NORAH'S INFINITE PLAYLIST by Rachel Cohn and David Levithan: I have fond memories of my confusing teenage years, of running around checking out (and sometimes playing in) local bands, so Nick & Norah holds a special place in my heart. And thanks to the book being loaded with references to music and pop culture, its an easy, light crossover read.
BROAD STREET by Christine Weiser: An indie book published by Philadelphia Stories Books, Broad Street basically reads like a Nick Hornby book set in Philly. As someone who loves Hornby and lives in Philadelphia, of course I'm all about this book.
Set in the early 90s, the story focuses on a group of girls out to spite their ex-boyfriends, by starting an all girl rock group. It's a fun, easy read. It's a perfect beach read.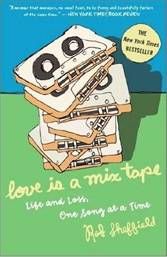 LOVE IS A MIX TAPE by Rob Sheffield: A heartbreaking, beautiful read, Love is a Mix Tape is a gorgeous memoir told through mix tapes. It's definitely one of those books that will make you experience multiple feels.
His follow up book, Talking to Girls About Duran Duran, is also worth mentioning. He writes about love and music in a way few other people can. Definitely check his Sheffield's work.
SCOTT PILGRIM by Bryan Lee O'Malley: One of my favorite reads of all time, the Scott Pilgrim series by Brian Lee O'Malley basically has it all. A cast of memorable characters, a hilarious (and surprisingly heartwarming) love story, video game references galore, and plenty of grungy rock and roll.
I'd listen to every band in the series. Except The Clash at Demonhead. No way.
—
I would have tossed Telegraph Avenue by Michael Chabon in this list, but I haven't (I'm sorry!) read it yet. So help me out here. What other books would you add to this list?
____________________________
Sign up for our newsletter to have the best of Book Riot delivered straight to your inbox every two weeks. No spam. We promise.
To keep up with Book Riot on a daily basis, follow us on Twitter, like us on Facebook, , and subscribe to the Book Riot podcast in iTunes or via RSS. So much bookish goodness–all day, every day.