This content contains affiliate links. When you buy through these links, we may earn an affiliate commission.
What's better than spending an evening exploring new worlds in a fantasy novel? Doing it with a perfectly paired craft cocktail. In my first installment of Books and Booze, I focused on Karen Russell stories. In this edition, I'm exploring fruity, floral cocktails matched with some of my recent favorites in fantasy novels.
I most enjoy fantasy novels that transport me to new, magical worlds described in complex details. In cocktails, I look for well-balanced, complex flavors. In both, I have a taste for unexpected combinations. These books and drinks are among my favorites.
A Darker Shade of Magic by V.E Schwab is a unique twist on a familiar fantasy concept: multiple, parallel worlds, and people with magic abilities to travel between them. While the plot is fairly predictable, the vibrant magical world and compelling characters make it an engrossing novel that's a lot of fun to read.
This cocktail is inspired by the scent of Red London, which to Kell, smells like home, but is described as floral, and often roses, by those of Grey London who have the opportunity to receive a letter from another world. Rose is just one of the unique flavors layered in this whiskey and wine based cocktail.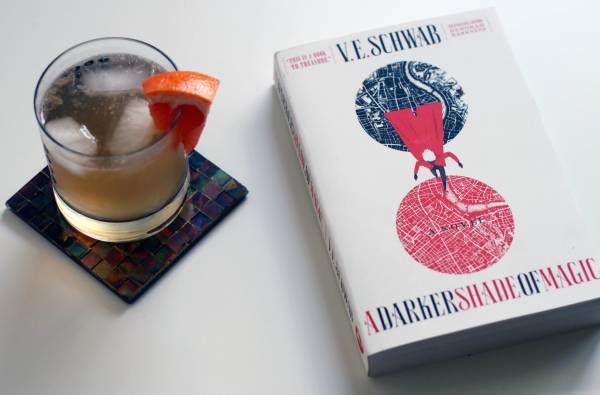 Red London
ingredients:
2 ounces whiskey (I used Angel's Envy Bourbon)

3 ounces rosé wine (I used a cheap, $10 bottle from Trader Joe's)

1 teaspoon rose syrup (flavor simple syrup with rose water)

2 tablespoons fresh-squeezed grapefruit juice

Sparkling water to taste

Grapefruit slices or peel, for garnish
directions:
Stir whiskey and rosé with juice and rose syrup. Top with sparkling water and grapefruit slices.
---
If you're looking for a fantasy novel with a more modern setting and a fresh twist on the supernatural and prefer your cocktails a bit lighter and less alcoholic, this next pairing is for you.
Written in Red by Anne Bishop is the story of Meg, a blood prophet who escapes captivity and makes a new home in the Courtyard that acts as a buffer between the human world and The Others. Despite the terrible abuse she's experienced, she's a remarkably sweet character, and the humor and affection she brings to the Courtyard and her interactions with the Others balance out the darker plot.
This cocktail is compulsively drinkable the way the book is compulsively readable. It's also a drink I can see Meg, who is new to many of the experiences of the outside world, giving a try. It's light and refreshing and sweet, but not too intense. It's perfect for sipping on a Sunday afternoon curled up in a comfy chair with a good book.
Written in Roses and Raspberries
ingredients:
3 oz rosé
4-5 raspberries
1-2 tsp sugar
1 tsp rose water
sparkling water
directions:
Muddle raspberries with rosewater and sugar. Add wine and a couple ice cubes, and top with sparkling water if you want a lighter drink (alternatively, use sparkling rosé for a bit of the bubbly). Garnish with a fresh raspberry.
---
If waiting for a the trilogy's finale makes you hesitant to dive into a series and the idea of assembling a lot of ingredients for a drink is too much work, consider this standalone fantasy novel and easy to make drink.
Uprooted by Naomi Novik evokes the nostalgia of classic fairy tales. It's a truly layered story with a fierce and flawed heroine, brooding hero, complicated friendship, and a seriously creepy sentient forest. Pair it with this bright and bold, fruity and floral drink with just enough bitter to cut through the sweet.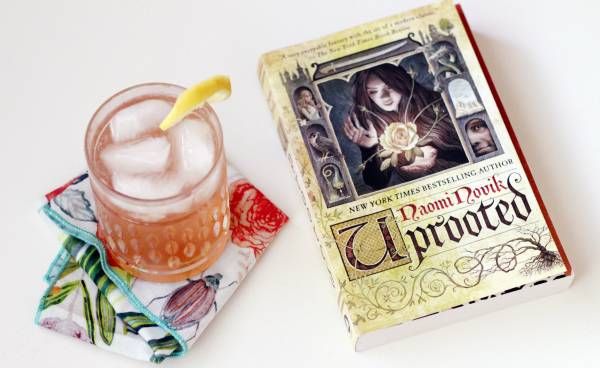 Coming Up Roses
ingredients:
1 oz rosehips, lavender, and strawberry shrub (I bought

this one from local producer Nostrum

but you can also make your own!)

2 oz gin (I used Hendrick's for the floral and herbal notes, but a milder gin would be fine)

Juice of half a lemon

Dash lavender bitters

Top with sparkling water
directions:
Shake the shrub, gin, and lemon juice together. Pour over ice. Add bitters and top with sparkling water.
Do you have a favorite book and booze pairing? I'm an equal opportunity literary mixologist, so I'd love to hear about them!