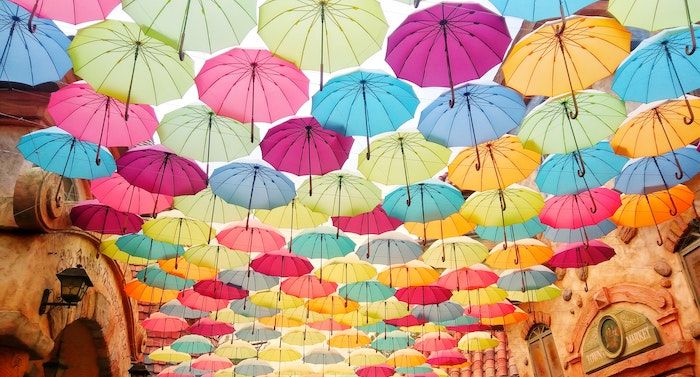 Lists
Books About Wonder and Sparking Joy in Dark Seasons
This content contains affiliate links. When you buy through these links, we may earn an affiliate commission.
One of my favorite Mary Oliver poems includes the line "Joy is not made to be a crumb." I think about that line a lot, and it's a poem that I read frequently to begin and end my yoga classes — it's a reminder to self, more than anything, that even in the darkest times, finding joy is electric, it's powerful, and it's meant to be big.
I've been struggling with my depression for more than 20 months straight. The pandemic has altered all of our minds, and for those of us with a mental illness, it's made the hardest parts of that experience really grow. There are moments, days, weeks, where things look better and most of my normal activities feel fine enough. But those come with the creeping reality in the back of my head that shortly, it won't feel fine anymore. That I'll struggle to get out of bed. That any and all activities that seemed to bring a sense of joy or wonder will soon cease to do just that, and I'll be simply moving my body through the motions again, hoping to get back to that place of feeling fine. No amount of medication or therapy can change the reality we're in, and this goes so much more so for those who are from marginalized backgrounds: on top of the physical pandemic, there's the relentless pandemics of racism, homophobia, and nonstop news cycle fueling worry.
The pandemic has amplified things that were already hard, and given that the systemic structures are slow to change, if changing at all, the reality is even when COVID is under control, the social pandemics will continue — and so will begin a massive process of grief and unpacking years of trauma, layer upon layer.
Even in my own darkest hours, though, I come back to the idea of joy not being a crumb. Those moments where I want to disappear are the ones where I push myself best as I can to find a sense of wonder or curiosity. It can, and often is, a tiny and inconsequential thing, but cultivating even the silliest sense of awe helps ground me into something beyond myself.
Science backs up this experience. As David P. Fessell and Karen Reivich explore in their Harvard Business Review piece "Why You Need To Protect Your Sense of Wonder — Especially Now," every opportunity you can take to find awe, be it through a nature walk or a fun YouTube video, helps ease the mental load. It does not cure anything, of course, but ease as a goal is more than worthy in and of itself. Find those places of joy and wonder, and you'll be able to breathe more freely.
As we enter the second winter of this global pandemic, with daylight quickly receding and cold weather settling in, forcing many of us back inside after doing all we can to safely navigate outdoor activities during favorable months, finding awe, wonder, and joy will become essential survival techniques.
Let's take a look at some great books that can help you find wonder, awe, and joy and help you feel connected to something bigger as we become more and more isolated. As always, if you're experiencing mental health issues at all, do what you can to get help. While these books will help you find meaning, they aren't sustainable method for managing mental illness. They can be a tool in that toolbox, but the more you've got to work with, be it medication, talk therapy, or a combination of those and other methods, the better you'll be able "to be alive, on this fresh morning, in the broken world."
Books To Inspire Joy, Wonder, and Awe
---
Find space in the every day to let yourself wonder, to explore, and to expand your joy. It doesn't matter what those things look like — what matters is you allow yourself to not let it be but a crumb, especially during the darkest, most challenging times.
Need more? Read your way into books that celebrate Black joy, as well as how to rekindle your bookish joy.