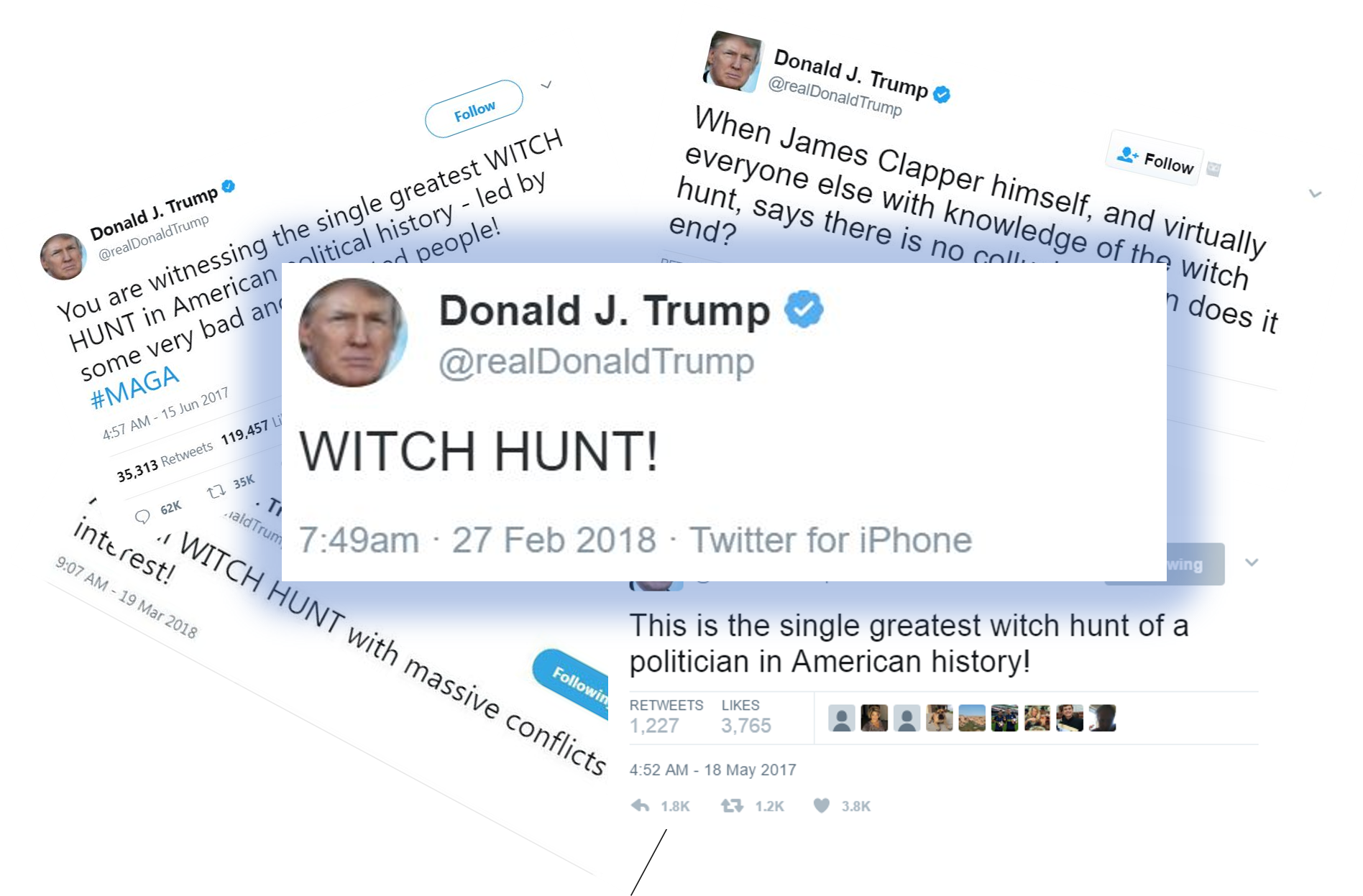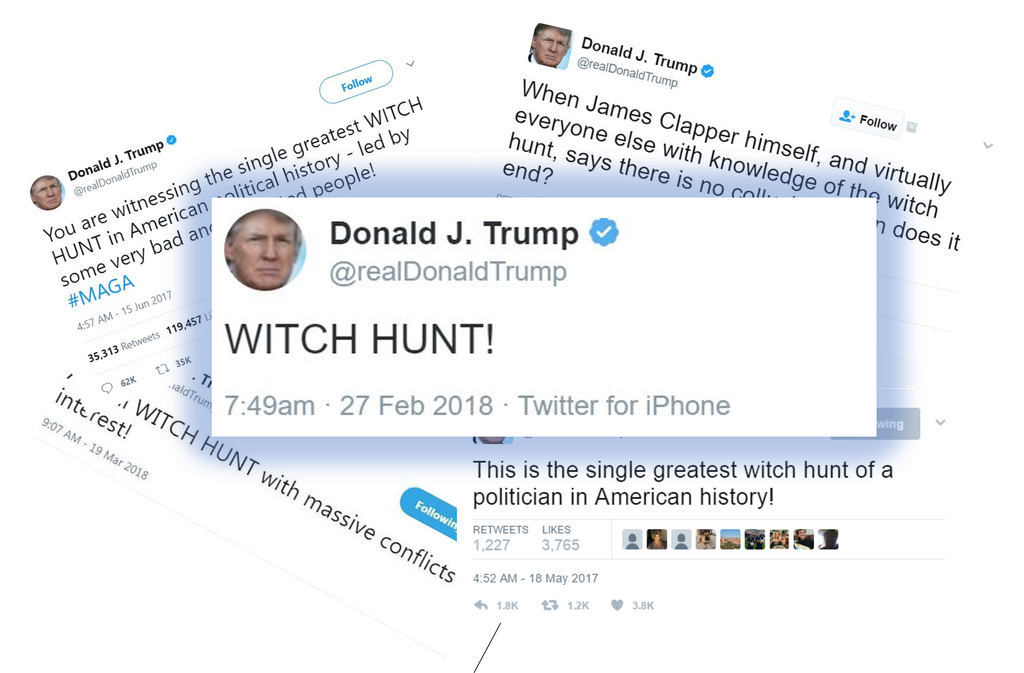 Nonfiction
Books About Actual Witch Hunts for POTUS to Read
This content contains affiliate links. When you buy through these links, we may earn an affiliate commission.
You know how you learn a new word and you find a way to crowbar it into conversations?
Well, it seems that the commander-in-chief has recently learned the term "witch hunt"…and boy, does he love it!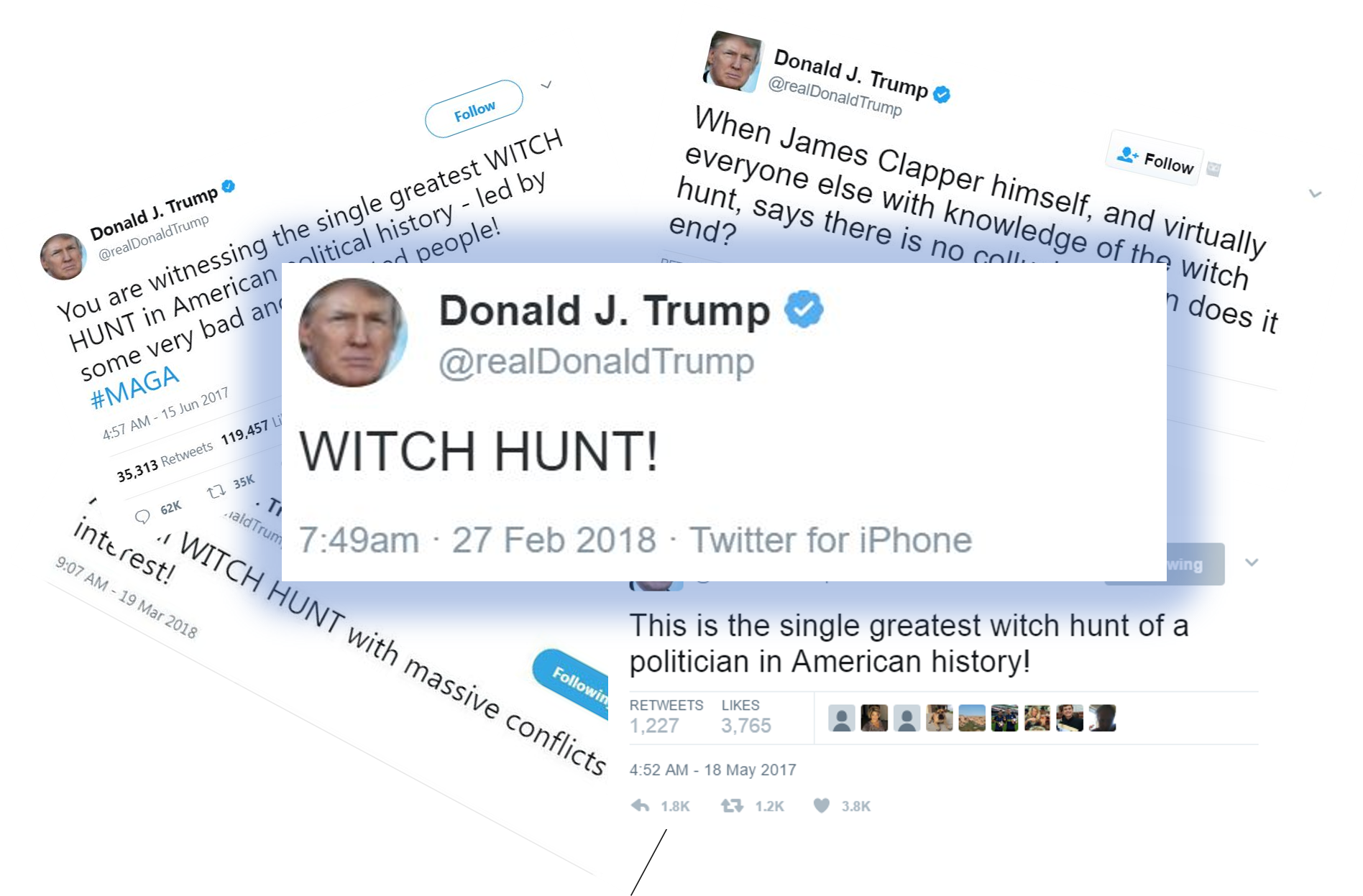 But it's made obvious in his myriad tweets and rants that he's not entirely clear on what a witch hunt is. I think we can help out a bit here.
Here is a list of books that will educate the man behind the Resolute desk on what constitutes a witch hunt, and what is merely the wheels of justice and democracy grinding away.
Pulitzer Prize winner Stacy Schiff, author of the #1 bestseller Cleopatra, provides an electrifying, fresh view of the Salem witch trials. The Witches is Schiff 's riveting account of a seminal episode, a primal American mystery unveiled-in crackling detail and lyrical prose-by one of our most acclaimed historians.
From an award-winning McCarthy scholar comes the first post-Cold War exploration of the anticommunist witch-hunt and its devastating impact. Tracing the way that a network of dedicated anticommunists created blacklists and destroyed organizations, this broad-based inquiry reveals the connections between McCarthyism's disparate elements in the belief that understanding its terrible mechanics can prevent a repetition.
Richard Fried's Nightmare in Red offers a riveting and comprehensive account of this crucial time. He traces the second Red Scare's antecedents back to the 1930s, and presents an engaging narrative about the many different people who became involved in the drama of the anti-communist fervor, from the New Deal era and World War II, through the early years of the Cold War, to the peak of McCarthyism, and beyond McCarthy's censure to the decline of the House Committee on Un-American Activities in the 1960s.
Barstow argues that it is only with eyes sensitive to gender issues that we can discern what really happened in the persecution and murder of these women. Her sweeping chronicle examines the scapegoating of women from the ills of society, investigates how their subjugation to sexual violence and death sent a message of control to all women, and compares this persecution of women with the enslavement and slaughter of African slaves and Native Americans.
An exhaustive look at the persons and organizations who persecuted witches throughout modern history. Covering the Middle Ages up through modern times, this unique history explores the development of the "witch delusion" and uncovers the cruel butchers who hunted and executed so-called witches. It explores in-depth the various motivations—including self-protection, personal vindictiveness, public recognition, political aims, and sheer greed—behind those who condemned, tortured, and executed numerous innocent people.
As Emerson Baker illustrates in this seminal new work, Salem was "a perfect storm," a unique convergence of conditions and events that produced something extraordinary throughout New England in 1692 and the following years, and which has haunted us ever since. Baker shows how a range of factors in the Bay colony in the 1690s, including a new charter and government, a lethal frontier war, and religious and political conflicts, set the stage for the dramatic events in Salem.
The stark immediacy of what happened in 1692 has obscured the complex web of human passion which had been growing for more than a generation before building toward the climactic witch trials. Salem Possessed explores the lives of the men and women who helped spin that web and who in the end found themselves entangled in it.
In this study, Professor Trevor-Roper reveals the social and intellectual background to the witch-craze of the 16th and 17th centuries. Orthodoxy and heresy had become deeply entrenched notions in religion and ethics as an evangelical church exaggerated the heretical theology and loose morality of its opponents. Gradually, non-conformists as well as whole societies began to be seen in terms of stereotypes and witches became the scapegoats for all the ills of society.
Witchcraft, astrology, divination, and every kind of popular magic flourished in England during the 16th and 17th centuries, from the belief that a blessed amulet could prevent the assaults of the Devil to the use of the same charms to recover stolen goods. At the same time, the Protestant Reformation attempted to take the magic out of religion, and scientists were developing new explanations of the universe. Keith Thomas's classic analysis of beliefs held on every level of English society begins with the collapse of the medieval Church and ends with the changing intellectual atmosphere around 1700, when science and rationalism began to challenge the older systems of belief.
This acclaimed history illuminates the horrifying episode of Salem with visceral clarity, from those who fanned the crisis to satisfy personal vendettas to the four-year-old "witch" chained to a dank prison wall in darkness till she went mad. Antonia Fraser called it "a grisly read and an engrossing one.
And because I think these might be more his speed…
Something wicked was brewing in the small town of Salem, Massachusetts in 1692. It started when two girls, Betty Parris and Abigail Williams, began having hysterical fits. Soon after, other local girls claimed they were being pricked with pins. With no scientific explanation available, the residents of Salem came to one conclusion: it was witchcraft. Over the next year and a half, nineteen people were convicted of witchcraft and hanged while more languished in prison as hysteria swept the colony. Author Joan Holub gives readers and inside look at this sinister chapter in history.
When people think about the Salem Witch Trials, things like witchcraft and the Puritans may come to mind. But what were the trials all about, and were people really practicing witchcraft? This engaging nonfiction book, complete with black and white interior illustrations, will make readers feel like they've traveled back in time. It covers everything from how the craze started to what happened at the trials, and more. Find out interesting, little-known facts such as how most of the accused were from outside of Salem, Massachusetts, and how even animals were accused of witchcraft. The unique details along with the clever and humorous interior illustrations make this series stand out from the competition.
The riveting, true story of the victims, accused witches, crooked officials, and mass hysteria that turned a mysterious illness affecting two children into a witch hunt that took over a dozen people's lives and ruined hundreds more unfolds in chilling, novelistic detail—complete with stylized black-white-and-red scratchboard illustrations of young girls having wild fits in the courtroom, witches flying overhead, and the Devil and his servants terrorizing the Puritans—in this young adult book by award-winning author and illustrator Rosalyn Schanzer.
Eh, who are we kidding? He doesn't read. But you probably do…so check them out!