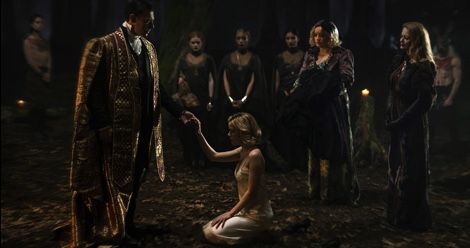 Pop Culture
What Sabrina Got Wrong: Additional Reading on Paganism and Witchcraft
This content contains affiliate links. When you buy through these links, we may earn an affiliate commission.
I recently completed The Chilling Adventures of Sabrina. While I thoroughly enjoyed the show and immediately binged all ten episodes, something didn't sit right with me. And it appears I wasn't alone; much controversy has followed Sabrina, Salem, the Aunties, and Ambrose.
Though a practicing Christian myself, I was really bothered by the depiction of Paganism and Wiccanism in this Netflix show (and I'm assuming, the comic series itself). For centuries, witches and Pagans have fought against the prevailing idea that they worship Satan. People see a pentagram and assume it's the work of the devil himself, conjuring up images of demons and Hell.
So it doesn't help when a show and a comic meant to feature the fictional lives of witches in Greendale focuses on their devotion to The Dark Lord. The existence of The Church of Night in relation to witch characters feels problematic to a lot of Pagans and Wiccans I personally know, so I asked those impacted to share with me some reading suggestions on the history and art of Paganism and Wiccanism. While Sabrina's Greendale is a fun, spooky world to live in, it doesn't hurt to educate oneself as an inoculation about incorrectly held notions about other's religions.
Know this isn't a repudiation of the character or the story, nor is it even a dismissal of Satanism itself. This is just an opportunity for us all to learn a little more about two ancient religions that have formed the backbone for a lot of the traditions and rituals we celebrate today. Happy reading*!
Everything you need to know is here! The Sabbats; Casting & Banishing the Magic Circle; The Complete Book of Shadows; The Great Rite; Initiation Rites; Consecration Rites; Spells; Witches' Tools; Witchcraft & Sex; Running a Coven; Clairvoyance; Astral Projection. This collection includes two books in one volume, Eight Sabbats for Witches and The Witches' Way, and is the most comprehensive and revealing work on the principles, rituals and beliefs of modern witchcraft.
Almost 30 years since its original publication, Drawing Down the Moon continues to be the only detailed history of the burgeoning but still widely misunderstood Neo-Pagan subculture. Margot Adler attended ritual gatherings and interviewed a diverse, colorful gallery of people across the United States, people who find inspiration in ancient deities, nature, myth, even science fiction. In this new edition featuring an updated resource guide of newsletters, journals, books, groups, and festivals, Margot Adler takes a fascinating and honest look at the religious experiences, beliefs, and lifestyles of modern America's Pagan groups.
Embracing both the spiritual and the practical, Wicca for Beginners is a primer on the philosophies, culture, and beliefs behind the religion, without losing the mystery that draws many students to want to learn. Detailing practices such as grounding, raising energy, visualization, and meditation, this book offers exercises for core techniques before launching into more complicated rituals and spellwork.
If you want to study Paganism in more detail, this book is the place to start. Based on a course in Paganism that the authors have taught for more than a decade, it is full of exercises, meditations, and discussion questions for group or individual study. This book presents the basic fundamentals of Paganism. It explores what Pagans are like; how the Pagan sacred year is arranged; what Pagans do in ritual; what magick is; and what Pagans believe about God, worship, human nature, and ethics.
This popular guide to the Craft has been helping a new generation of Witches—those practicing or wishing to practice the Craft on their own—for over a decade. Filled with Silver RavenWolf's warmth, humor, and personal anecdotes, To Ride a Silver Broomstick introduces the science and religion of the craft.
Cunningham's classic introduction to Wicca is about how to live life magically, spiritually, and wholly attuned with nature. It is a book of sense and common sense, not only about magick, but about religion and one of the most critical issues of today: how to achieve the much needed and wholesome relationship with our Earth. Cunningham presents Wicca as it is today: a gentle, Earth-oriented religion dedicated to the Goddess and God.
The Spiral Dance celebrates the pivotal role the book has had in bringing Goddess worship to the religious forefront. This bestselling classic is both an unparalleled reference on the practices and philosophies of Witchcraft and a guide to the life-affirming ways in which readers can turn to the Goddess to deepen their sense of personal pride, develop their inner power, and integrate mind, body, and spirit. Starhawk's brilliant, comprehensive overview of the growth, suppression, and modern-day re-emergence of Wicca as a Goddess-worshipping religion has left an indelible mark on the feminist spiritual consciousness.
Buckland's Complete Book of Witchcraft has influenced and guided countless students, coven initiates, and solitaries around the world. One of modern Wicca's most recommended books, this comprehensive text features a step-by-step course in Witchcraft, with photographs and illustrations, rituals, beliefs, history, and lore, as well as instruction in spellwork, divination, herbalism, healing, channeling, dreamwork, sabbats, esbats, covens, and solitary practice. The workbook format includes exam questions at the end of each lesson, so you can build a permanent record of your spiritual and magical training. This complete self-study course in modern Wicca is a treasured classic—an essential and trusted guide that belongs in every Witch's library.
This book has everything a teen Witch could want and need between two covers: a magickal cookbook, encyclopedia, dictionary, and grimoire. It relates specifically to today's young adults and their concerns, yet is grounded in the magickal work of centuries past.
Doreen Valiente, hailed as the "Mother of Modern Witchcraft" is one of the most influential figures in 20th century contemporary religion and spirituality. A prolific poet throughout her life, her most famous and many previously unknown poems are published here in this special posthumous volume named after her best known work: The Charge Of The Goddess.
And even a little something for the kids:
A groundbreaking story that collects, commemorates, and illuminates traditional, sacred Pagan practices and beliefs in a fresh, contemporary, and whimsical style. Join Rupert the rabbit on his adventures as he sets out to discover how and why people leave their homes to celebrate seasonal holidays in the forest where he lives. As Rupert's journey unfolds throughout the seasons, he meets owls, fairies, and old friends who teach him about the Wheel of the Year. Beautifully illustrated, this book is an excellent starting point for young children being raised within the loose structure of the various Pagan traditions. You don't have to be Pagan to be enchanted by Rupert and the magick found in his tales.
And unlike me, if you don't have Dar Williams's The Christians and the Pagans playing on an endless loop in your head, check out this great piece on 13 Horror Comics to Read After Chilling Adventures of Sabrina.
*Note: There's a dearth of books about Wicca and Pagan belief written by people of color. If you have any recommendations, shout them out here!