This content contains affiliate links. When you buy through these links, we may earn an affiliate commission.
We decided to go to Ukraine on a whim. One afternoon during a catch up coffee with a close friend, we talked about places we wanted to see and shared our hope to see Chernobyl. This was before the 2019 TV series spurred a new global interest in the event and the place. When the TV series aired, I got a message from my friend. I think we should go now.
Which is why I found myself landing in Ukraine on a wintery November night, having taken a midnight flight from London. Departing the airport, I went immediately to join a small tour group outside the majestic Red University Building at Volodmyrska Street in Kiev. Tired from a night without sleep, I conked out on the bus and woke up when we reached Dytiatky checkpoint.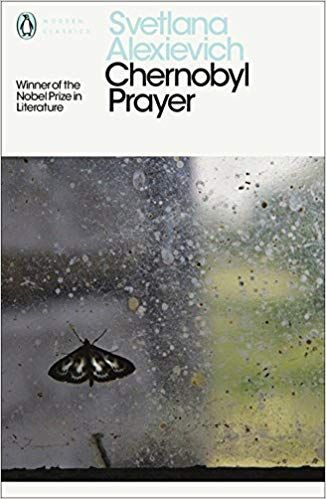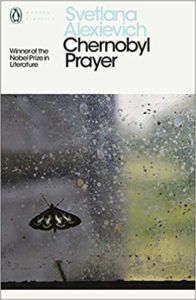 I had read Chernobyl: A History of a Tragedy by Serhii Plokhy, which is a widely recommended book on this topic, but years ago I read Svetlana Alexievich's Chernobyl Prayer. That book has remained in my heart ever since the day I put it down, more than anything else I've ever read. Doggedly collecting testimonials from survivors, from widows to resettlers, firefighters to orphans, Alexievich's book sets out to present testimony to the reader without judgement or redaction. It remains one of the most startling books I have ever read.
Walking through Pripyat and seeing the abandoned books on children's school desks is an image that will stay with me for a long time. The buildings that have been torn down by the slow decay of time. The deep, eerie feeling of standing outside reactor 4 and looking up toward the confinement object that prevents disaster. Checking my hands and feet for radiation levels at several checkpoints, the sadness of the area was overwhelming. I've stood in Auschwitz and looked skyward at the Hiroshima Peace Memorial; there is something of the same deep sadness in Chernobyl.
Seeing the Exclusion Zone was the main reason for going to Ukraine, but it wasn't the only one. A friend had recommended that we stop by the National Museum of the History of Ukraine in the Second World War – a name that doesn't roll off the tongue, but is the result of Ukraine's commitment to decommunise the state after too many years of tragedy and oppression. The museum itself is a rush of blood to the head, commencing with recent exhibits detailing the ongoing incursion by Putin.
Bloodied helmets, broken personal belongings and evidence of torture are posted on the walls. There is no ignoring the depth of emotion in these exhibits; they are so recent that they can't be free of bias; Ukraine is so clearly calling out for help from the international community. I picked up a copy of Greetings from Novorossiya by Pawel Pieniazek to see the reality played out in narrative and images. The book is deeply thought out and well presented, opening Ukraine's troubles up to readers who may know nothing about it at page one.
The further sections of the museum detail a grim and deeply personal recollection of the Ukrainian experience of World War II. After years of famine in the 1930s which decimated the population, Ukraine was invaded from the east by the Soviet Union in 1939, while Nazi Germany invaded from the west through Poland. The Ukraine of that time was torn asunder, loyalties destroyed in the face of two invading forces. The exhibits are hard to look at. There are gloves made of human skin. A bone crushing machine to turn people into fertilizer. A guillotine.
Though I knew about some of this, I didn't know it all, and when I came back I bought Borderland by Anna Reid, which is a guide to 1000 years of Ukraine's history, pulling the reader on a well thought out journey about Ukraine's past and potential. 'Ukraine' means 'borderland' and in the scope of its existence, its borders have been fluid and its conflicts many. There's no denying the sadness in these borders.
After two heavy days of exploring and learning, we stopped off at Last Barricade (Ostannya Barykada), a restaurant which requires the communication of a secret code for entry. Sitting down to dinner, we experienced a really delicious series of dishes featuring well known favourites (Chicken Kiev, anyone?) and lesser known wonders like varenyky. It made my mouth water; Ukrainian cooking is the mainstay of Mamushka by Olia Hercules, a colourful extravaganza of a cookbook that demands a chef's attention.
On the plane back, enthralled by all I'd seen, I got stuck into East West Street by Philippe Sands. The author is a human rights lawyer who was involved in the extradition of Pinochet and therefore he's well placed to explain the workings of international courts. His nonfiction work revolves around the Nuremberg Trials, the birth of the modern justice system and his own family's lost history in the midst of a genocide.
Of the entire Ukrainian population, most are ethnically Ukrainian or Russian. The population includes a proportion of Jewish people and Crimean Tatars, but the voices of people in colour in Ukraine have not been heard, perhaps because of the simple lack of people of colour who make Ukraine home. The books I have sought out and read are mostly in the voices of people who have lived these experiences, but include no voices of colour. For Ukraine, diversity of voice must come from its minority populations, particularly when conflict persists within its borders.