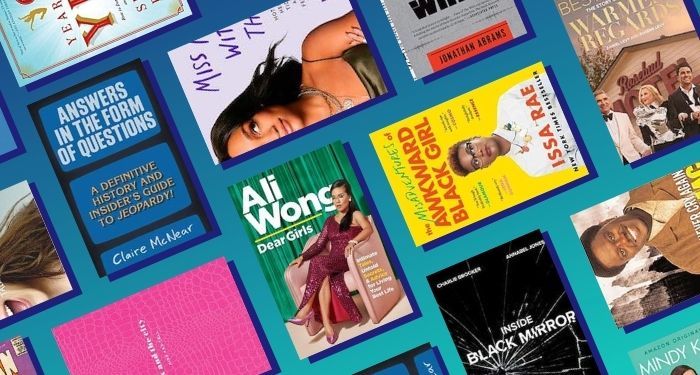 Lists
Books About TV Shows: 14 Titles That Take You Behind the Scenes
This content contains affiliate links. When you buy through these links, we may earn an affiliate commission.
When it comes to storytelling, books are my first love. That said, if I do fall in love with a TV series, I will rewatch it as many times as I reread my favorite books — and I'll want to know everything about it. How did the idea for the show come about? What did they talk about in the writer's room? How did the acting talent win over the casting director? What was it really like on set? These are the questions I had in my mind back in the early 2000s, when I was getting really into Sex and The City. So, when I spotted Sex and the City: Kiss and Tell — a book that promised to take me behind the scenes of the show — at a bookstore, I knew I'd found the best of both storytelling worlds.
While books about TV shows have become more popular over the years, there are still plenty of TV series that don't have companion books. When I recently went on a hunt for a book about one of my favorite shows, Insecure, I wasn't able to find anything. Then again, the series only ended a couple of months ago, so I'm hopeful one will eventually be published. In the meantime, I bought The Misadventures of Awkward Black Girl, a memoir by the show's creator, Issa Rae.
Based on the writing of Insecure, I knew I'd love reading her memoir, but when it came to getting insights about the series itself, I didn't think it would be quite the same as reading books about TV shows. It's true — it wasn't quite the same, but I quickly realized it was just as rewarding. Within a few pages of reading about Rae's own life experiences, I began recognizing situations, characters, and thoughts that are echoed in Insecure. Not only was it fun to spot them, but it also didn't take anything away from the pleasure of reading her memoir for what it is.
So, if you like the idea of mixing your favorite storytelling mediums through books about TV shows, I've put together a list of titles that will take you behind the scenes in some capacity, whether it's a book dedicated to the creation of the series or a memoir that reveals more about the creator — and in turn, about the work.
---
The next time you're in the mood for some great storytelling and find yourself torn between turning pages and watching a screen, treat yourself to the perfect mix by diving deep into one of these books about TV shows.