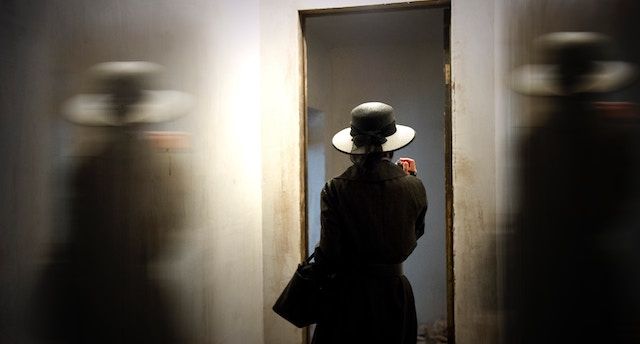 Horror
Remembering The Warrens: Books About Their Paranormal Investigations
This content contains affiliate links. When you buy through these links, we may earn an affiliate commission.
Some say they were a modern-day P.T. Barnum, using illusions and trickery to convince people of their encounters. Some say they were a sweet, loving couple who just wanted to share their experiences and insights into the spirit world with other believers.
But I believe the truth of Ed and Lorraine Warren lies somewhere in the gray.
Since their founding of the New England Society for Psychic Research in 1952, the Warrens have become synonymous with all things ghost and demon. Some of the most mythic ghost stories in our country's history had this charming couple right at their center… Amityville Horror, Annabelle the doll. Many a movie has been made. Many a book has been written. College students from all over the country have excitedly attended the talks they've given, regaling eager believers with stories about haunted rag dolls and demonic possessions. [Personal note: the Warrens lived and their famed Occult Museum is located about 10 minutes from my own home. I wont lie, it's a little discomfiting that a handful of miles from my house, there is a haunted Raggedy Ann doll behind glass with a sign that reads "Warning: Positively do not open." that had a whole movie dedicated to its horror. ::shudder::]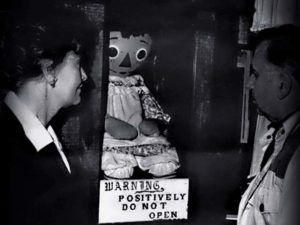 Regardless of whether or not you thought they were legit or a giant scam, it's undeniable that they've made their mark. After we said goodbye to Ed in 2006, Lorraine steadfastly continued their life's work through to her death in April 2019. With Lorraine's recent passing at the age of 92, we've marked the end of an era of breathless spectator-like interest in the supernatural. We might look back on the Warrens as we now do old-school mediums, hawking rigged ghost photography and faked ectoplasm as proof of the paranormal. But for now, there seems to be some possibility in the stories the Warrens left us with.
To remember Lorraine Warren shortly after her passing, I wanted to provide a round-up of books by and about the Warrens. As most of these books are by the Warrens themselves or their contemporaries, people of color are underrepresented in this list of books.
The paranomal investigation couple share with us stories of teenage girls who messed with Satanism and seances, homes and villages terrorized by destructive ghosts, and information on their experiences at the Amityville house.
Ghost Tracks by Cheryl A. Wicks with Ed and Lorraine Warren
Ed and Lorraine Warren continue tales of their rigorous scientific investigations into supernatural occurrences and prove that the impossible isn't always that.
The Union Cemetery in Easton, CT has a long history of paranormal activity. In this book, the Warrens share with their readers the danger and darkness that lurks in the old New England cemetery.
A regular American family is hounded by dark forces. This book tells the story of the Smurl family in Pennsylvania and the terror they endured.
Satan's Harvest by Michael Lasalandra & Mark Merenda with Maurice & Nancy Theriault and Ed & Lorraine Warren
A demonic possession happens to a hard-working Massachussetts farmer and he seeks out authority figures and clergy, until he discovers the Warrens.
Seizures rack an English man and are thought to be the result of a demonic possession. The Warrens arrive to arrange for an exorcism and help William Ramsey battle for his very soul.
The career of Ed and Lorraine Warren spans five decades and, in that time, they've become the country's foremost experts on demonology and exorcism. This book details the reasons for supernatural events and the serious religious approach the Warrens take to their work.
This is a diary of Ed and Lorraine's most harrowing investigations and is one of the earliest books about the paranormal investigator couple.
Arguably the most famous of their cases, The Amityville Horror tells the tale of the horrors suffered by the Lutz family in their Long Island house in the early 70s.
Another famous Warren investigation, Brittle tells the tale of the demonic possession of an eleven year old boy and an eighteen year old friend that ended in murder.
This book was the basis for the hit film The Haunting in Connecticut. The Snedeker family moved into their new home and was immediately met with a sinister spirit that assault t
Do you have any memories of the Warrens? What is your favorite haunting story of theirs?