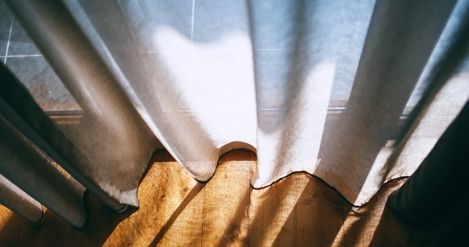 Sponsored
3 on a YA Theme: Teens Allergic to Light
This content contains affiliate links. When you buy through these links, we may earn an affiliate commission.
This list of YA books about teens allergic to light is sponsored by Book Riot's 10 Best Nonfiction Books of 2018 Giveaway—enter here!
---
Winter solstice, aka the shortest day of year, is upon us! I hope you all are ready to get cozy. In keeping with the theme of short days and long winter nights, I've picked a selection of YA books about teens who can't go out in the day. Turn on some twinkle lights, grab a blanket and your hot beverage of choice, and pick up one of these YA books about teens allergic to light:
When Viola Li returns from a trip, she develops a sudden and extreme case of photosensitivity—an inexplicable allergy to sunlight. Thanks to her crisis-manager parents, she doesn't just have to wear layers of clothes and spaceship-sized hat. She has to avoid all hint of light. Say goodbye to windows and running outdoors. Even her phone becomes a threat.
Viola is determined to maintain a normal life, particularly after she meets Josh. He's a funny, talented Thor look-alike with his own mysterious grief. But their romance makes her take more risks, and when a rebellion against her parents backfires dangerously, she must find her way to a life—and love—as deep and lovely as her dreams.
Allie Kim suffers from Xeroderma Pigmentosum: a fatal allergy to sunlight that confines her and her two best friends, Rob and Juliet, to the night. When freewheeling Juliet takes up Parkour—the stunt-sport of scaling and leaping off tall buildings—Allie and Rob have no choice but to join her, if only to protect her. Though potentially deadly, Parkour after dark makes Allie feel truly alive, and for the first time equal to the "daytimers."
On a random summer night, the trio catches a glimpse of what appears to be murder. Allie alone takes it upon herself to investigate, and the truth comes at an unthinkable price. Navigating the shadowy world of specialized XP care, extreme sports, and forbidden love, Allie ultimately uncovers a secret that upends everything she believes about the people she trusts the most.
Seventeen-year-old Katie Price has a rare disease that makes exposure to even the smallest amount of sunlight deadly. Confined to her house during the day, her company is limited to her widowed father and her best (okay, only) friend. It isn't until after nightfall that Katie's world opens up, when she takes her guitar to the local train station and plays for the people coming and going.
Charlie Reed is a former all-star athlete at a crossroads in his life—and the boy Katie has secretly admired from afar for years. When he happens upon her playing guitar one night, fate intervenes and the two embark on a star-crossed romance.
As they challenge each other to chase their dreams and fall for each other under the summer night sky, Katie and Charlie form a bond strong enough to change them—and everyone around them—forever.
This is it for me in 2018! Have a very happy rest of the year, and see you in 2019!
Want more "3 On A YA Theme" posts? Gotcha covered.