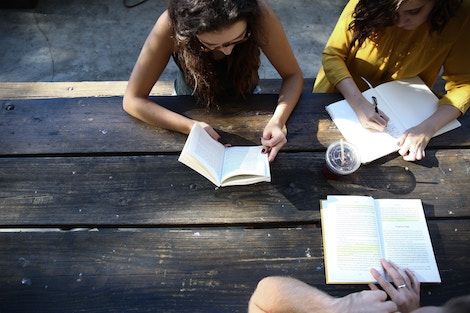 Sponsored
3 on a YA Theme: Books About Teen Journalists
This content contains affiliate links. When you buy through these links, we may earn an affiliate commission.
Sponsored by our Unusual Suspects giveaway of $100 to the bookstore of your choice!
We're giving away $100 to the bookstore of your choice! Enter to win by signing up for Unusual Suspects, our mystery/thriller newsletter about new releases, book recommendations, book deals, and more. Enter here.
---
Teen journalists are some of my favorite characters in YA literature because they latch on to stories that no one wants to cover—or stories that someone is trying to cover up. I love it when authors portray the real power that teens can wield when they investigate and report on events, and I think it's a great reminder to readers about the importance of a free press. I'm really excited to share three great YA books teen journalists investigating and reporting on a series of stories that cover real-life social justice issues to out-of-this-world experiences!
Louise Wolfe is a Native teen who is fed up with the casual racism leveled towards her by the guys she's dated or crushed on, so she decides to take a hiatus from romance and focus on family, school, and working for the school newspaper. But when a racially inclusive casting fo the school production of Wizard of Oz stirs up racial tensions and puts a target on her family, Louise has to work with Joey, her very cute co-reporter, to expose the racism and bigotry in her school and community. This is an honest and hard-hitting portrayal of a community caught in an ugly turmoil, but Louise's grace, humor, and anger are grounding.
Rosie and Grant are best friends and maybe-at-one-time-almost-something-more. Their bond was formed working on the school newspaper, making it the best it could be, but was shattered senior year, when Rosie unexpectedly quit—and stopped talking to Grant. Now it's prom night, and Grant is putting the last issue to bed, but first, he wants to win Rosie back, and the only way to do so is by luring her back to the paper with the juiciest story of the year. Told over the course of prom night, with many clever flashbacks, this book somehow manages to be a wonderfully funny and slyly romantic book brimming with banter that also tackles the very serious issue of gun violence in schools, and does it well.
For readers who want a slightly more speculative, X-Files take on teen journalists in YA, The Truth Lies Here is the pick for you. Penny is an aspiring journalist who's been let down by her dad, a conspiracy theory junkie. She no longer believes in his stories of Bigfoot or monsters, but when she goes back to her hometown to visit him, determined to lock down the perfect story for her college application to journalism school, she discovers something stranger than she could've ever imagined–her dad is missing, people have been found dead in the woods, and strange people have shown up in town. Soon, it's not just her college admissions at stake, but Penny's life.
Want more "3 On A YA Theme" posts? Gotcha covered.