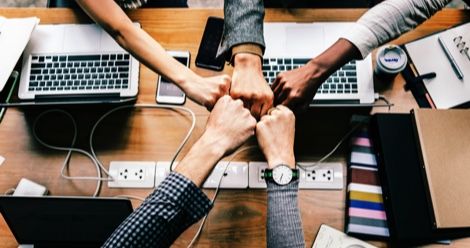 Lists
50 Must-Read Books About Tech and Startup Culture
This content contains affiliate links. When you buy through these links, we may earn an affiliate commission.
Technology touches almost every aspect of our lives. In our modern society, it's often easier to embrace tech than it is to avoid it. Our world is being revolutionized in the way we work, make connections, and carry out everyday tasks.
Innovation in the tech industry has moved it forward by leaps and bounds in the past several years, but it still has a lot of work to do. Writing this list, I was demoralized by the lack of books written by people of color. I know from personal experience: in the 60+ employee company I work at, only two of us are a minority. With a staggering 83% of tech executives being white, it's no surprise that there is a lack of representation in the people writing books about the industry.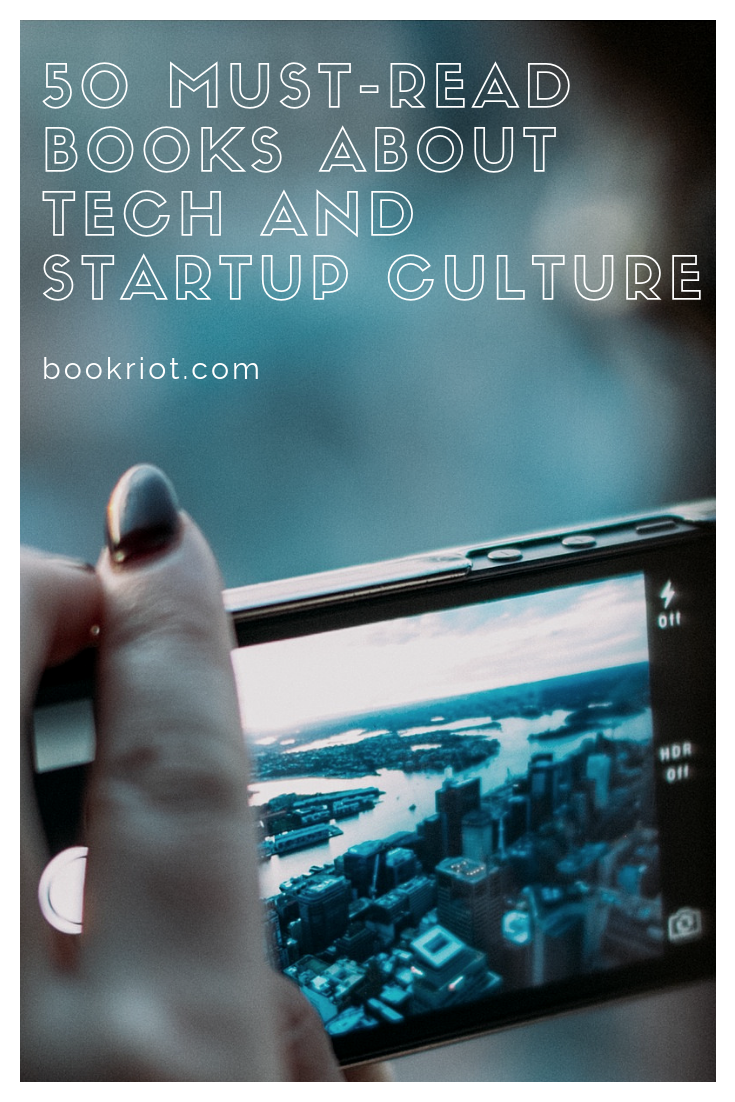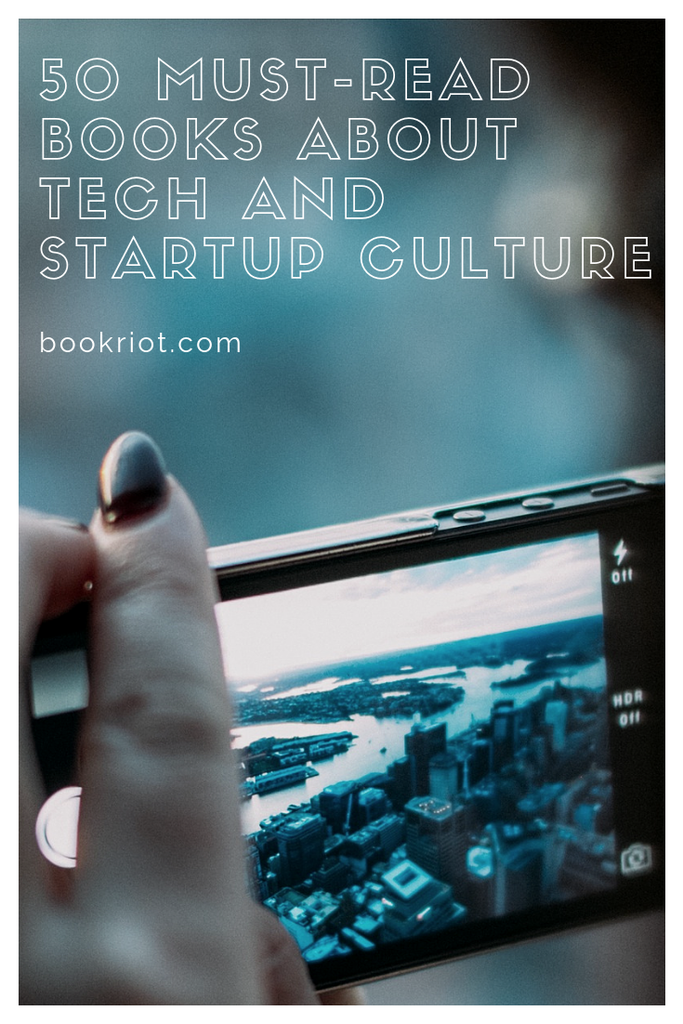 Growth in technology is moving at an increasingly rapid pace. It makes sense that there have been growing pains both in the actual technology and the culture that surrounds it. We're discovering a new way to interact with the world. But if we can create self-driving cars, surely we can figure out a way to make the tech industry more inclusive.
Until that time, here is a list of 50 must-read books that range from the inception of the internet to future advancements, and from the culture of entire organizations to the innovators who made it possible.
*Descriptions from Goodreads
(Ed. note: I would also point readers towards this Medium article from a venture capital firm that emphasizes the importance of diversity and inclusion. That article states that 'building a diverse and an inclusive company requires intentionality,' and that commitment is currently absent from the technology sector writ large. As reported in Wired, a recent survey of startup founders reveals that 78% of the respondents work at companies with "no formal plans or policies in place to promote diversity and inclusion." That needs to change.)
"In this powerful exposé, Bloomberg TV journalist Emily Chang reveals how Silicon Valley got so sexist despite its utopian ideals, why bro culture endures despite decades of companies claiming the moral high ground (Don't Be Evil! Connect the World!)–and how women are finally starting to speak out and fight back."
"When Ellen Ullman moved to San Francisco and became a computer programmer in the late 1970s, she was joining an idealistic, exclusive, and almost exclusively male cadre that had dreams and aspirations to change the world… In Life in Code, Ullman presents a series of essays that unlock and explain—and don't necessarily celebrate—how we got to now, as only she can, with a fluency and expertise that's unusual in someone with her humanistic worldview, and with the sharp insight and brilliant prose that are uniquely her own."
Reset
by Ellen Pao
"In 2015, Ellen K. Pao sued a powerhouse Silicon Valley venture capital firm, calling out workplace discrimination and retaliation against women and other underrepresented groups. Her suit rocked the tech world–and exposed its toxic culture and its homogeneity. Her message overcame negative PR attacks that took aim at her professional conduct and her personal life, and she won widespread public support–Time hailed her as 'the face of change.' Though Pao lost her suit, she revolutionized the conversation at tech offices, in the media, and around the world. In Reset, she tells her full story for the first time."
Chaos Monkey
by Antonio García Martínez
"Weighing in on everything from startups and credit derivatives to Big Brother and data tracking, social media monetization and digital 'privacy,' García Martínez shares his scathing observations and outrageous antics, taking us on a humorous, subversive tour of the fascinatingly insular tech industry. Chaos Monkeys lays bare the hijinks, trade secrets, and power plays of the visionaries, grunts, sociopaths, opportunists, accidental tourists, and money cowboys who are revolutionizing our world."
"The full inside story of the breathtaking rise and shocking collapse of Theranos, the multibillion-dollar biotech startup, by the prize-winning journalist who first broke the story and pursued it to the end, despite pressure from its charismatic CEO and threats by her lawyers… A riveting story of the biggest corporate fraud since Enron, a tale of ambition and hubris set amid the bold promises of Silicon Valley."
"The Upstarts is the definitive account of a dawning age of tenacity, creativity, conflict and wealth. In Brad Stone's highly anticipated and riveting account of the most radical companies of the new Silicon Valley, we find out how it all started, and how the world is wildly different than it was ten years ago."
"For twenty-five years Dan Lyons was a magazine writer at the top of his profession–until one Friday morning when he received a phone call: Poof. His job no longer existed. Dan was, in a word, screwed. Then an idea hit. Dan had long reported on Silicon Valley and the tech explosion. Why not join it? HubSpot, a Boston start-up, was flush with $100 million in venture capital. They offered Dan a pile of stock options for the vague role of 'marketing fellow.' What could go wrong?
Mixed in with Lyons's uproarious tale of his rise and fall at Hubspot is a trenchant analysis of the start-up world, a de facto conspiracy between those who start companies and those who fund them, a world where bad ideas are rewarded with hefty investments, where companies blow money lavishing perks on their post-collegiate workforces, and where everybody is trying to hang on just long enough to reach an IPO and cash out."
"Creativity, Inc. is a book for managers who want to lead their employees to new heights, a manual for anyone who strives for originality, and the first-ever, all-access trip into the nerve center of Pixar Animation—into the meetings, postmortems, and 'Braintrust' sessions where some of the most successful films in history are made."
"You want to learn about the path that we took at Zappos to get to over $1 billion in gross merchandise sales in less than ten years. You want to learn about the path I took that eventually led me to Zappos, and the lessons I learned along the way. You want to learn from all the mistakes we made at Zappos over the years so that your business can avoid making some of the same ones…"
"The great secret of our time is that there are still uncharted frontiers to explore and new inventions to create. In Zero to One, legendary entrepreneur and investor Peter Thiel shows how we can find singular ways to create those new things… Zero to One presents at once an optimistic view of the future of progress in America and a new way of thinking about innovation: it starts by learning to ask the questions that lead you to find value in unexpected places."
"Buying groceries, tracking our health, finding a date: whatever we want to do, odds are that we can now do it online. But few of us realize just how many oversights, biases, and downright ethical nightmares are baked inside the tech products we use every day. It's time we change that. In Technically Wrong, Sara Wachter-Boettcher demystifies the tech industry, leaving those of us on the other side of the screen better prepared to make informed choices about the services we use—and to demand more from the companies behind them."
"The history of technology you probably know is one of men and machines, garages and riches, alpha nerds and brogrammers. But the little-known fact is that female visionaries have always been at the vanguard of technology and innovation – they've just been erased from the story. Until now."
"This book describes the experiences and successes of female innovators and entrepreneurs in the still largely male-dominated tech-world in twenty candid interviews. It highlights the varied life and career stories that lead these women to the top positions in the technology industry that they are in now."
Geek Girl Rising by Samantha Parent Walravens and Heather Cabot
"Meet the women who haven't asked for permission from Silicon Valley to chase their dreams. They are going for it — building the next generation of tech start-ups, investing in each other's ventures, crushing male hacker stereotypes and rallying the next generation of women in tech.

Geek Girl Rising isn't about the famous tech trailblazers you already know, like Sheryl Sandberg and Marissa Mayer. Instead, veteran journalists Heather Cabot and Samantha Walravens introduce readers to the fearless female entrepreneurs and technologists fighting at the grassroots level for an ownership stake in the revolution that's changing the way we live, work and connect to each other."
"In 1997, the computer was still a relatively new tool—a sleek and unforgiving machine that was beyond the grasp of most users. With intimate and unflinching detail, software engineer Ellen Ullman examines the strange ecstasy of being at the forefront of the predominantly male technological revolution and the difficulty of translating the inherent messiness of human life into artful and efficient code."
"At a time of soaring corporate profits and plenty of HR lip service about 'wellness,' millions of workers – in virtually every industry – are deeply unhappy. Why did work become so miserable? Who is responsible? And does any company have a model for doing it right?"
"The computer and the internet are among the most important innovations of our era, but few people know who created them. They were not conjured up in a garret or garage by solo inventors suitable to be singled out on magazine covers or put into a pantheon with Edison, Bell, and Morse. Instead, most of the innovations of the digital age were done collaboratively. There were a lot of fascinating people involved, some ingenious and a few even geniuses. This is the story of these pioneers, hackers, inventors, and entrepreneurs—who they were, how their minds worked, and what made them so creative."
"Kevin Mitnick was the most elusive computer break-in artist in history. He accessed computers and networks at the world's biggest companies, and however fast the authorities were, Mitnick was faster, sprinting through phone switches, computer systems, and cellular networks. He spent years skipping through cyberspace, always three steps ahead and labeled unstoppable. Ghost in the Wires is a thrilling true story of intrigue, suspense, and unbelievable escape, and a portrait of a visionary whose creativity, skills, and persistence forced the authorities to rethink the way they pursued him, inspiring ripples that brought permanent changes in the way people and companies protect their most sensitive information."
"An incisive observer, writer, and participant in today's social movements, Zeynep Tufekci explains in this accessible and compelling book the nuanced trajectories of modern protests—how they form, how they operate differently from past protests, and why they have difficulty persisting in their long-term quests for change."
"The Internet has been hailed as an unprecedented democratizing force, a place where all can be heard and everyone can participate equally. But how true is this claim? In a seminal dismantling of techno-utopian visions, The People's Platform argues that for all that we 'tweet' and 'like' and 'share,' the Internet, in fact, reflects and amplifies real-world inequities at least as much as it ameliorates them. Online, just as off-line, attention and influence largely accrue to those who already have plenty of both."
"In the very near future, technological systems will allow us to make large-scale and sophisticated interventions into many more areas of public life: politics, culture, public debate, even our definitions of morality and human values. But how will these be affected once we delegate much of the responsibility for them to technology?"
Black Code by Ronald J. Deibert
"One of the world's leading internet experts takes readers into the shadowy realm of cyberspace and cybersecurity, revealing how it has transformed our world and the new rules we will need to adopt in order to survive."
Hackers by Steven Levy
"A mere fifteen years ago, computer nerds were seen as marginal weirdos, outsiders whose world would never resonate with the mainstream. That was before one pioneering work documented the underground computer revolution that was about to change our world forever. With groundbreaking profiles of Bill Gates, Steve Wozniak, MIT's Tech Model Railroad Club, and more, Steven Levy's Hackers brilliantly captured a seminal moment when the risk-takers and explorers were poised to conquer twentieth-century America's last great frontier."
"In this age of an open Internet, it is easy to forget that every American information industry, beginning with the telephone, has eventually been taken captive by some ruthless monopoly or cartel. With all our media now traveling a single network, an unprecedented potential is building for centralized control over what Americans see and hear. Could history repeat itself with the next industrial consolidation? Could the Internet—the entire flow of American information—come to be ruled by one corporate leviathan in possession of 'the master switch'? That is the big question of Tim Wu's pathbreaking book."
"Most histories of the personal computer industry focus on technology or business. John Markoff's landmark book is about the culture and consciousness behind the first PCs–the culture being counter- and the consciousness expanded, sometimes chemically. It's a brilliant evocation of Stanford, California, in the 1960s and '70s, where a group of visionaries set out to turn computers into a means for freeing minds and information."
"Founders at Work: Stories of Startups' Early Days is a collection of interviews with founders of famous technology companies about what happened in the very earliest days. These people are celebrities now. What was it like when they were just a couple of friends with an idea?"
"Drawing on over two hundred in-depth interviews, Valley of Genius takes readers from the dawn of the personal computer and the internet, through the heyday of the web, up to the very moment when our current technological reality was invented. It interweaves accounts of invention and betrayal, overnight success and underground exploits, to tell the story of Silicon Valley like it has never been told before. Read it to discover the stories that Valley insiders tell each other: the tall tales that are all, improbably, true."
"In the weird glow of the dying millennium, Michael Lewis set out on a safari through Silicon Valley to find the world's most important technology entrepreneur. He found this in Jim Clark, a man whose achievements include the founding of three separate billion-dollar companies. Lewis also found much more, and the result—the best-selling book The New New Thing—is an ingeniously conceived history of the Internet revolution."
"In 'the best book to date on the subject' (San Francisco Chronicle), prize-winning journalist David A. Kaplan brings to life the culture and history of Silicon Valley. Combining reportorial insight and biting wit, The Silicon Boys tells the unforgettable story of dreams and greed, ambition and luck, that has become the Valley of the Dollars."
"In Troublemakers, historian Leslie Berlin introduces the people and stories behind the birth of the Internet and the microprocessor, as well as Apple, Atari, Genentech, Xerox PARC, ROLM, ASK, and the iconic venture capital firms Sequoia Capital and Kleiner Perkins Caufield & Byers. In the space of only seven years and thirty-five miles, five major industries—personal computing, video games, biotechnology, modern venture capital, and advanced semiconductor logic—were born."
"In The Know-It-Alls former New York Times technology columnist Noam Cohen chronicles the rise of Silicon Valley as a political and intellectual force in American life. Beginning nearly a century ago and showcasing the role of Stanford University as the incubator of this new class of super geeks, Cohen shows how smart guys like Jeff Bezos, Peter Thiel, Sergey Brin, Larry Page, and Mark Zuckerberg fell in love with a radically individualistic ideal and then mainstreamed it."
"Reporter Alexandra Wolfe's biting but admiring story of Silicon Valley, and the men and women whose hubris and ambition are changing the world."
Betaball by Erik Malinowski
"Moneyball meets The City Game in this compelling look at how the NBA champion Golden State Warriors embraced savvy business practices, next-gen science, and the corporate culture of Silicon Valley to not only produce one of the greatest basketball teams in history but also revolutionize the NBA."
"A scathing exploration into the heart of Silicon Valley, laying bare the greed, hubris, and retrograde politics of an industry that aspires to radically transform society for its own benefit. In showing us this frantic world, Pein challenges the positive self-image that the tech tycoons have crafted—as benevolent creators of wealth and opportunity—to reveal their self-justifying views and their insidious visions for the future."
"In AI Superpowers, Kai-fu Lee argues powerfully that because of these unprecedented developments in AI, dramatic changes will be happening much sooner than many of us expected. Indeed, as the US-Sino AI competition begins to heat up, Lee urges the US and China to both accept and to embrace the great responsibilities that come with significant technological power."
"Twitter seems like a perfect start-up success story. In barely six years, a small group of young, ambitious programmers in Silicon Valley built an $11.5 billion business out of the ashes of a failed podcasting company. Now, Nick Bilton of the New York Times takes readers behind the scenes with a narrative that shows what happened inside Twitter as it grew at exponential speeds."
"In Silicon States, renowned futurist and celebrated international think-tank leader Lucie Greene offers an unparalleled look at the players, promises, and potential problems of Big Tech. Through interviews with corporate leaders, influential venture capitalists, scholars, journalists, activists, and more, Greene explores the tension inherent in Silicon Valley's global influence. If these companies can invent a social network, how might they soon transform our political and health-care systems? If they can revolutionize the cell phone, what might they do for space travel, education, or the housing market? As Silicon Valley faces increased scrutiny over its mistreatment of women, cultural shortcomings, and its role in widespread Russian election interference, we are learning where its interests truly lie, and about the great power these companies wield over an unsuspecting citizenry."
"The extraordinary story of a child prodigy and his remarkable entrepreneurial accomplishments If anyone has 'been there, done that' in starting and managing businesses, it's William Saito. Saito is a truly unique personality, and his remarkable story, An Unprogrammed Life, is the compelling tale of a young entrepreneur. More than just a high-tech autobiography or how-to guide, the book is the extraordinary story of a self-taught genius who became a savvy, serial business success story."
"Here, for the first time in one volume, are some of the most cogent thinkers and doers on the subject of the cooptation of the Internet, and how we can resist and reverse the process. The activists who have put together Ours to Hack and to Own argue for a new kind of online economy: platform cooperativism, which combines the rich heritage of cooperatives with the promise of 21st-century technologies, free from monopoly, exploitation, and surveillance."
The Four by Scott Galloway
"Amazon, Apple, Facebook, and Google are the four most influential companies on the planet. For all that's been written about the Four over the last two decades, no one has captured their power and staggering success as insightfully as Scott Galloway.

Instead of buying the myths these companies broadcast, Galloway asks fundamental questions. How did the Four infiltrate our lives so completely that they're almost impossible to avoid (or boycott)? Why does the stock market forgive them for sins that would destroy other firms? And as they race to become the world's first trillion-dollar company, can anyone challenge them?"
"Franklin Foer reveals the existential threat posed by big tech, and in his brilliant polemic gives us the toolkit to fight their pervasive influence. Foer explains not just the looming existential crisis but the imperative of resistance."
"The definitive story of Amazon.com, one of the most successful companies in the world, and of its driven, brilliant founder, Jeff Bezos. The Everything Store will be the revealing, definitive biography of the company that placed one of the first and largest bets on the Internet and forever changed the way we shop and read."
"The internet was never intended for you, opines Brian McCullough in this lively narrative of an era that utterly transformed everything we thought we knew about technology. In How the Internet Happened, he chronicles the whole fascinating story for the first time, beginning in a dusty Illinois basement in 1993, when a group of college kids set off a once-in-an-epoch revolution with what would become the first 'dotcom.'"
"Beyond the familiar online world that most of us inhabit – a world of Google, Hotmail, Facebook and Amazon – lies a vast and often hidden network of sites, communities and cultures where freedom is pushed to its limits, and where people can be anyone, or do anything, they want. A world that is as creative and complex as it is dangerous and disturbing. Based on extensive first-hand experience, exclusive interviews, and shocking documentary evidence, The Dark Net offers a startling glimpse of human nature under the conditions of freedom and anonymity, and shines a light on an enigmatic and ever-changing world."
"Jaron Lanier, a Silicon Valley visionary since the 1980s, was among the first to predict the revolutionary changes the World Wide Web would bring to commerce and culture. Now, in his first book, written more than two decades after the web was created, Lanier offers this provocative and cautionary look at the way it is transforming our lives for better and for worse."
"Silicon Valley gets all the credit for digital creativity, but this account of the pre-PC world, when computing meant more than using mature consumer technology, challenges that triumphalism. By imagining computing as an interactive commons, the early denizens of the digital realm seeded today's debate about whether the internet should be a public utility and laid the groundwork for the concept of net neutrality. Rankin offers a radical precedent for a more democratic digital culture, and new models for the next generation of activists, educators, coders, and makers."
"Reddit hails itself as 'the front page of the Internet.' It's the third most-visited website in the United States–and yet, millions of Americans have no idea what it is. We Are the Nerds is an engrossing look deep inside this captivating, maddening enterprise, whose army of obsessed users have been credited with everything from solving cold case crimes and spurring tens of millions of dollars in charitable donations to seeding alt-right fury and landing Donald Trump in the White House."
"As we approach a great turning point in history when technology is poised to redefine what it means to be human, The Fourth Age offers fascinating insight into AI, robotics, and their extraordinary implications for our species."
"The unbelievable true story of the man who built a billion-dollar online drug empire from his bedroom–and almost got away with it."
"The definitive history of America's greatest incubator of innovation, the birthplace of some of the 20th century's most influential technologies, including the integrated circuit, the communications satellite, and the cell phone."