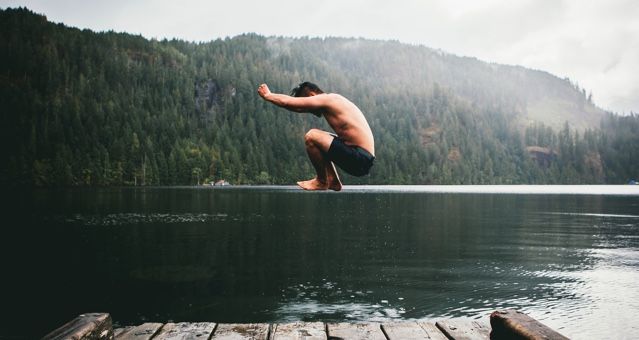 Lists
Splash Out! 8 Books About Swimming
This content contains affiliate links. When you buy through these links, we may earn an affiliate commission.
When we were in the middle of a heatwave here in the UK, I wanted nothing more than to dive into a lovely cool pool, or try my hand at some outdoor swimming. When I couldn't make it down to my local swimming pool, I had to take a bit more of an armchair approach to swimming. Here are some great books about swimming for anyone else who's missing the water.
In this near-future sci-fi story by former Children's Laureate Malorie Blackman, Cameron Kelsey, a young boy with a serious heart condition, is given the chance to have a transplant that will hopefully help him live a longer life, and let him do all the things he wants to do – including diving down to touch the bottom of his local pool. The catch? Instead of being from a human donor, the heart will come from a genetically engineered pig, as one of the first attempts at xenografting.
This one might make you want to stay out of the water. In this chilling novel, the author of the Feed series takes on mermaids, creating a story with the same fascinating twists and excellent world-building as her previous zombie tales. The crew of a science research ship head out into the middle of the ocean, trying to find out what happened to the first ship to explore this part of the sea, never to return. No matter how inviting the water looks, Into the Drowning Deep will make you glad to have your feet firmly on the land.
Dip by Andrew Fusek Peters
Author Andrew Fusek Peters spent a year immersed in the world of wild swimming, trying swimming spots all over the British isles. As well as discovering more about this fascinating sport, Peters learns about local history, nature, and the potential for swimming to help him combat his own struggle with depression.
In this novel, swimming isn't just a form of exercise, but a link that brings together two protagonists from vastly different backgrounds – Ria, a middle-aged woman living in Suffolk, and Ben, a 20-year-old asylum seeker from Sri Lanka who is desperately waiting on the results of his application to the Home Office. With beautiful descriptions of the Suffolk landscape, The Swimmer uses swimming as a way to take a unique look at this part of the world, and the people who move through it.
If you want a deep dive into the world and history of swimming, look no further than Lynn Sherr's Swim. Looking at everything from the biology of swimming to the story behind swimming costumes, Swim is a love letter to one of the most popular human pastimes.
Another love story with swimming at the centre, Aristotle and Dante Discover the Secrets of the Universe follows two very different boys who meet and bond at their local pool. Aristotle is angry and kicking out against the world, but his friendship – and budding relationship – with Dante helps him learn to see the joy in life again.
One for very small readers and their parents, this lovely picture book is a great accompaniment to babies' and toddlers' first swimming lessons. Showing new swimmers that the water is fun instead of scary, Leo Can Swim is the perfect introduction to the world of swimming.
Okay, I'll admit it – I'm a sucker for swimming memoirs (especially ones with punny titles). In Waterlog, Roger Deakin tells his story of his ongoing quest to swim at pretty much any place he can find around the UK. Swimming in every location from the sea to pools to canals to flooded quarries, Deakin contends with irritated coastguards and baffled members of the public in his attempts to swim in as many different bodies of water as he possibly can.
---
Until I manage to get out in the water again, books like these will have to tide me over. (Get it? Tide? Okay, I'll just go). Whether you want to brave the wilds and swim in rivers or lakes, or you prefer the pool, these reads will provide you with plenty of inspiration.
Want to protect your books while you're out swimming? Try 8 Ways to Waterproof Your Summer Reads. If you'd rather stick to the shore, check out The Best Beach Reads of 2019.