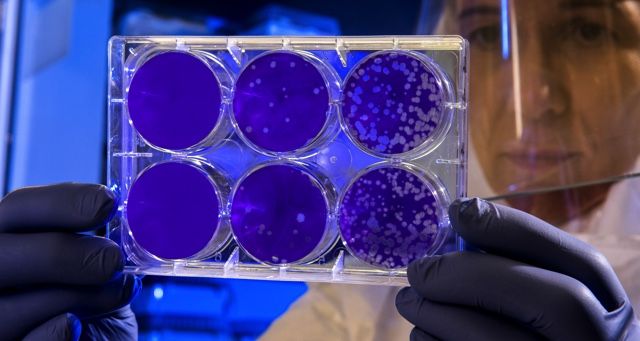 Lists
5 Books About Pandemics That Will Help You Understand Coronavirus
This content contains affiliate links. When you buy through these links, we may earn an affiliate commission.
No matter where you are in the world, you're probably hearing about the coronavirus outbreak. It might be lurking on the fringes of your awareness, causing some minor stress, or radically affecting your daily life. Where I live in Hong Kong, normal life has more or less ground to a halt.
The situation is almost certainly being sensationalized by the media, but it's hard not to feel a sense of panic. Especially since I am the mother of a 3-month-old living so near the epicenter in Wuhan, China. Already the virus has spread to four continents, and there is still a lot we don't know about it.
I've found there are few situations in life where books can't offer some solace. Whether you are someone who finds comfort in information, your curiosity has been piqued by all of the buzz, or you just like being the expert in the room, here are five nonfiction books about pandemics, viruses, and deadly diseases.
Books About Pandemics
Spillover is the phenomenon where a virus present in wild animals crosses over and begins to infect humans. Quammen explores how and why this happens looking at examples like Ebola, Hendra, and SARS. This is particularly applicable to the present situation, since coronavirus also originated in animals and has only recently begun to infect humans.
In 1918 an influenza outbreak swept over the globe, taking 40 million lives. This is the dramatic story of both the science and the history between how it happened, where it started, and what could prevent future epidemics. Kolata is a talented journalist and her gift of storytelling makes this one of the most gripping books about pandemics on the market.
Beginning with a focus on cholera and spreading from there, acclaimed science journalist Sonia Shah blends history, autobiography, and reporting to tell the story of the pathogens that have caused the largest pandemics in history.
There are hundreds of books and articles by people who have studied historical epidemics, but what about the people who are on the front lines of current health crises? Maryn McKenna chronicles the experiences of the men and women who risk their lives to gather information about today's most deadly viruses. The Epidemic Intelligence Service (EIS) strives to detect and combat outbreaks of disease and the threat of biological warfare. This is a fascinating look at the work of a small group of people we owe so much to.
We are at a unique point in history. We have the advantage of being able to look back on past events and understand what went wrong. We also have a better understanding of hygiene, how to prevent the spread of germs, and how to treat illnesses. However, globalization and the ease of international travel has made it much more difficult to contain outbreaks when they occur. Dr. Kahn is the former Director of the Office of Public Health Preparedness and Response (PHPR) at the Centers for Disease Control and Prevention. Drawing from his long career as a public health first responder, Kahn explores how politics, pride, and human error contribute to threats like anthrax and the bird flu, and how we can keep from repeating these mistakes.
---
Wherever you are in the world, I hope you are safe and healthy and ready to curl up with one of these books about pandemics. And for the love of goodness, get a flu shot!