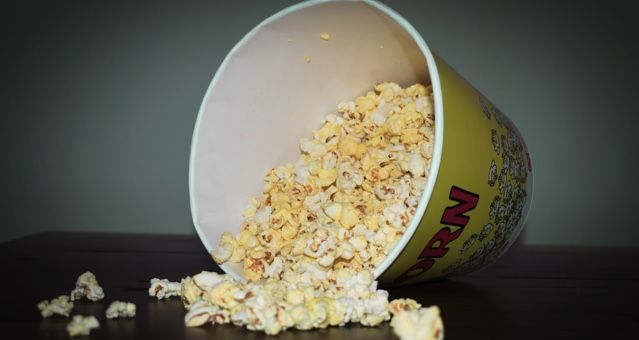 Lists
Books About Movies (And Other Things)
This content contains affiliate links. When you buy through these links, we may earn an affiliate commission.
This piece is titled in a unique way to pay homage to Shea Serrano and the amazing book franchise he has created (I will discuss his latest book below). But this entire piece will be dedicated to amazing books that review and discuss all things movies. The book is always better than the movie, in my opinion, but in this case, I will be highlighting books that pay respect to incredible movies.
I thought about what direction I wanted to take this piece in and I decided that I would simply review and recommend great reads that discuss great movies. Simple enough, right? And I just now realized that I typed the word "movies" six times already in less than two paragraphs (including the title and when I made a point about typing the word "movies" a lot). All that aside, in no particular order, here are some recommended reads that talk about movies:
Serrano's latest book Movies (And Other things) is a legit masterpiece. It debuted at #1 on the New York Times bestseller list and is a book that you will not be able to put down. Serrano and his illustrator, Arturo Torres, are the first Mexican Americans (as they themselves identify) to have three New York Times bestselling books in its 88 year history. That is quite a feat! And this book is an excellent read. Looking at the cover art alone will let you know that shit will go down in this one! What Serrano does, and what makes his books so unique, is that he takes questions that people have often asked or considered, and he answers them throughout his chapters. For example, my buddy and I always ask the same old question of "Who would win in a fight between.…?" But Shea asks and answers questions that are way more in-depth than the garbage my buddy and I ask. Take for instance chapter 10 in this book. It is titled, "Who's in the Regina George circle of friends?" That chapter is truly a gem. He takes quite a number of legendary high school movie characters, and based upon a set of rules he has invented, decides who would sit at the same table as Regina George. (It should be noted that Serrano thinks Regina George is the greatest and most villainous high school movie character ever). The entire book is clever, creative and entertaining. This one is a must-read.
It should be noted up front, I am biased with this one because I was born in the '80s and raised in the '90s. I truly believe some of the greatest movies of all-time came out in the '90s, and 1999 was truly an amazing year for movies. Consider if you will that movies like The Sixth Sense, The Matrix, Office Space, The Blair Witch Project, Being John Malkovich, American Beauty, The Virgin Suicides, Boys Don't Cry, and many other amazing films came out in that year. That movie lineup, in my opinion, would stack up against any films of any other year in any other decade. Brian Raftery does a great job with this one dissecting the amazing movies of 1999 and discussing what makes that year the best movie year ever. His argument is quite successful, so it is difficult to argue against his stance, but you can certainly try. This one is another must-read.
Although not quite about movies, this excellent memoir by one of Hollywood's best actresses is sure to entertain. Around the Way Girl is a memoir about Henson's entire life, which is no doubt important, but for the sake of this piece, it is important to note that this memoir particularly reflects on the world-class instruction she received at Howard University and how she chipped away, with one small role after another, at Hollywood's resistance to give women, particularly women of color, meaty significant roles. Have you ever seen Henson as Yvette in Baby Boy or as Cookie in Empire? She was powerful in both! This book deserves to be read by you today.
Okay, so maybe Back to the Future Part III was not super good, but as a whole the trilogy was amazing. I think it is hard to argue against that. The first two movies were truly spectacular, so this makes up for the third film's weaknesses. I'm making the rules here. We Don't Need Roads is a great book that gives readers a behind-the-scenes look. Gaines did an excellent job of conducting research for this one as he interviewed countless individuals. He highlights little-known secrets about the making of the films and really enlightens readers about the entire journey that director Robert Zemeckis and his friend and writing partner Bob Gale experienced before they could even get the first film made. Fans of this franchise will love this book, but movie buffs will also find this one quite enjoyable.
---
I don't know about you but I love books and I love movies. What better combination than to read books that talk about movies? Do yourself a favor and pick these recommendations up today! Happy reading.