Lists
8 Books About Mortals in Fantasy Worlds
This list of books about mortals in fantasy worlds is sponsored by Little, Brown Books for Young Readers, publisher of The Folk of the Air series by Holly Black.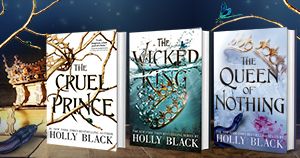 Sharpen your blade. Harden your heart. Journey to Faerieland in the #1 New York Times bestselling Folk of the Air trilogy. What started with The Cruel Prince and The Wicked King finally ends with the jaw-dropping finale, The Queen of Nothing. To win her place in the High Court of Faerie, Jude must risk her own life and defy the Fae that despise her mortality. Caught between her ambition and her humanity, Jude will learn the meaning of true power in this explosive, dazzling series from award-winning author Holly Black.
---
Ever since I first read Alice in Wonderland, I've been fascinated by the concept of people going to another world. Often times it's a child who ends up in a fantastical land, but not always. What I like best is that the reader and the character get to experience the new world together for better or for worse. Partly, there's the hope that someday we too will get to experience some fantastical dreamland ourselves.
Some people call these kinds of books "Portal" fantasy books, which is apt for many books that require people to travel through doors of sorts, such as Alice's rabbit hole or a wardrobe. But sometimes the person ends up in the magical world in weirder and unusual ways. I have chosen to think of mortal loosely, basically a human with no known powers but who may or may not discover them along their journey.
Here is my list of eight books about people going to magical worlds. Some are more traditional forms of the genre while a couple are interesting variations.
Every Heart a Doorway by Seanan McGuire
The Wayward Children series has truly knocked my socks off. It's Alice in Wonderland meets The Lion, the Witch and the Wardrobe, but with a darker side. In this series, certain children find portals into other worlds. However, some children end up coming back to their lives, after living their adventures in other worlds where they felt most like themselves. When they return, their parents and friends don't understand. So Eleanor West, a former wayward child, opens a school for those children, lost and shut off from their worlds. After Nancy, a new student who had traveled and returned from the Halls of the Dead, starts at the school, her classmates begin to be brutally murdered. Can they stop the murderer? Will any of the children get to go back to their fantasy worlds? There are four books so far in the series with Every Heart a Doorway as the first. The fifth book Come Tumbling Down comes out on January 7, 2020.
A Darker Shade of Magic by V.E. Schwab
In this trilogy, there are three Londons: Red London is lush and full with magic; White London is losing its magic; and Grey London, much like our own world, has lost its magic and doesn't even have a memory of it. There may have once been a fourth London, Black London, but it is closed off forever. Kell is an Antari, a mage who can travel between Londons for the Red London Monarchy. He also collects items from the three worlds, until something goes terribly wrong. I have included this book on this list because of Delilah Bard. She's a thief from the Grey world and ends up immersed in Kell's adventures. She goes from a land without magic into the land pulsing with magic everywhere.
As an added bonus, there's a comic series currently out focusing on the king, Maxim Maresh.
The City of Brass by S.A. Chakraborty
This trilogy focuses on Nahri, a young woman who is a scam artist but aspires to be a healer. She's got questions about her past but she's certain that she has to keep working to find the future she wants in an uncaring world. When she accidentally summons a real djinn, a warrior named Dara, during a ritual, they have to flee dark forces to Daevabad, a land full of wonder and mystery. Will Nahri find out who she really is? Will she be able to survive the complex forces of the Daevabad court? Book three in the series will be coming out in January 2020.
Half World by Hiromi Goto
This is the first of two books about Melanie Tamaki, who lives in the regular world with her forgetful mother. One day, she comes home to find that her mother is missing. Tamaki ends up following her mother into Half World, a sort of limbo for the dead. She has to figure out why her mother has run off and what is going on this strange afterlife world. It's been described as a touch of Alice in Wonderland, Coraline, and Spirited Away all wrapped up in one book.
Akata Witch by Nnedi Okorafor
This series focuses on Sunny Nwazue, who doesn't quite fit in anywhere. She was born in the U.S. but is now living in Nigeria with her family. She's an athlete but her albinism makes it hard to be in the sun. One day, she learns that she has magical powers. Soon she joins three other students in magical studies while trying to maintain appearances. I chose this book because Sunny goes from the regular world into a magical world where there are people with magic powers, and benevolent and malevolent spirits.
Annihilation by Jeff VanderMeer
The Southern Reach Trilogy is a bit different from the rest of this list. There's a mysterious place called Area X, a strange and dangerous place that suddenly appeared. Teams of scientists have been going into Area X to study it, but almost no one returns. The book starts with the biologist, our unnamed narrator, and three other women who have ventured into Area X. I chose Annihilation because the biologist goes from the world we know into this strange and fantastical place where nothing is what it seems. I love the methodical way that the biologist views the world, giving a more scientific view of fantasy worlds. There's a decent movie version but the books are the real stars.
Miss Peregrine's Home for Peculiar Children by Ransom Riggs
After a family tragedy, Jacob, a 16-year-old boy, ends up going to a remote island on Wales and discovers a ruined house that is Miss Peregrine's Home for Peculiar Children. Jacob ends up being drawn into an entire world of wonder and terror that he didn't know existed. The book also features amazing real photographs that provided inspiration for the characters.
American Gods by Neil Gaiman
I end on Gaiman's masterpiece, American Gods. Now a Starz TV series, it is the tale of Shadow Moon, who has just been released from prison to find that his wife had just been killed in a car accident. He ends up meeting a mysterious man named Wednesday who hires him to be his bodyguard. Moon finds himself drawn into a fantastical world, living on top of the world he thought he knew. You may never look at America's roadside attractions the same way again.
---
Interested in more books featuring people finding their way into fantasy worlds? Check out this Rioter's list of portal fantasy books and another Rioter list about fantasy books with modern elements.