Lists
50 Must-Read Books about Modern Englishness
This content contains affiliate links. When you buy through these links, we may earn an affiliate commission.
Hari Kunzru writes in The Impressionist, "there is something marvellous about English people. Their lives are structured like pieces of engineering, railway engines or steamers unpacked and bolted together at the heads of new rivers. Each one is rigid and assured, built according to blueprints of class and membership that are almost noble in their invariance, their stern inflexibility. Noble, at least, in the manner that a suspension bridge or a viaduct is noble. English lives, conquering and functional. Industrial lives."
This is the impression of an Indian character reflecting on the way that an unwavering kind of Englishness has been exported to, and imposed upon, much of the rest of the world. It doesn't reflect every type of Englishness, of course. But taken as a whole, the following books do suggest the breadth of quintessentially English characteristics.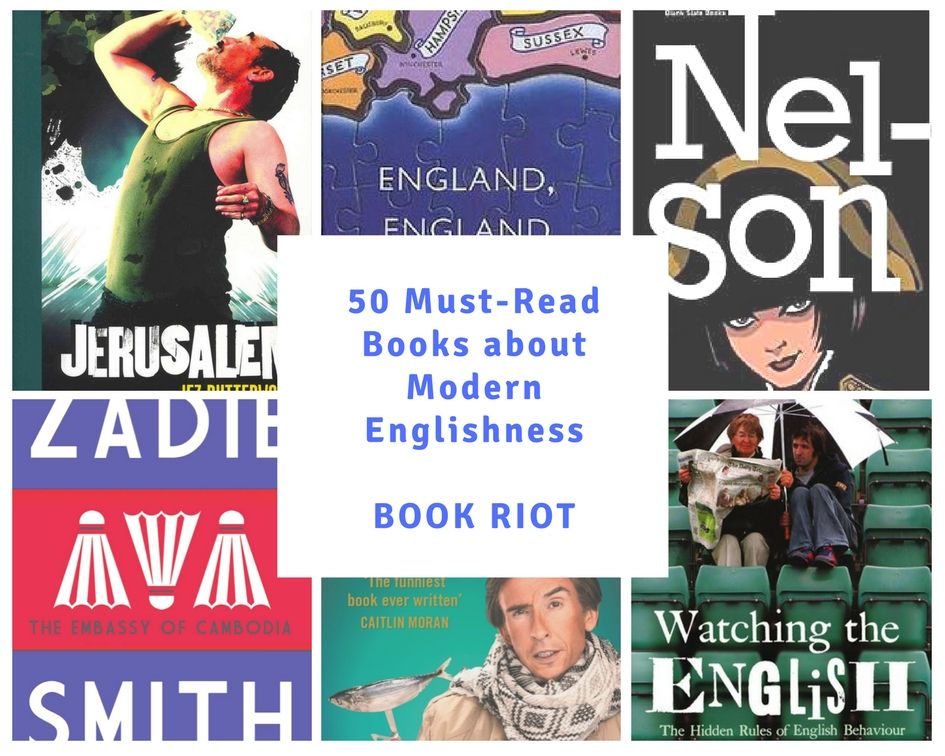 Some of these books dip into other parts of the UK, but they're primarily set in what Julian Barnes's England, England calls Anglia. All set following the Second World War, they reflect the sensibilities of a nation less naïve about the horrors of war and colonialism. They're also introspective about England's place in the world, its relationship with the rest of the British Isles, and the deep inequalities within.
This doesn't mean it's all seriousness and gloom, however. There's a recognition here that England punches above its weight in some critical ways—music, academia, football—that ensure the continuing global relevance of what Bill Bryson recognizes is, after all, a small island.
Modern Englishness is complex, of course. Here are some entertaining books that help to make sense of that complexity.
Nonfiction
"Anthropologist Kate Fox takes a revealing look at the quirks, habits and foibles of the English people."
"The English eccentric is under threat. In our increasingly homogenised society, these celebrated parts of our national identity are anomalies that may soon no longer fit. Or so it seems. On his entertaining and thought-provoking quest to discover the most eccentric English person alive today, Henry Hemming unearths a surprisingly large array of delightfully odd characters."
"With brilliant wit, idiosyncratic intelligence, and a bold grasp of intricate political realities, the celebrated author of Flaubert's Parrot turns his satiric glance homeward to England, in a sparkling collection of essays that illustrates the infinite variety of contemporary London life."
"A famous account of growing up to be a fanatical football supporter."
"Stuart Shorter's brief life was one of turmoil and chaos. In this remarkable book, a masterful act of biographical restoration, Alexander Masters retraces Stuart's troubled journey. This extraordinary book is a glimpse at the underbelly of English society, a world largely hidden from our lives."
"After ten years living abroad, Tarquin Hall wanted to return to his native London. Lured by his nostalgia for a leafy suburban childhood spent in southwest London, he returned with his Indian-born, American fiancé in tow. But, priced out of the housing market, they found themselves living not in a townhouse, oozing Victorian charm, but in a squalid attic above a Bangladeshi sweatshop on London's Brick Lane."
"The book that sparked a national conversation. Exploring everything from eradicated black history to the inextricable link between class and race, Why I'm No Longer Talking to White People About Race is the essential handbook for anyone who wants to understand race relations in Britain today."
Novels
"As every schoolboy knows, you can fit the whole of England on the Isle of Wight. Grotesque, visionary tycoon Sir Jack Pitman takes the saying literally and does exactly that. He constructs on the island 'The Project', a vast heritage centre containing everything 'English', from Big Ben to Stonehenge, from Manchester United to the white cliffs of Dover. The project is monstrous, risky, and vastly successful. In fact, it gradually begins to rival 'Old' England and even threatens to supersede it…"
"Still in her teenage years, Nazneen finds herself in an arranged marriage with a disappointed man who is twenty years older. Away from the mud and heat of her Bangladeshi village, home is now a cramped flat in a high-rise block in London's East End. Nazneen knows not a word of English, and is forced to depend on her husband. But unlike him she is practical and wise, and befriends a fellow Asian girl Razia, who helps her understand the strange ways of her adopted new British home."
"Eleven-year-old Harrison Opoku, the second best runner in Year 7, races through his new life in England with his personalised trainers—the Adidas stripes drawn on with marker pen—blissfully unaware of the very real threat around him. Newly-arrived from Ghana with his mother and older sister Lydia, Harri absorbs the many strange elements of city life, from the bewildering array of Haribo sweets, to the frightening, fascinating gang of older boys from his school. But his life is changed forever when one of his friends is murdered."
"Londonstani, Gautam Malkani's electrifying debut, reveals a Britain that has never before been explored in the novel: a country of young Asians and white boys (desis and goras) trying to work out a place for themselves in the shadow of the divergent cultures of their parents' generation."
NW by Zadie Smith
"Zadie Smith's brilliant tragi-comic new novel follows four Londoners—Leah, Natalie, Felix and Nathan as they try to make adult lives outside of Caldwell, the council estate of their childhood. From private houses to public parks, at work and at play, their London is a complicated place, as beautiful as it is brutal, where the thoroughfares hide the back alleys and taking the high road can sometimes lead you to a dead end."
"One of the most talked about fictional debuts ever, White Teeth is a funny, generous, big-hearted novel, adored by critics and readers alike. Dealing—among many other things—with friendship, love, war, three cultures and three families over three generations, one brown mouse, and the tricky way the past has of coming back and biting you on the ankle, it is a life-affirming, riotous must-read of a book."
"Brian Marley, a divorced Englishman, is alone in the vilest jungle on earth, about to die live on television. A contestant on Brit Pluck, Green Hell, Two Million, the ultimate reality TV show, Marley has managed to outlive his rivals and win enough money to change his life. Except that the TV crew has just been wiped out in a helicopter crash. With the crocodiles closing in, he has no option but to climb the vast cliff at his back. Inevitably, he falls…And awakes in a lost world that is remarkably like an Englishman's heaven. There's cricket and rugger, the Union Jack, plucky boys, pretty girls, a tough but fair headmaster—an entire miniature civilization preserved by the surviving passengers from Comet IV, which vanished in 1958."
"When he lands in Harare North, our unnamed protagonist carries nothing but a cardboard suitcase full of memories and a longing to be reunited with his childhood friend, Shingi. He ends up in Shingi's Brixton squat where the inhabitants function at various levels of desperation. Shingi struggles to find meaningful work and to meet the demands of his family back home; Tsitsi makes a living renting her baby out to women defrauding the Social Services. As our narrator struggles to make his way in 'Harare North', negotiating life outside the legal economy and battling with the weight of what he has left behind in strife-torn Zimbabwe, every expectation and preconception is turned on its head."
"1988. Frank owns a music shop. It is jam-packed with records of every speed, size and genre. Classical, jazz, punk—as long as it's vinyl he sells it. Day after day Frank finds his customers the music they need. Then into his life walks Ilse Brauchmann. Ilse asks Frank to teach her about music. His instinct is to turn and run. And yet he is drawn to this strangely still, mysterious woman with her pea-green coat and her eyes as black as vinyl. But Ilse is not what she seems. And Frank has old wounds that threaten to re-open and a past he will never leave behind…"
"According to her own complex moral calculations, Katie Carr has earned her affair. She's a doctor, after all, and doctors are decent people, and on top of that, her husband David is the self-styled Angriest Man in Holloway. But when David suddenly becomes good—properly, maddeningly, give-away-all-his-money good—Katie's sums no longer add up, and she is forced to ask herself some very hard questions."
"This is the extraordinary story of a child conceived in a wild monsoon night, a boy destined to be an outsider, a man with many names and no name."
"Unpleasant things are going on in an exclusive school for girls—things like murder…Late one night, two teachers investigate a mysterious flashing light in the sports pavilion, while the rest of the school sleeps. There, among the lacrosse sticks, they stumble upon the body of the unpopular games mistress—shot through the heart from point blank range."
"Love Miss Marple? Adore Holmes and Watson? Professor Morley's guide to Norfolk is a story of bygone England; quaint villages, eccentric locals—and murder!"
"Sofia Khan is single once more, after her sort-of-boyfriend proves just a little too close to his parents. And she'd be happy that way too, if her boss hadn't asked her to write a book about the weird and wonderful world of Muslim dating. Of course, even though she definitely isn't looking for love, to write the book she does need to do a little research…"
"This is a novel about the hundreds of tiny connections between the public and private worlds and how they affect us all. It's about the legacy of war and the end of innocence. It's about how comedy and politics are battling it out and comedy might have won. It's about how 140 characters can make fools of us all. It's about living in a city where bankers need cinemas in their basements and others need food banks down the street. It is Jonathan Coe doing what he does best—showing us how we live now."
"It is the 1980s and the Winshaw family are getting richer and crueller by the year: Newspaper-columnist Hilary gets thousands for telling it like it isn't; Henry's turning hospitals into car parks; Roddy's selling art in return for sex; down on the farm Dorothy's squeezing every last pound from her livestock; Thomas is making a killing on the stock exchange; and Mark is selling arms to dictators. But once their hapless biographer Michael Owen starts investigating the family's trail of greed, corruption and immoral doings, the time growing ripe for the Winshaws to receive their comeuppance…"
"Twenty-three-year-old Zhuang (or Z as she calls herself—Westerners cannot pronounce her name) arrives in London to spend a year learning English. Struggling to find her way in the city, and through the puzzles of tense, verb and adverb; she falls for an older Englishman and begins to realise that the landscape of love is an even trickier terrain."
"They're in the prime of their lives but our bright young things are all burnt out. Six sparky twenty-somethings just out of university and working dead-end jobs, they are all bored to tears with their lives and looking for a way out. When a mysterious job is advertised in the newspaper, they all apply. What they least expect is to find themselves prisoners on a deserted island. There's food in the fridge and they have a bedroom each, but there's no telephone, no television, and no way to escape."
"In a London squat a band of bourgeois revolutionaries are united by a loathing of the waste and cruelty they see around them. These maladjusted malcontents try desperately to become involved in terrorist activities far beyond their level of competence. Only Alice seems capable of organising anything. Motherly, practical and determined, she is also easily exploited by the group and ideal fodder for a more dangerous and potent cause. Eventually their naïve radical fantasies turn into a chaos of real destruction, but the aftermath is not as exciting as they had hoped. Nonetheless, while they may not have changed the world, their lives will never be the same again…"
"How can one writer hurt another where it really counts? This is the problem facing novelist Richard Tull, contemplating the success of his friend and rival Gwyn Barry. Revenger's tragedy, comedy of errors, contemporary satire, The Information is an extraordinary novel of dark humour and piercing insight."
One Day by David Nicholls
"It's 1988 and Dexter Mayhew and Emma Morley have only just met. But after only one day together, they cannot stop thinking about one another. Over twenty years, snapshots of that relationship are revealed on the same day—July 15th—of each year. Dex and Em face squabbles and fights, hopes and missed opportunities, laughter and tears. And as the true meaning of this one crucial day is revealed, they must come to grips with the nature of love and life itself."
"Bridget Jones's Diary is the devastatingly self-aware, laugh-out-loud account of a year in the life of a thirty-something Singleton on a permanent doomed quest for self-improvement."
"The History Man is Malcolm Bradbury's masterpiece and the definitive campus novel of the 1970s. It brilliantly satirizes a world of academic power struggles and abuse at the highest level as the Machiavellian Howard effortlessly seduces his way around campus."
"At Waterloo Station, hopeful new arrivals from the West Indies step off the boat train, ready to start afresh in 1950s London."
"Adrian Mole is thirty, single and a father. His cooking at a top London restaurant has been equally mocked ('the sausage on my plate could have been a turd') and celebrated (will he be the nation's first celebrity offal chef?). And the love of his life, Pandora Braithwaite, is too busy as the newly elected MP for Ashby-de-la-Zouch to notice him. Frustrated, disappointed and undersexed, Adrian despairs until a letter from his past changes everything…"
Kraken by China Miéville
"Deep in the research wing of the Natural History Museum is a prize specimen, something that comes along much less often than once in a lifetime: a perfect, and perfectly preserved, giant squid. But what does it mean when the creature suddenly and impossibly disappears? For curator Billy Harrow it's the start of a headlong pitch into a London of warring cults, surreal magic, apostates and assassins. It might just be that the creature he's been preserving is more than a biological rarity: there are those who are sure it's a god. A god that someone is hoping will end the world."
"Enter if you can bear it—the extraordinary world of Frank, just sixteen and unconventional to say the least."
"It all hinges on one kiss. Whether Irina McGovern does or does not lean in to a specific pair of lips in London will determine whether she stays with her disciplined, intellectual partner Lawrence or runs off with Ramsey, a hard-living snooker player."
"Karim Amir lives with his English mother and Indian father in the routine comfort of suburban London, enduring his teenage years with good humor, always on the lookout for adventure—and sexual possibilities. Life gets more interesting, however, when his father becomes the Buddha of Suburbia, beguiling a circle of would-be mystics. And when the Buddha falls in love with one of his disciples, the beautiful and brazen Eva, Karim is introduced to a world of renegade theater directors, punk rock stars, fancy parties, and all the sex a young man could desire."
Comics/Illustrated Books
Nelson by Rob Davis and Woodrow Phoenix
"London, 1968. A daughter is born to Jim and Rita Baker. Her name is Nel. This is her story, told in yearly snapshots. Each chapter records the events of a single day, weaving one continuous ribbon of pictures and text that takes us on a 43 year journey from Nel Baker's birth to 2011. Based on an original idea by Rob Davis and co-edited by Davis and Woodrow Phoenix, Nelson celebrates the incredible diversity of talent in British comics today."
"Posy Simmonds, Britain's best-loved cartoonist and the author of Gemma Bovery, has now created the irresistible Tamara Drewe, a graphic novel that delightfully skewers modern mores and manners with great wit and understanding for the foibles of humanity."
Dark Satanic Mills by Marcus Sedgwick, Julian Sedgwick, John Higgins, and Marc Olivent
"Set in a near-future Britain, Dark Satanic Mills tracks a young girl's journey from the flooded landmarks of London to the vast, scorched and abandoned hills of the north."
"Paddington Bear had traveled all the way from Peru when the Browns first met him in Paddington Station. Since then, their lives have never been quite the sam…for ordinary things become extraordinary when a bear called Paddington is involved."
The Inking Woman by Nicola Streeten and Cath Tate
"The Inking Woman is a groundbreaking picture-led celebration of the work of over 100 named British artists, and a few more anonymous ones, revealing a wealth of women's wit and insight spanning 250 years."
Short Stories
"The Embassy of Cambodia is a rare and brilliant story that takes us deep into the life of a young woman, Fatou, domestic servant to the Derawals and escapee from one set of hardships to another. Beginning and ending outside the Embassy of Cambodia, which happens to be located in Willesden, north-west London, Zadie Smith's absorbing, moving and wryly observed story suggests how the apparently small things in an ordinary life always raise larger, more extraordinary questions."
"Grey Area, like all of Will Self's fiction, is funny, bizarre and disturbing. From a London where every waiter is an aspiring writer to a supply teacher killed by the colossal philistinism of his pupils, this is a truly inimitable showcase of short stories."
"Four novellas by Doris Lessing, winner of the Nobel Prize for Literature, that once again show her to be unequalled in her ability to capture the truth of the human condition."
"In these beautifully crafted stories, Graham Swift—author of the Booker Prize-winning Last Orders—presents a vision of a country, England, that is both a crucible of history and a maze of contemporary confusions."
HumoUr
Alan Partridge: Nomad by Rob Gibbons, Neil Gibbons and Steve Coogan
"In Alan Partridge: Nomad, Alan dons his boots, windcheater and scarf and embarks on an odyssey through a place he once knew—it's called Britain—intent on completing a journey of immense personal significance."
"Based around the idea that King of Spin Malcolm Tucker has lost a confidential and highly-damaging file on a train, this book is a collection of highly sensitive documents: personnel files, policy drafts, letters and emails, transcripts of phone calls, election campaign documents and top secret papers on the government's media strategy for wars and recessions. There are also more personal documents such as the early drafts of Tucker's diary, in no legal condition for publication. It's explosive stuff, which could end careers on both sides, including Tucker's own…"
"In 1995, before leaving his much-loved home in North Yorkshire to move back to the States for a few years with his family, Bill Bryson insisted on taking one last trip around Britain, a sort of valedictory tour of the green and kindly island that had so long been his home. His aim was to take stock of the nation's public face and private parts (as it were), and to analyse what precisely it was he loved so much about a country that had produced Marmite."
Plays
Jerusalem by Jez Butterworth
"On the morning of the local county fair, Johnny Byron is a wanted man. Local officials want to serve him an eviction notice, his son wants his full attention, and his motley crew of friends wants his ample supply of booze…"
"Educating Rita, about a working-class Liverpool girl's hunger for education, is 'simply a marvellous play, painfully funny and passionately serious; a hilarious social documentary; a fairy-tale with a quizzical, half-happy ending.' Sunday Times"
Further reading:
100 Must-Read Novels Set in London
30 Books for Anglophiles and Homesick British Expats
Literary Tourism: A Magical Harry Potter Guidebook to Scotland and England