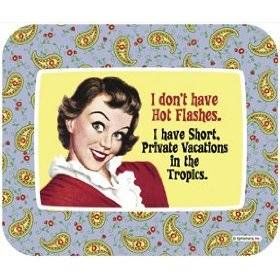 Humor
Books About Menopause, The Change O' Life
I thought I'd be jaunty with the title of this post, a wee bit of magic dust unicorn fairyland "change o'life-y" because it's not jaunty. For many women the years leading up to menopause are pure freak-on-speed. I am one of those women. Wimmen? Wymen? Whatever. I forget what I learned to call us at Smith; my estrogen is plummeting by the second.
So, books, sisterfriends (and brotherfriends, yes, there are books written about menopause for men. See No, It's Not Hot In Here, A Husband's Guide To Understanding Menopause by Dick Roth) what do you recommend reading? I'm too faint-feeling and irritable to make a good choice. I might resort to Crones Don't Whine by Jean Shinoda Bolen, which may be a great book, but I hate the title, and besides, I believe firmly that crones are well within their rights to whine, and to whine often, with all the nonsense going on in their ovaries, and uteruses (uteri?), and "warm dark inside cupboards," as Rudyard Kipling might have said. And in fact did say in the story "How The Whale Got Its Throat." Am I getting tangled up in briars and off the path of this post? This is part of the problem. I have no idea where I'm going.
Is it hot in here? No? You could fry an egg on my stomach. I'm going to open a window.
Like I was saying. I've heard good things about The Wisdom of Menopause by Christian Northrup, M.D. and Lonnie Barbach, Ph.D's The Pause. But the titles, they throw me into a pit of oh c'mon. I mean the wisdom of menopause? Really? I don't at the moment feel wise; I feel hot, and fainty and my hair is falling out, okay? So be for real with me.