Fiction
8 Books About Marriage and Secrets
This list of books about marriage and secrets is sponsored by the audiobook edition of Cape May by Chip Cheek.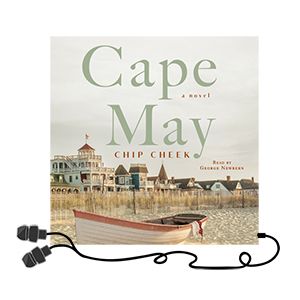 Late September 1957. Henry and Effie, young newlyweds from Georgia, arrive in Cape May, New Jersey, for their honeymoon only to find the town is deserted. Feeling shy of each other and isolated, they decide to cut the trip short. But before they leave, they meet a glamorous set of people who sweep them up into their drama. The empty beach town becomes their playground, and as they sneak into abandoned summer homes, go sailing, walk naked under the stars, make love, and drink a great deal of gin, Henry and Effie slip from innocence into betrayal, with irrevocable consequences.
---
Ah, marriage. The idea of a loving union of two people partnered together for better or worse. Loyalty, love, and all that. Except that's definitely not always the case. And some of the most gripping reads tell of marriages that fall apart or aren't what they seem. Finding out what lies beneath the surface and defines the deeper ties of a marriage can lead to emotional, thrilling, suspenseful reads. Below are eight great reads about marriages and the secrets that define them.
Lie to Me
by J.T. Ellison
Ethan and Sutton are two writers who seem to have an ideal marriage. Behind that image, the two of them don't have a partnership of love, but contempt. When Sutton disappears, rumors spread and the questions that arise bring to light secrets and truth.
An American Marriage
by Tayari Jones
A couple that defines the American Dream is torn apart when the husband is imprisoned for a crime his wife knows he didn't commit. But with him sentenced to 12 years and her falling apart, a relationship begins to form with a friend. While it may not be a thriller, it is a compelling love story that looks at the emotional lives of these three interconnected people.

Stay with Me
by Ayobami Adebayo
Yejide and Akin are married and deeply in love. They turned away from the polygamous life expected of Akin, deciding it was not what they wanted. But infertility leads Akin's family to appear with a second wife, and Yejide is prepared to do anything at all to preserve her marriage.

Fates and Furies
by Lauren Groff
The story of Lotto and Mathilde, two fabulous figures whose marriage is looked at over two decades. Groff examines marriage and the secrets that define it, through the perspective of both Lotto and Mathilde. A look at the layers in a marriage, and the way that every story has multiple sides.

A Separation
by Katie Kitamura
A woman and her husband make the decision to separate. Before they can tell anyone, he goes missing in Greece. As she goes searching for him, she begins to discover that she may not have known as much as she thought about the man she used to love or their relationship.

Before We Met
by Lucie Whitehouse
Hannah is a strong, independent commitmentphobe when she meets and falls in love with Mark. Now married, Hannah is living a wonderful life until Mark goes on a business trip and does not return. With no one agreeing on where he went, and no record of him where he said he'd be, Hannah starts to doubt everything she thought she knew about her perfect husband.

Marriage of a Thousand Lies
by SJ Sindu
Lucky is married to Krishna. Both are gay, but they have a traditional marriage to present to their conservative Sri Lankan families. They date people, but this life of illusion is what they have. Lucky reconnects with her friend and former lover, Nisha, as Nisha prepares to seal an arranged marriage. Forced to examine her own life while seeing Nisha's soon-to-be future, Lucky is left to consider the cost and worth of living a lie.

Behind Closed Doors
by B.A. Paris
Jack and Grace and charming, wealthy, beautiful. Their marriage is the envy of everyone who sees it. Even if they are newlyweds, they still inspire marital envy. And they're never apart—and that's exactly what's concerning. Grace is never out on her own, she never seems to answer the phone, and their house is extra secure. When the perfect couple isn't being watched, what actually happens behind closed doors?