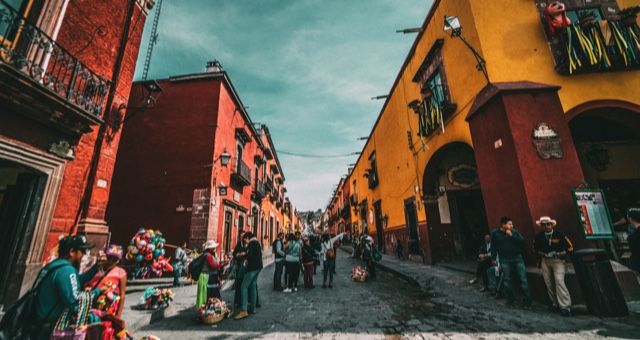 Lists
5 Underrated Reads for Hispanic Heritage Month
This content contains affiliate links. When you buy through these links, we may earn an affiliate commission.
We're celebrating Hispanic Heritage Month September 15–October 15, so now is a good time to highlight some underrated books written by Latinx authors. We need diverse books in this world because representation is of the utmost importance. There is nothing worse than cultural appropriation or inaccurate representations of people of color. Privileged individuals need to acknowledge their privilege and become allies for those who are consistently marginalized. I don't know how many racist assholes have shouted to those speaking Spanish: "Why don't you go back to Mexico?" or "Stop speaking Mexican."
It is important to note that Hispanic Heritage Month is a month to commemorate Latinx whose ancestors hail from all of Latin America, not just Mexico. This is a special month to honor all Latinx "by celebrating the histories, cultures and contributions of American citizens whose ancestors came from Spain, Mexico, the Caribbean and Central and South America." So, in no particular order, here are some excellent underrated reads that you should get to reading:
Maribel Garcia was born and raised in the Rio Grande Valley, a border region at the tip of Texas. She holds a PhD in Anthropology from UT Austin, is a former professor of Women's Studies at California State University San Marcos, is the Founder & Managing Editor of Book Club Babble, and is the author of the excellent book Profound and Perfect Things: A Novel. This is an explosive debut; one that will leave readers yearning for more from Garcia. She stays true to her Latinx heritage in this story; a story that was authentic, emotional, and an overall exceptional read. She touches on contemporary issues that include abortion and gay and lesbian lives. Summarized quickly, Profound and Perfect Things is a story of two first generation Mexican American sisters striving to build a meaningful existence outside of their traditional parent's approval and ways of life—and an exploration of the boundaries of our responsibilities to those we love. This is a beautiful story of love and loss; one that will captivate you.
Dr. Rodolfo Acuña is the Founder of Chicana and Chicano Studies at California State University, Northridge and is also regarded as one of the academic fathers of Chicano Studies. He is the author of 20 titles, 32 academic articles and chapters in books, 155 book reviews and 188 opinion pieces. Three of his books have received the Gustavus Myers Award for the Outstanding Book on Race Relations in North America and more recently Corridors of Migration: The Odyssey of Mexican Laborers, 1600–1933 (Arizona) was named a 2008 Outstanding Academic Title by CHOICE Magazine (American Library Association). Acuña has received the National Hispanic Institute, Lifetime Achievement Award, Austin, Texas, 2008 and the Center for the Study of Political Graphics (CSPG), Historian of the Lions Award, among others. Occupied America is a book that truly blew my mind when I first read it in college. It is an excellent examination of Latinx American history whose scholarship is unmatched. If you have ever wondered which book to first read to learn more about Latinx history, this is the one you need to start with. It did for Latinx what Howard Zinn's A People's History of the United States did for the marginalized, which includes the leftist school of thought.
If you have no idea who Américo Paredes is, then you are going to learn today! Paredes is recognized as one of the seminal Mexican American scholars of the 20th century. He spent most of his academic career at the University of Texas at Austin. In 1967 he helped found the Center for Intercultural Studies of Folklore and Ethnomusicology there. During the 1960s he also fought determinedly for creation of a Mexican American studies program in spite of discouraging anti-Mexican attitudes within the university. George Washington Gomez is a book that will truly blow your mind. What many people fail to acknowledge is that the Anglo-American migration of Deep South Texas, particularly in the Rio Grande Valley, severely affected Texas Mexicans, as they are described in the book. The novel is set to the background of the struggles by Texas Mexicans to preserve their property, culture, and identity. One famous line in the book goes: "Their country! There you are. Their filthy lies are all over you already. I was born here. My father was born here and so was my grandfather and his father before him. And then they come, they come and take it, steal it and call it theirs." (mic drop) This book is an absolute must-read. As a Latino myself, this book means everything to me. It will speak to you and move you in the same way that it moved me.
Gloria Anzaldúa is an absolute legend among the Latinx community, specifically communities located in Deep South Texas. It is a shame she is not held in such high regard among all communities. Anzaldúa was an educator, an author, and an activist for human rights, with an emphasis on LGBT rights. Her best-known work came in 1987 when she completed and published the semi-autobiographical Borderlands/La Frontera: The New Mestiza. This book is based on her life growing up on the Mexico-Texas border. She incorporated her lifelong experiences of social and cultural marginalization into her work. Anzaldúa's exploration of her queer Chicana identity, along with the code-switching style she used in the essays and poems found in Borderlands, was considered innovative at the time, and it has continued to influence many young writers and poets of color. Anzaldúa passed away in 2004 at the age of 61 in Santa Cruz, California. This book is a definite read!
I once saw a panel discussion between Stephanie Elizondo Griest and Francisco Cantu (author of The Line Becomes a River: Dispatches from the Border), and the panel was powerful! It was moving because of the way they both discussed the very sensitive, and highly debated, subject: The U.S.-Mexico border. Both have lived on the border, have worked on the border and have studied the border. In All the Agents and Saints, Elizondo Griest weaves seven years of stories into a meditation on the existential impact of international borderlines by illuminating the spaces in between and the people who live there. Her examination of her homeland, South Texas, and all the frequent tragedies that accompany the perplexing border seemed like a terrible coincidence, before Elizondo Griest moved to the New York-Canada borderlands. Once she began to meet Mohawks from the Akwesasne Nation, however, she recognized striking parallels to life on the southern border. Having lost their land through devious treaties, their mother tongues at English-only schools, and their traditional occupations through capitalist ventures, Tejanos and Mohawks alike struggle under the legacy of colonialism. This is a striking read that is sure to be an eye-opener. I highly recommend it.
---
I hope you enjoy my recommendations, and it is my hope that by reading these books, you will have a much better understanding of Hispanic Heritage moving forward. Happy reading!