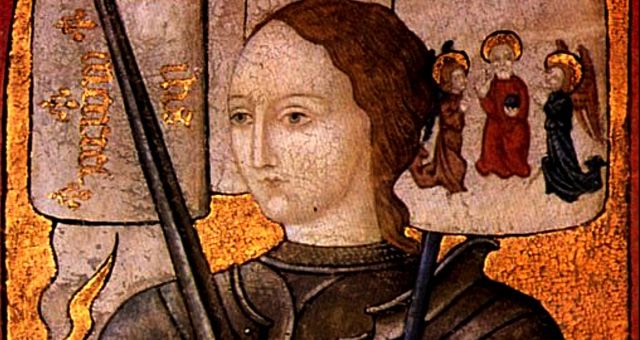 This content contains affiliate links. When you buy through these links, we may earn an affiliate commission.
Joan of Arc is one of those historical figures many people have heard of, but that not everyone knows all the details about. An illiterate French peasant girl, she claimed to have been visited by angels who instructed her to lead armies against the English. By age 16, she donned armor and was doing just that. But by age 19, at the height of her fame, she was put on trial and sentenced to death by fire.
Her story has been reimagined in manga, movies, and countless books over the years. Here are ten recent ones that help explain her story to both those familiar with her as well as those learning about her for the first time.
Note: as with much writing about European history, these books have mostly all been written by white authors.
Joan of Arc Books for Children
This book, from the Who Was/Is series, explains Joan's story in plain language. Aimed at children aged 8–12, this basic biography emphasizes Joan's bravery and how unusual it was for a young girl to accomplish all that she did.
This book has a lighthearted tone and lots of illustrations. Readers will learn the basic facts of Joan's life, as well as often grisly details about life as a 15th century French soldier.
This biography, part of the Great Military Leaders Series, is aimed at middle school readers. Combining text and illustrations, this work covers the historical backdrop of Joan's life as well as her continued prominence as both a religious and historical figure.
Joan of Arc Books for Teens
Hemphill has already written YA novels in verse about Mary Shelley (Hideous Love), Sylvia Plath (Your Own, Sylvia), and the Salem Witch Trials (Wicked Girls). In this, her latest work, she makes Joan's story personal as it imagines her voice telling her own story from ordinary girl to war hero.
Also written in verse, this book uses the voices of those who surround Joan to explore her story. These include the voices of her family and even the trees, clothes, cows, and candles of her childhood. In so doing, issues of gender, misogyny, and the peril of speaking truth to power are examined.
This graphic novel shares Joan's story in a compelling mix of text and imagery. Following the co-creators' previous works Outlaw: The Legend of Robin Hood and Excalibur: The Legend of King Arthur, this is a visually striking retelling of Joan's legendary story.
Joan of Arc Books for Adults
This book explores the possible connections between Joan and Yolande of Aragon, queen of Sicily. Yolande, like Joan, supported the French dauphin against his enemies. But despite the queen's armies and spies, victory seemed out of reach…until Joan arrived on the scene.
Author Helen Castor, author of She-Wolves: the Women Who Ruled England Before Elizabeth, here turns her lens across the pond to explore Joan's story. Referring to documents from both of Joan's trials, this book examines the first-person accounts of Joan, her family, and friends to develop as full a picture as possible of the real young woman and her life.
Novelist and memoirist Kathryn Harrison deftly weaves historical fact, myth, folklore, artistic representations, and centuries of scholarly and critical interpretation into a compelling narrative, she restores Joan of Arc to her rightful position as one of the greatest heroines in all of human history.
The flexibility of historical fiction allows Cutter to imagine the parts of Joan's story that fall between recorded history. What was her relationship like with her parents? What was it like to be a teenage girl leading armies in the fifteenth century? This is a novel about the power and uncertainty of faith, and the exhilarating and devastating consequences of fame.
---
Can't get enough history? Check out our list of 15 new historical fiction reads to pack for your summer vacation!