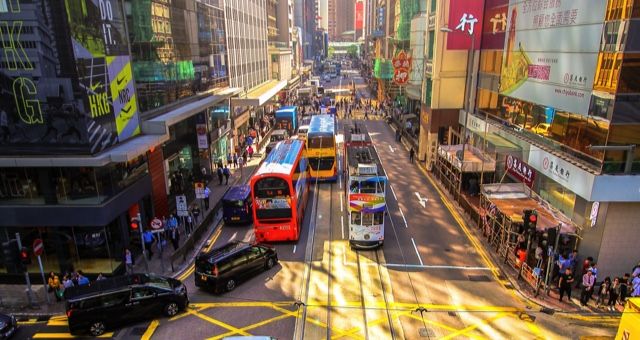 Lists
5 Books About Hong Kong to Better Understand Its Unrest
This content contains affiliate links. When you buy through these links, we may earn an affiliate commission.
As you're browsing from site to site to look for new reads, you may have noticed an article or two about what's going on in Hong Kong. But what exactly is happening?
There have been a surge of protests in Hong Kong lately, a situation that peaked in 2014. Thousands of people in Hong Kong have been rallying through major thoroughfares to decry China's advances. The police was quick to dispel them though—with tear gas and water cannons. But what exactly are they risking their lives for? Short answer: freedom and democracy as the Chinese Communist Party wants to show that it has Hong Kong's leash.
In February, Hong Kong's government started to propose an extradition bill, which was greatly opposed until now. Such is the solemnity of this bill that people from Hong Kong do the best they can to completely cancel it. Hong Kong's political system allows many activists to lambaste China, and now they fear for their lives by voicing their opinions. In 2015, five booksellers from Hong Kong-based bookstore Causeway Bay Books disappeared and later were found detained in the mainland. These kinds of "abductions" are why people from Hong Kong have been storming the streets.
To explain the situation in Hong Kong in great detail—its history with China, what provoked Hong Kong people, and what comes next—I've curated a list of five books that go deep and beyond about the topic.
A note on diversity: this list only has one female writer. This is because there aren't a lot of women who have written books on the subject. But we assure you that Hong Kong's literary scene in general is diverse. In fact, writers with different backgrounds, especially women and members of the LGBTQ+ community, are celebrated.
The best way to understand a country and its culture is by reading its history.
Considered the most comprehensive Hong Kong history book, Welsh recounts the country's origins from a "barren land" from the British occupation in 1859 until its handover to China in 1997.
A must-read, A History of Hong Kong also explores the players that shaped it to what it is now—an Asian megacity.
If you hate reading history and want to dive headfirst into the issue at hand, this account by activist Kong Tsung-gan details the factors that caused the massive protests, the reason behind them, and what the protesters have achieved so far.
An umbrella, referencing the Umbrella Movement, is used by the rallyists in 2014 to protect themselves from the tear gas thrown at them by the police. Because of its prominence, it became a symbol for the democracy they have been fighting for.
The book is a bit long—around 650 pages—and is itself a comprehensive account of what's going on in Hong Kong right now.
Part of the Penguin Specials: Hong Kong series, this one is quite a quick read. While it doesn't delve much into the history of Hong Kong, it focuses on the political movement that started in the 1960s and during 1997 when Hong Kong was handed over to China by Britain. Like other political books, it also focuses on the Umbrella Movement.
It's a perfect read for those who want a condensed version of the happenings in Hong Kong.
When the Sino British Joint Agreement was signed in 1984, Hongkongers faced a crisis. And it wasn't only their freedom that was at risk, but also their place amidst all of it.
Published in 1997 before the handover, this book explores Hong Kong's search of identity. Being a colony—of Britain for more than 150 years and now China—Hongkongers were having identity crisis. They "think of themselves as transients and migrants on their way from China to somewhere else," per Abbas' words.
Also part of the Penguin Specials: Hong Kong series, this short read unfolds Xu Xi's letter to her beloved Hong Kong—finally leaving it for good.
Part memoir, she recounts her life in Hong Kong as a child and how she came to the point to break up with it like a lover.
It's easy to imagine that when the protests fail to deliver and China finally exercises special powers in Hong Kong, many Hongkongers will leave or even be displaced from their homeland.
---
These days, it's very important to keep abreast of the state of affairs in the world. In Hong Kong's case, reading news articles about it is fine, but the nature of news delivery nowadays may make you even more confused and leave you with more questions than answers. At least with books, your experience is streamlined.
What other books do you know that shed light on this issue?