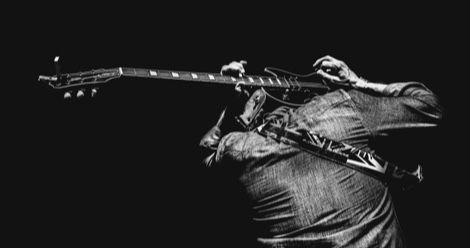 Lists
15 Headbanging Heavy Metal Novels (And A Few Other Things)
This content contains affiliate links. When you buy through these links, we may earn an affiliate commission.
Growing up in the late '80s, I wanted to infuse my whole life with heavy metal. I played guitar, I traded tapes, I wore black, I stood around with other metalheads discussing the meaning of lyrics and scowling at people. But I searched card catalogues and bookshelves for novels about heavy metal and metalheads to no avail. Today, there are many novels about music and musicians. But back then, the only books about heavy metal were published by alarmed youth ministers warning parents about the evils of backmasking.
As time went on, more (non-alarmed) nonfiction books about metal appeared, yet no novels were widely available. Now, thanks to the miracle of the internet, metal novels can be tracked down if you don't mind reading some obscure self-published things—and obscure is metal's middle name. So here are some novels (and a few other things) featuring metalheads in all our glory. (And now I'll sit back and wait for "real" metalheads to scoff in the comment section that I left something out…because that's what we do.)
Eviscerated Panda is the name of the thrash band at the center of this wordy novel written by a young English metalhead. It reads like the notes we passed in class back before cell phones existed and the diaries we kept before social media. The main character is a teenaged girl just entering the metal life, traveling around England to clubs with her friends as their band tries to "make it." You may feel like you're slogging through some of the minutiae of the characters' everyday lives (which I actually enjoyed), but it's worth it for one of the best endings I've ever read in a book. When I tracked this book down again to write this list, I discovered there are now sequels! I'm downloading every single one of them right now—along with her other series, the Diaries of Cleo Howard, which follow the late-'90s adventures of another young metalhead.
To tell you the truth, I didn't love this book. However, Heavy Metal and You is a really nice, sincere, believable little love story about a young metalhead and the non-metal girl he likes. (Wasn't that just always the way, metal sisters?) If you're like me, you'll be reading this book's music references going, "Ugh. That's not metal. That's not either!" because if there's one thing metalheads of my generation love to do it's minutely define "metal" and separate it from "false metal." (And death to false metal, obviously.) Anyway, despite my multitude of complaints, I'm really glad this book exists.
This is the first of the Florida heavy metal novels on this list. Why Florida? If you don't know, you're not a real metalhead. (That's another thing my generation of metalheads likes to define: "Real" metalhead versus "poseur.") This book somehow manages to be simultaneously realistic and far-fetched, with the musicians in question traveling from Florida to Scandinavia (and if you don't know why, again, you are not a real metalhead) in their quest for…the kind of fame that death metal has, which is to say, not much fame at all outside its insular community. But that's what makes it cool. The sequel to this book came out last year, and I haven't read it, but I will.
This is the second of the Florida heavy metal books, and it takes its name from a Sepultura album. Beneath the Remains is about two brothers brought to hot, humid, conservative Christian Florida by their mother and new stepfather. There, they find solace in the death metal community—until one of them goes missing. It's described as a "coming of age" novel, focused on the remaining brother's attempt to cope with his loss as he learns more about the dark undercurrents of his community and the world.
Well, no, these are not novels. They are anthologies of writing inspired by metal, put together in support of two metalheads (one of whom has since passed away) facing serious illness. The collections feature a diverse selection of writers who are also metal musicians, metal journalists, scholars, and artists. (Some of them appear with their own books in this list.) And let us take a moment to appreciate editor Kriscinda Lee Everitt's Despumation Press, which she created to publish metal literature. If I'm able to write a more extensive, picky list a few years from now, it will be in large part because of her. Despumation was small, but mighty.
Warning: False metal aka Hair Metal occurs in this book. For that reason, some people will instantly dismiss me for even including it, and I would probably do the same to them if this were their list. (I never said we were reasonable.) In this novel, the drummer for a famous hair metal band stopped playing music and descended into a shabby life in New Orleans, where the book takes place. He's called The Drummer, and The Singer is now searching for him because he wants to get the band back together. Murder ensues. Friendship ensues. Lots of things ensue, as is usually the case in New Orleans. So I'm putting this book on the list. Because you know you listened to Ratt and Motley Crue before you discovered Mayhem and Possessed. If you are my age and say you didn't, you are lying.
Freedom's Way is a small, conservative town. Concerts don't usually pass through there, especially black metal concerts, much to the chagrin of protagonist Reid Torrance and his friends. But now the band Vulture plans to play Freedom's Way…except the town won't allow it. Older metalheads step in and find a way…but of course that leads to the revelation of deep, dark secrets and horror—hence the subtitle. Having grown up in a small Bible Belt community, I can identify with Reid, and maybe you can too.
When this book comes out in September, I'll be standing at the bookstore waiting for the doors to open so I can buy it. If you haven't read Grady Hendrix's other books, My Best Friend's Exorcism, Horrorstor, and the nonfiction Paperbacks from Hell: The Twisted History of 70s and 80s Horror Fiction, go read them while you wait for We Sold Our Souls to come out because every single one of them is good—and the two novels are genuinely creepy. We Sold Our Souls is about a metal musician whose dastardly lead singer sold her soul…to whom? Read it to find out. The description on his website calls it "A furious power ballad about never giving up, even in the face of overwhelming odds…an epic journey into the heart of a surveillance mad, prescription popping, paranoid country where only a girl with a guitar can save us from eternal damnation." Sounds good to me.
I'm in an online book club, and someone in it asked everyone to list the book that most creeped them out. So many people listed books by Joe Hill, and with good reason: He writes some creepy things, most famously NOS4A2 (NOS4R2 in Britain), about a woman trying to save her son from a supernatural killer. Of course, Heart-Shaped Box is the title of a Nirvana song, and people of my age usually (vehemently) do not consider Nirvana metal. (I mean, come on…You know they aren't!) However, in this case the heart shaped box is the container for a ghost that the protagonist, a retired musician, has bought—to his detriment, it turns out.
This book is a memoir, not a novel, but you should read it anyway because it tells a story that is often lived but seldom discussed: That of a person of color, especially a woman, who is a metalhead…though I should also mention she's into punk and hardcore as well. (Someone's going to read this and go, "Hardcore is a kind of punk. You don't know what you're talking about." Yeah, yeah.) This memoir traces her life from young metalhead feeling alone to metal/punk/hardcore scholar, reveling in the fiercely loyal, smart, fun—and yes, flawed—community that is metal and other "extreme music."
Scottish metal singer Spark MacDahb dies and is revived by a supernatural lightning strike that connects him with the Metal Gods and the Devil, who we all know will grant musicians fame and fortune in exchange for their souls. The singer decides to rekindle his old band, but not for fame. No. They plan to defeat the Devil. But obviously there's only one way to open the portal to hell to go fight him: with the perfect metal music.
Books in Bloomsbury's 33½ series are about full albums. Sometimes they are nonfiction books detailing the album's history. Sometimes they are critical works of analysis on each song. And sometimes, like in Darnielle's case, they are novels. Set in 1985, Master of Reality describes this Black Sabbath album through the eyes of a young psychiatric patient trying to convince authorities to return his tapes to him. In describing the album, the songs, and Black Sabbath, the book reveals what metal music means to those who love it.
The first time I heard Acrassicauda on satellite radio, I literally pulled over on the side of the road to write down their name because I had to hear more of their classic thrash sound. That led me to this book and the documentary of the same title, both of which tell the true story of this incredible Iraqi band's struggle to play the music we love while bombs were literally falling around them. The band eventually made its way to the United States, where we are lucky to have them today. Read this book!
Danny is a teenager who just lost his mother to suicide. He and his older brother, both metalheads, have to find a way to deal with their huge grief. Metal music, as it does for so many people, plays a part.
Guitarist David Fairburn is deeply mourning the loss of his bandmate, Vince, who was killed in a car crash. Vince returns from the dead to finish their album—but music by the undead turns out to be dangerously addictive. Can David save everyone before it's too late? I don't know. I have not read this book, but based on the sample, it's not looking good for humanity.