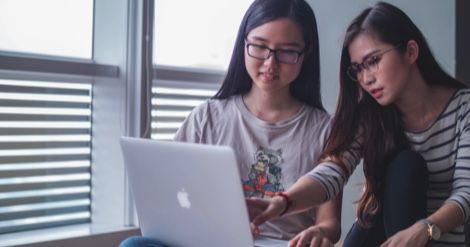 This content contains affiliate links. When you buy through these links, we may earn an affiliate commission.
With more and more women entering into STEM (Science, Technology, Engineering, Mathematics) hobbies and careers, I always like to find books I can recommend to my students who have taken an interest in science, engineering, or computers. Books about or for girls who code can be difficult to come by, but here are ten books featuring girls who code that might inspire the coding phenom in your life.
Books for Teens and Tweens
This novel is about a teen named Charlie who has always felt like she doesn't quite fit in. But when Charlie learns how to code, she finds her niche. Charlie develops her own fashion app and launches it with the help of a team of friends. However, when someone tries to sabotage her app, is Charlie up to the challenge? Told through diary entries, illustrations, and lists, this is the perfect book for teen girls who code!
Girl Code by Andrea Gonzalez and Sophie Houser
This books tells the true story of two girls who met at a teen coding camp and worked together to create their own video game. This is a relatable, funny read, and a great book for aspiring teen coders!
This is a how-to book for tween and teen girls who want to learn how to code. The book is upbeat, has quirky illustrations, and highlights various women in coding and science. Girls Who Code pairs humor with easy-to-follow directions on how to code.
Though not solely about girls, this is a great book for teens who want to dig deep with coding. With 30 different coding activities that can be done in Python, a free programming language, this book is a whimsically illustrated guide to learning to code.
This is the first in a series of middle grade fiction books about a group of middle school girls who learn to code, and learn a lot about friendship in the process. I like the diverse group of girls and the humor in this book. This is the perfect book for tweens interested in coding!
This is an easy chapter book about 10-year-old Sasha, who reluctantly takes a summer coding camp with her friends. Sasha finds out that she really likes coding, but can she keep up with how challenging it is? This book is great for 7–10-year-olds who want to see a STEM role model their own age.
Picture Books For Younger Kids
This delightful picture book is about Charlotte, a little girl who loves all things tech. Charlotte loves to code, tinker, and create. But when she receives a doll as a gift, she doesn't know what to do with it! Then Charlotte decides to use her tech knowledge to give her doll a little upgrade! This is a great book for kids ages 5–9.
Pearl is at the beach, and she keeps trying to build the perfect sandcastle, but it keeps getting destroyed. Pearl and her robot Pascal figure out a way to use code to create the sandcastle they've been dreaming of. With colorful illustrations and a simple example of coding, this is the perfect picture book for ages 5–8.
Follow redhead Ruby and her robot friends on a coding adventure! Ruby is a girl with a big imagination and a knack for tech. She has to figure out some tough clues, and she demonstrates how to use coding concepts to solve problems. This book is part story, part activity book, and it's sure to be a hit for kids ages 7–10!
This picture book biography tells the story of Grace Hopper, a computer coder who helped create COBOL. The intro of the book describes Grace as "a software tester, workplace jester, avid reader, naval leader—AND rule breaker, chance taker, and troublemaker." This story and its illustrations will draw in readers of ages 7–10.