Children's
Healthy Masculinity: 14 Books About Gentle Boys
This content contains affiliate links. When you buy through these links, we may earn an affiliate commission.
"If you're advocating for girls to have access to masculinity but not for boys to have access to femininity, you're reinforcing patriarchy." —Liz Fraser, @LizFraserRM, 16 Sept 2017 (*used with permission)
As a year, 2017 was doozy. Given that it contained both the Charlottesville rally and the #MeToo movement, it is time to take a stance on toxic masculinity and white male rage. I have a stake in this game. I am the mother of a young white boy. One of my parenting goals is to ensure that he doesn't grow up to become a sexist, racist, sexual-assaulting Nazi. #parentinggoals
As a book person, my answer to every question is books. One of my methods of combatting hate and bigotry is highlighting stories of men and boys who exhibit gentleness.
We know that reading builds empathy. Research has suggested that Harry Potter readers are strongly empathetic. NPR's podcast Rough Translation featured a man who found empathy and sanity in Anna Karenina. There is a reason Nazis fear books; empathy can defang hate.
Rudine Sims Bishop popularized the term "mirrors and windows" to describe the ways that books and narrative can relate to a reader. Windows provide readers a look into another's experience, building empathy and understanding. Mirrors validate a child's own experience and help them imagine who they might become.
I seek out mirrors for my daughter, offering her views of many different types of womanhood. I bring home stacks of windows to help my children under the lives of others. But I find that the stories which are mirrors for young boys are very limited in scope. We strive to create well-rounded girls and women in books. Why don't we push for broad depictions of boys and men for our sons? Why are "boy books" so focused on weapons and violence? Where are the gentle, nurturing boys of literature? I've got hopes that Star Wars will continue to tackle toxic masculinity, and I hope to figure out a way to support Newt Scamander's healthy masculinity (without supporting his Grindelwald). But I really want books for my son.
Step One: Son must read "window" books.
It is the job of all of us to read broadly to understand the lives and situations people in our city, state, nation, world. There is no travel to outer space so we're all stuck with each other for now.
For people in the majority perspective (i.e. white men/boys) it's easy to avoid books about a) girls, b) POC, c) LGBT people, d) everyone else. It is vitally important that we encourage our sons to read about people they will encounter. It's a lot harder to shout racist slurs about BLM or ignore Standing Rock when you begin to understand the history of African-Americans and Native peoples in America. It's a lot harder to assault women or take away the rights of transgender people when you have empathized with their full humanity. Boys (and also, everyone else) must read books as windows into the lives of others.
Step Two: Find good "mirrors" for son.
I want my son to see ways of being a man that don't require fighting and aggression. I want his future self to include nurturing, gentleness, and compassion. If he reads The Lord of the Flies, I don't want him to think, "Whelp, I guess that's all there is for me." I want him to be able to see himself as more, just the way I want my daughter to see herself as more than just a pretty princess.
And if as an adult I find my own unconscious ideas of masculinity being called into question…Well, good kids' books have something for everyone.
I do want to note that several of these books also regularly feature as LGBT-friendly books. This list isn't meant to appropriate these books away from the LGBT community but to ask more readers to see themselves in the characters. Many anti-LGBT ideas are rooted in the same limited view of what masculinity can be. I think it's about time that straight boys also help kick down masculine gender norms.
Picture Books—fiction
The Story of Ferdinand by Munro Leaf
First published in 1936, the story of a gentle bull who loves flowers and practices mindfulness is still a staple for non-normative boy stories.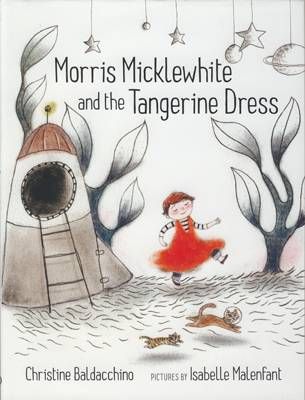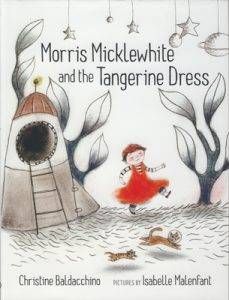 Morris Micklewhite and the Tangerine Dress by Christine Baldacchino
Morris loves to swish around in a beautiful tangerine colored dress, but the other kids at school don't understand. Despite this, Morris demonstrates confidence in himself for what he likes, and kindness to others, even if they haven't been kind to him.
The Boy and the Bindi by Vivek Shraya
A young Indian boy is fascinated with his mother's bindi, the red dot some Hindu women wear. She explains the cultural significance of the bindi, but also allows her son to wear one himself though it's usually worn by women. Similar to Morris Micklewhite above, it accepts children whatever way they dress.
William's Doll by Charlotte Zolotow
The other classic, this time from 1972. William wants a doll but his father keeps buying him "boy" toys until his grandma points out that William may want to imitate his father and practice looking after his own child. Grandmas for the win.
Last Stop on Market Street by Matt de la Pena
CJ rides the bus with his nana on their way to serve meals at a soup kitchen. He may notice that others have more materially than he does, but he learns how much he can give to help people in need.
Introducing Teddy by Jess Walton
The eponymous teddy bear worries about telling her friends that she is transgender. The boy who owns the teddy demonstrates kindness and acceptance for his friend regardless of her gender.
Frog and Toad Are Friends by Arnold Lobel
Frog and Toad are famous for their friendship. Sometimes read as queer, these two celebrate the delight in close male friendship.
The Storybook Knight by Helen Docherty
Leo is a bookish mouse knight who finds non-violent ways to defuse rampaging monsters.
Tough Guys Have Feelings Too by Keith Negley
Images of manly men shedding a tear out of sadness and frustration and pain. More of this.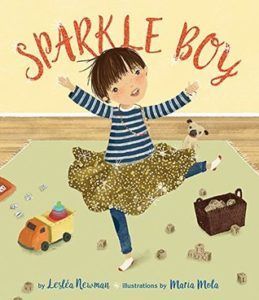 Sparkle Boy by Leslea Newman
The author of famous (or infamous) Heather Has Two Mommies is back with a brand new book about a boy who loves the sparkly things that his older sister and their abuelita enjoy. Casey's sister has to check her own young gender rules and understand that Casey has the right to be himself. Because sparkles are for everyone.
Big Bob, Little Bob by James Howe and Laura Ellen Anderson
Two neighbor boys share the name Bob, but have very different interests. Big Bob likes trucks, balls, and noise. Little Bob likes dolls, bracelets, and quiet. Yet, they can still accept each other as they are and be friends.
picture books—non-fiction
Jim Henson: The Guy Who Played With Puppets by Kathleen Krull
It is hard to find great historical men who don't have weird baggage (racism, womanizing, pedophilia, etc.), but Jim Henson does not. A creative man who worked hard to make the world kinder and more fun, Jim Henson's approach to building community with puppetry and tackling inequalities of education via public television make him a gentle man to look up to.
I am, however, still looking for a good kids book about Mr. Rogers. Send my way if you've got one! (And thank you to You Can't Touch My Hair for the Mr. Rogers reminder.)
Middle Grade Books
In the Footsteps of Crazy Horse by Joseph Marshall
Jimmy goes on a trip with his grandfather and learns about his Lakota heritage and famed Lakota warrior Crazy Horse. Crazy Horse was a great warrior, but also caring and compassionate, showing that a strong man does not have to be divorced from gentleness.
Princeless by Jeremy Whitley
This graphic novel focuses on Princess Adrienne as she takes up with the dragon guarding her tower and goes off to rescue her sisters. Still at home with her father is her twin brother, Devin. With his poetic interests, rather than weaponry, Devin is considered to be a disappointment to his father. The story continues so we may see more of Devin in future volumes.
Young Adult Books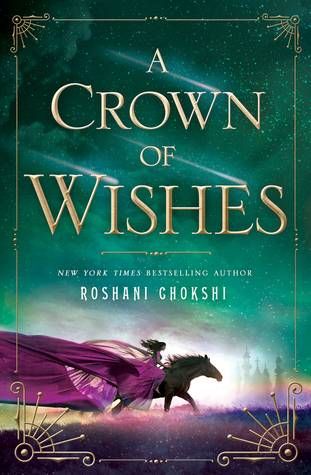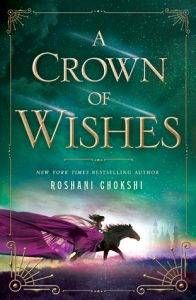 A Crown of Wishes by Roshani Chokshi
Gauri is a princess of Bharata. Vikram is the prince of the neighboring kingdom. She's a capable action heroine who doesn't want to think about her feelings too much. He's an introspective plotter who waits for her to decide what she wants. And he's supportive of Gauri and so romantic!
The Girl of Fire and Thorns by Rae Carson
A YA fantasy set in a Hispanic-style world. Elisa is the heroine, dealing with her low self-esteem and body image. Her leading man is a soldier, though he's not really present until the second book, and he's happy to defer to her as his ruler. No toxic masculinity here!
I am always looking for more stories of boys breaking down gender barriers. If you have any book suggestions of men and boys being nurturing and gentle, I'd love to hear them! And if you're looking to create some books about gentle boys, the market appears to be wide open!