Historical Fiction
By the Wrath of God, Queen of England: Books about Eleanor of Aquitaine
This content contains affiliate links. When you buy through these links, we may earn an affiliate commission.
Eleanor of Aquitaine (1122 – April 1, 1204) was a medieval firebrand, and no question about it. These books about Eleanor of Aquitaine are historically-accurate testaments to this strong-willed woman of the Middle Ages.
Who is Eleanor of Aquitaine?
From her earliest years, Eleanor's life was very different from that of many medieval women, even other noblewomen. As the heiress of the largest duchy in Europe at the time, she had to learn not only how to run a noble household, but also how possibly to run a country.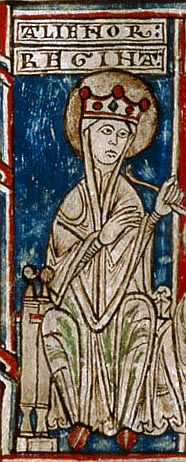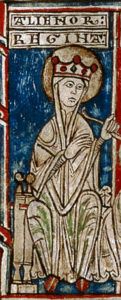 Upon the death of her father when she was around 13 years old, she became the Duchess of Aquitaine in her own right. Her only brother had died when he was four and as the elder of his two legitimate daughters, inheritance of the duchy went to her. This made her immediately the richest noble in the region, even more so than the French King.
Given that kidnapping and forced marriage were seen as reasonable ways to get a title and lands at the time, Eleanor's father had written into his will that she was his heir and appointed King Louis VI as her guardian. Louis VI arranged Eleanor's marriage to his son, the future Louis VII of France, largely from a desire to retain control over Aquitaine and bring them within the direct line of succession to the royal line of succession through Louis and Eleanor's sons.
Eleanor's lands, however, would remain separate from the Crown lands of France until her oldest son became the king of France and the Duke of Aquitaine. Since she and Louis never had sons, Aquitaine never came under control of the French crown, to Louis's consternation. Eventually, she had her marriage to Louis annulled. She famously complained, "I thought I had wed a king and found I had married a monk." She remarried within two months – without the Crown's permission and by her own arrangement, thank you very much.
Eleanor's Aquitaine court gave rise to the Court of Love, which had a tremendous influence on literature of the time. Although no one suggests that Eleanor or her court actually started the Court of Love, since ample evidence exists that proves it was flourishing before her lifetime, but it is likely that Eleanor's court and her patronage greatly influenced the popularity of courtly literature and love poems.
Eleanor of Aquitaine's life
A few tidbits about Eleanor:
She was married for almost 15 years (Aug 1, 1137 – March 21, 1152) to Louis VII of France before marrying Henry, Duke of Normandy, who would later become Henry II of England.
She accompanied Louis VII to the Holy Land during the Second Crusade, a scandalous act for a woman of her time. More scandalous were the rumors (discredited by medievalists) that she had affairs with both Saladin and her own uncle, Raymond of Poitiers, during the journey to the Holy Land.
When she and Henry married on May 18, 1152, she was 30, and he was 18.
She had two children with Louis VII: Marie and Alix, both daughters. She had eight children with Henry II: three daughters: Matilda, Eleanor, and Joan; and five sons: William, Henry, Richard (later Richard I "the Lionheart" of England), Geoffrey, and John (later John I of England).
She was the wife of two kings, and mother of two kings and two queens.
She outlived all but three of her children, including her favorite son, Richard. I know that wasn't uncommon for the time, but it still gives me the sads.
Henry II held her prisoner at Sarum for 16 years for her rebellion with her sons against his rule. She was released by her son, Richard the Lionheart, when he became King of England upon the death of Henry II.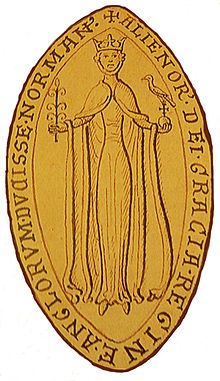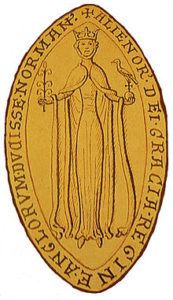 She signed a letter to Pope Celestine III, "Eleanor, by the wrath of God, Queen of England." She was a woman who knew what she wanted and wasn't afraid to tell anyone about it.
She often acted as Queen Regent for Richard I when he was away from England, which, let's be honest, was most of the time.
Many of her contemporaries were some of the most famous people in European history, and yet in her own lifetime, she stole the spotlight from them. Her contemporaries included Thomas Becket, Saladin, Bernard of Clairvaux, Hildegard of Bingen, Abelard and Heloise, and Abbot Suger.
Books about Eleanor of Aquitaine
If you're into Eleanor of Aquitaine, or generally just interested in some really (historically accurate) strong-willed women of the Middle Ages, these books are for you.
This is part of Penman's Plantagenet series which actually starts with When Christ and His Saints Slept, which is truly my favorite of all of Penman's novels. Henry II makes his debut in that novel, but Time and Chance focuses on his reign and tumultuous marriage to Eleanor. Eleanor (and Henry, too) is depicted as a very human and flawed woman, which is great. Personally, I think it's boring when famous historical figures are portrayed as either near-perfect, or wholly evil. It's too easy to impose modern sensibilities onto people who lived hundreds of years ago, and it's wrong to do so. Penman does no such thing, drawing from meticulous research to create a realistic and accurate portrait of life in the 12th century. Historical fiction rarely comes better than this!
This isn't really about Eleanor, but it is about William Marshall, her favorite knight and one of the most powerful men of his time. As a child, he was a hostage of King Stephen, Henry II's predecessor. William's father refused to surrender a castle that Stephen was besieging. When Stephen threatened to launch William, then a young child, over the castle walls with a trebuchet, William's father told Stephen to go right ahead since he had "the hammer and the anvil with which to forge still more and better sons!" Lucky for William, Stephen didn't have the heart to harm a child, and William went on to live a very interesting life, including defending Eleanor during an ambush by the de Lusignan family, becoming a signatory as a baron on the Magna Carta, and being regent of England for a time.
This is the story of Eleanor's earlier years of her reign of Aquitaine before her marriage to Louis VII. We don't often get novels set before Eleanor becomes the more well-known version of herself. This is one, and it's great.
Edited by Bonnie Wheeler and John Carmi Parsons. This is a nonfiction collection of essays by medievalists, covering practically every facet of her life. It is by and for medieval scholars but don't let that scare you off – the essays collected here are easily accessible to any interested layperson and are an absolute treasure trove of information about the woman who set the medieval world on fire.
This isn't about Eleanor, either, but the tales included here are contemporary to her and would have been familiar to both Eleanor and Henry II. The true identity of Marie de France is unknown, but one possibility is that she is actually Marie, the abbess of Shaftesbury, who was Henry II's half-sister.
---
Are there other books about Eleanor of Aquitaine you recommend? Want even more medieval reading? We've got 100 books about the Middle Ages for you to check out.