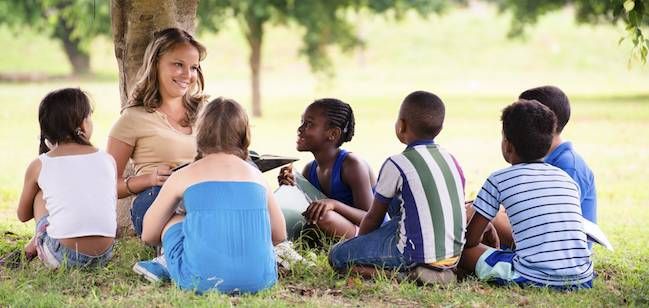 Lists
Books That Will Change the Way You Think About Education
This content contains affiliate links. When you buy through these links, we may earn an affiliate commission.
My son is in preschool, and after a prior misdiagnosis, he was finally diagnosed with two language disorders, both fairly severe. I say this because finding a preschool for him was not easy—or should I say, finding a preschool that would give him a chance was not easy. Unlike my friends, I did not have my pick of schools that I could simply tour and then apply to. Many stopped emailing or never called back once they heard about his challenges. I eventually found one for him last year that has been amazing and has enabled him to grow and thrive. This year, in addition to the preschool he was at last year, he started a half day in an inclusion classroom at a public school, and for us—I specifically say for us—it was not the best experience. The school was not well-versed in language disorders and the curriculum highlighted his language difficulties, since it was heavily verbal-language based. There was a push toward writing readiness and academics that made me very uncomfortable (remember, this is preschool, my son is 3.5), and not once did he ever bring home crafts or art projects they did in the inclusion class—because they didn't do any.
To make a long story short, I ended up withdrawing my son from the public school and he is now in his original preschool full-time. He does age-appropriate activities, plays outside with his friends, comes home with more arts and crafts projects than I know what to do with, loves books and always wants to read together, and doesn't want to leave when I pick him up. I have no doubt that this was the right move for us right now. (And I cannot emphasize enough that this is not against public schools, but simply my decision for us at this moment). But this wasn't a decision I made lightly, and I found myself wanting to learn more about education in general. Before I met with the child study team and made my decision, I did my research.
In addition to reading articles and reports, I started reading more and more about the changing environments of schools, the push toward earlier academic readiness, and surprisingly, non-traditional modes of education. I say surprisingly because both of my parents were Special Ed educators in the public school system and I never had to think about or question the traditional educational model before. With my son, I started to realize that the traditional educational system may not always work for everyone, and that's okay—there are other options out there. I buried myself in books, as I usually do, and my initial reading led me to even more reading, which led me to Instagram accounts, which circled back to more books that I found on IG, and to be honest, I have more books about education that I want to read than I ever expected.
In my reading about education and especially nontraditional modes of education, I ended up reading a lot about homeschooling, unschooling, forest schooling, and different curricula like Waldorf, Montessori, and Charlotte Mason. I'm still working my way through a large pile.
I will say this: the literature I've found is overwhelmingly white. There's a lot to unpack with this, but there's a fair amount of privilege to be able to take your child out of the traditional school system. Forest schools and private schools cost money. Homeschooling or unschooling requires a parent to be home, and thus not working outside the home at a full-time job (or at least having the kind of job with flexibility). There is more diversity in various Instagram accounts that I found—possibly because while the published books are mostly by white individuals, there has been an increase in diverse homeschoolers. In the last 15 years, the number of Black homeschoolers in the U.S. has more than doubled, to nearly 220,000. Social media and websites reflect this diversity; the published material on this subject does not. Some of those social media accounts include @amuslimhomeschool, @liberated_homescholars, @brick_city_homeschool, @themomtrotter, @ourhomeschoolheaven, and @happymuslimhomeschool.
Here are some of the books that I've read thus far that have been eye-opening to me, and are interesting reads if you want different perspectives on education.
This was one of the first books I read when I was questioning whether to keep my son in the inclusion classroom, and it was super interesting. It gave me a history of the modern traditional educational system, how it works, and how it doesn't work for all kids. There was a wealth of information about alternatives to traditional schooling, and I appreciated that there was information about learning disabilities and other challenges, and that it wasn't only geared toward parents of typical, high-achieving children. It doesn't push for homeschooling or any other agenda; it merely provides the reader with tools to better understand the education system and how to help your child get what they need out of it in order to thrive. It gives parents tools for starting discussions with counselors or case managers, and ways to advocate for your child in the education system.
If you have children, you're probably familiar with—or at least heard of —Khan Academy. Khan Academy is a non-profit educational organization whose website says its mission is "to provide a free, world-class education for anyone, anywhere." They have courses galore, and I know many homeschoolers who use KA for supplementing their curriculum or for courses in things their children find fascinating. But it's also for anyone who wants to learn something! In this book, Khan discusses the education system (much like Bauer does in the above book) and ways to change the education system and classrooms for the better. He addresses the weaknesses in the American school system and how this can change with "mastery learning." His ideas aren't for everyone, but this book provides a lot of food for thought and interesting ideas for revamping education.
I got this book in the mail a week or two before school started this year, and it felt like a sign. I was already wary about the new curriculum that was being piloted, and thinking about future options for later schooling, which included homeschool. Arment is the founder of Wild + Free, an online homeschooling community that focuses on nature, books, the freedom to concentrate on hobbies and interests, and keeping childhood playful. This book is full of gorgeous pictures and gives an overall introduction to homeschooling and various options and curricula. It's a mix of memoir and handbook, and while it's definitely not a catch-all homeschool book, it's a good resource to have, especially if you're just thinking about homeschooling or starting out.
If you ask people in Facebook homeschool groups what books you should read if you're just starting out, The Brave Learner is going to be a suggestion you'll hear over and over again—but really, this isn't even just for homeschoolers. This book can also be used to help parents nurture their children's love of learning and creativity in general, even if they're not homeschooled. That's how versatile this book is. Bogart writes in a highly accessible way, is down-to-earth, and approaches homeschooling and education from a relaxed, realistic perspective. She gives gentle nudges to parents to push through comfort zones and try new things while refraining from judgment. The online communities on Facebook and her social media accounts are also great supplements to the book.
Forest school is an educational approach that centers learning around positive outdoor experiences. Play-based learning and free play is intertwined with sustainability practices, and natural resources are used to encourage children's learning, especially emotional intelligence, confidence, and self-esteem. Especially since I'm not a very outdoorsy person, this book has specific activities and instructions that make it easy to do outdoor activities. One main idea of forest school is getting outside every day, no matter the weather. There is no bad weather, just bad clothing. With that in mind, this book has activities to do outside year-round, with the activities structured around the seasons to get your child attuned to nature. Whether you homeschool or not, this book is a good pick if you want to get out more with your child.
Sir Ken Robinson used to have the most watched TED Talk of all time (on whether schools kill creativity); while I'm not sure if this is still true, his talk is still one of the top 25 most watched—for good reason. In this book, he looks at schools: standardized testing companies are hugely profiting, teachers are stressed to the max, children are stressed and unhappy, and schools are in disrepair (in more ways than one). Robinson talks with educators and administrators on the front lines and has come up with a way to move forward and change the system for the better. He argues that all the existing school reform efforts don't actually understand how children learn or how good schools work, and we need to change the way we think about education before we can do anything else. I'm really enjoying this one and looking forward to reading his other books.
If you're interested in learning more about unschooling, this book is one to pick up. Gray is a developmental psychologist and in this book, he argues that free play is the main avenue for children learning how to problem solve, socialize, build resilience, and generally become self-reliant. This is a tenet of self-directed learning, and he weaves together psychology, anthropology, and history to show why this is so important for children.
---
Parenting is hard. If you're like me and turn to books for help or ideas, check out this post on 50 must-read parenting books, and this post on Montessori and Waldorf parenting books.