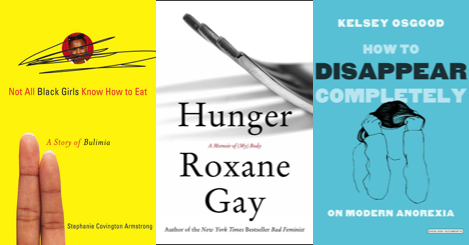 Lists
50 Must-Read Books About Eating Disorders
This content contains affiliate links. When you buy through these links, we may earn an affiliate commission.
According to the National Eating Disorder Association, eating disorders affect over 70 million people worldwide. Those numbers seem to be rising as well, due to the increased impact media has on our everyday lives. Thankfully, there are plenty of books about eating disorders out there that document the struggles of this issue in ways that are both enlightening and empowering. Here some of the best options for books about eating disorders out there, across several genres.
**Please note that the following titles might be triggering for those currently suffering or recovering from eating disorders.**
Memoirs About Eating Disorders
Stephanie Covington Armstrong does not fit the stereotype of a woman with an eating disorder. She grew up poor and hungry in the inner city. Foster care, sexual abuse, and overwhelming insecurity defined her early years. But the biggest difference is her race: Stephanie is black.
In this moving first-person narrative, Armstrong describes her struggle as a black woman with a disorder consistently portrayed as a white woman's problem. Trying to escape her self-hatred and her food obsession by never slowing down, Stephanie becomes trapped in a downward spiral. Finally, she can no longer deny that she will die if she doesn't get help, overcome her shame, and conquer her addiction to using food as a weapon against herself.
Portia de Rossi weighed only 82 pounds when she collapsed on the set of the Hollywood film in which she was playing her first leading role. This should have been the culmination of all her years of hard work—first as a child model in Australia, then as a cast member of one of the hottest shows on American television. On the outside she was thin and blond, glamorous and successful. On the inside, she was literally dying.
In this remarkable and beautifully written work, Portia shines a bright light on a dark subject. A crucial book for all those who might sometimes feel at war with themselves or their bodies, Unbearable Lightness is a story that inspires hope and nourishes the spirit.
In Brave Girl Eating, the chronicle of a family's struggle with anorexia nervosa, journalist, professor, and author Harriet Brown recounts in mesmerizing and horrifying detail her daughter Kitty's journey from near-starvation to renewed health. Brave Girl Eating is an intimate, shocking, compelling, and ultimately uplifting look at the ravages of a mental illness that affects more than 18 million Americans.
Stacy Pershall grew up as an overly intelligent, depressed, deeply strange girl in Prairie Grove, Arkansas, population 1,000. From her days as a thirteen-year-old Jesus freak through her eventual diagnosis of bipolar disorder and borderline personality disorder, this spirited memoir chronicles Pershall's journey through hell and her struggle with the mental health care system.
New York Times bestselling author Roxane Gay has written with intimacy and sensitivity about food and bodies, using her own emotional and psychological struggles as a means of exploring our shared anxieties over pleasure, consumption, appearance, and health. As a woman who describes her own body as "wildly undisciplined," Roxane understands the tension between desire and denial, between self-comfort and self-care. In Hunger, she casts an insightful and critical eye on her childhood, teens, and twenties—including the devastating act of violence that acted as a turning point in her young life—and brings readers into the present and the realities, pains, and joys of her daily life.
With the bracing candor, vulnerability, and authority that have made her one of the most admired voices of her generation, Roxane explores what it means to be overweight in a time when the bigger you are, the less you are seen. Hunger is a deeply personal memoir from one of our finest writers, and tells a story that hasn't yet been told but needs to be.
Bright, popular and a star on the rugby pitch, 15-year-old Ben had everything he could want. But then food-loving Ben began to systematically starve himself. At the same time, his urge to exercise became extreme. In a matter of months Ben lost one quarter of his bodyweight as he plunged into anorexia nervosa, an illness that threatened to destroy him.
Please eat…:A mother's struggle to free her teenage son from anorexia is his mother's heart-breaking yet inspirational account of how she watched helplessly as her son transformed into someone she didn't recognise, physically and mentally. It also describes how, with the help of his parents and therapist, and through his own determination, Ben slowly began to recover and re-build his life.
In this moving and funny memoir that spans the six years following the author's purported recovery from anorexia, Dana Lise Shavin offers a candid and ultimately optimistic window into the mindset and machinations of a mental illness whose tentacles reached deep into her life, long after she was considered "cured."
While many writers have written candidly and eloquently about their struggles with depression, addictions, and eating disorders, those stories usually conclude once there is progress toward recovery. Beyond recovery—whether from addiction, illness, the death of a loved one, or divorce—there is another story, one that is about how we re-join the world, and, in the living years that follow the darkness, pursue a life that is creative, engaged, and deeply felt in one's body.
She devoured their memoirs and magazine articles, committing the most salacious details of their cautionary tales to memory—how little they ate, their lowest weights, and their merciless exercise regimes—to learn what it would take to be the very best anorectic. When she was hospitalized for anorexia at fifteen, she found herself in an existential wormhole: how can one suffer from something one has actively sought out? Through her own decade-long battle with anorexia, which included three lengthy hospitalizations, Osgood harrowingly describes the haunting and competitive world of inpatient facilities populated with other adolescents, some as young as ten years old.
With attuned storytelling and unflinching introspection, Kelsey Osgood unpacks the modern myths of anorexia, examining the cult-like underbelly of eating disorders in the young, as she chronicles her own rehabilitation. How to Disappear Completely is a brave, candid and emotionally wrenching memoir that explores the physical, internal, and social ramifications of eating disorders and subverts many of the popularly held notions of the illness and, most hopefully, the path to recovery.
In 1989, nineteen-year-old Natasha is obsessively in love with her former teacher, Miss Williams. The tattoo she flashes around says so. Natasha meets Alex, a girl her own age, who questions her about the tattoo. An awkward romance is born. In this real-life teenage diary, Natasha records her panic at a looming LESBIAN relationship. To lose some excess fat, she starves herself of food…whilst working in a chip shop. And just to make sure she's gay, Natasha drags five boys into bed in the space of a week, a sin for which the sexuality police threaten to kick her out of the university Lesbian and Gay Society. In this coming out story and love story, Natasha struggles with clumsy attempts at heterosexuality, the sickening effects of weight loss techniques, disapproving shaven-headed lesbians, and sexual harassment in the chip shop.
All her life, Andie Mitchell had eaten lustily and mindlessly. Food was her babysitter, her best friend, her confidant, and it provided a refuge from her fractured family. But when she stepped on the scale on her twentieth birthday and it registered a shocking 268 pounds, she knew she had to change the way she thought about food and herself; that her life was at stake.
It Was Me All Along takes Andie from working class Boston to the romantic streets of Rome, from morbidly obese to half her size, from seeking comfort in anything that came cream-filled and two-to-a-pack to finding balance in exquisite (but modest) bowls of handmade pasta. This story is about much more than a woman who loves food and abhors her body. It is about someone who made changes when her situation seemed too far gone and how she discovered balance in an off-kilter world. More than anything, though, it is the story of her finding beauty in acceptance and learning to love all parts of herself.
In the first book written by the child of someone who died from an eating disorder, Daniel Becker shows us the heartbreaking details of his mother's anorexia nervosa—her unrelenting obsession with food and her inability to nourish herself. His earliest memory of her is watching as she packs her suitcase for the first of numerous hospitalizations. From the observations of that confused child to his realization of helplessness as an adult, Daniel conveys the inner world of an anorectic and her family. He provides an intimate portrayal of how he, his father and his two brothers each struggled to balance their loyalty to Mom against the increasing awareness that only by separating from her could they ensure their own survival. In the end, Daniel must come to terms with his mother's slow demise and begin to lead a life out from under the shadow of her illness.
Why would a talented young woman enter into a torrid affair with hunger, drugs, sex, and death? Through five lengthy hospital stays, endless therapy, and the loss of family, friends, jobs, and all sense of what it means to be "normal," Marya Hornbacher lovingly embraced her anorexia and bulimia—until a particularly horrifying bout with the disease in college put the romance of wasting away to rest forever. A vivid, honest, and emotionally wrenching memoir, Wasted is the story of one woman's travels to reality's darker side—and her decision to find her way back on her own terms.
At twenty-six, Cat Marnell was an associate beauty editor at Lucky, one of the top fashion magazines in America—and that's all most people knew about her. But she hid a secret life. She was a prescription drug addict. She was also a "doctor shopper" who manipulated Upper East Side psychiatrists for pills, pills, and more pills; a lonely bulimic who spent hundreds of dollars a week on binge foods; a promiscuous party girl who danced barefoot on banquets; a weepy and hallucination-prone insomniac who would take anything—anything—to sleep.
This is a tale of self-loathing, self-sabotage, and yes, self-tanner. It begins at a posh New England prep school—and with a prescription for Attention Deficit Disorder medication Ritalin. It continues to New York, where we follow Marnell's amphetamine-fueled rise from intern to editor through the beauty departments of NYLON, Teen Vogue, Glamour, and Lucky. We see her fight between ambition and addiction and how, inevitably, her disease threatens everything she worked so hard to achieve.
Teen Books About Eating DIsorders
Last year, Annabel was "the girl who has everything"—at least that's the part she played in the television commercial for Kopf's Department Store.
This year, she's the girl who has nothing: no best friend because mean-but-exciting Sophie dropped her, no peace at home since her older sister became anorexic, and no one to sit with at lunch. Until she meets Owen Armstrong.
Tall, dark, and music-obsessed, Owen is a reformed bad boy with a commitment to truth-telling. With Owen's help, maybe Annabel can face what happened the night she and Sophie stopped being friends.
wintergirls by laurie halse anderson
Lia and Cassie are best friends, wintergirls frozen in matchstick bodies, competitors in a deadly contest to see who can be the skinniest. But what comes after size zero and size double-zero? When Cassie succumbs to the demons within, Lia feels she is being haunted by her friend's restless spirit.
Tiny pretty things by sona charaipotra and dhonielle clayton
Gigi, Bette, and June, three top students at an exclusive Manhattan ballet school, have seen their fair share of drama. Free-spirited new girl Gigi just wants to dance—but the very act might kill her. Privileged New Yorker Bette's desire to escape the shadow of her ballet-star sister brings out a dangerous edge in her. And perfectionist June needs to land a lead role this year or her controlling mother will put an end to her dancing dreams forever. When every dancer is both friend and foe, the girls will sacrifice, manipulate, and backstab to be the best of the best.
"I'm fat," I hear myself saying. I look in the mirror. My face has gone hot and red; I feel like I'm going to explode. "I'm fat." It sizzles under my skin, puffing me up, pushing me out, making me massive.
Weight has always been a big issue in Carmen's life. How could it not? Her mom is obsessed with the idea that thin equals beautiful, thin equals successful, thin equals the way to get what you want. Carmen knows that as far as her mom is concerned, there is only one option: be thin.
When her mother sweeps her off to live in the city, Carmen finds that her old world is disappearing. As her life spirals out of control Carmen begins to take charge of the only thing she can—what she eats. If she were thin, very thin, could it all be different?
When Jessica was thirteen years old, she met the Monkey. The Monkey lived inside her: a driving, fiery voice telling her that thinness was the only way. The only way to be safe, to be good, to be acceptable and above all, to escape from the cold, looming threat of approaching adulthood. Jessica listened to the Monkey, and it consumed her.
This is the illuminating story of a teenage girl's wanderings in darkness: the spiral down into madness, the terrible realities of an adolescent psychiatric unit, and the stark choice that she must either tame her monster—or die.
A diary records a year in the life of Judi Leibowitz as she dreams of becoming the thinnest girl in the eighth grade and struggles to control her unending battle with calories, food, pounds, and bulimia.
Seventeen-year-old Stevie is trapped. In her life. In her body. And now in an eating disorder treatment center on the dusty outskirts of the New Mexico desert.
Life in the center is regimented and intrusive, a nightmare come true. Nurses and therapists watch Stevie at meal time, accompany her to the bathroom, and challenge her to eat the foods she's worked so hard to avoid.
Her dad has signed her up for sixty days of treatment. But what no one knows is that Stevie doesn't plan to stay that long. There are only twenty-seven days until the anniversary of her brother Josh's death—the death she caused. And if Stevie gets her way, there are only twenty-seven days until she, too, will end her life.
Paperweight follows seventeen-year-old Stevie's journey as she struggles not only with a life-threatening eating disorder, but with the question of whether she can ever find absolution for the mistakes of her past…and whether she truly deserves to.
After the death of her father, Laurel is haunted by a legacy of family secrets, hidden shame, and shattered glass. Immersing herself in the heady rhythms of a city that is like something wild, caged, and pacing, Laurel tries to lose herself. But when she runs away from the past, she discovers a passion so powerful, it brings her roundabout and face-to-face with the demons she wants to avoid.
nothing by robin friedman
"Sometimes trees can look healthy on the outside, but actually be dying inside. These trees fall unexpectedly during a storm." For high school senior Parker Rabinowitz, anything less than success is a failure. A dropped extracurricular, a C on a calc quiz, a non-Jewish shiksa girlfriendone misstep, and his meticulously constructed life splinters and collapses. The countdown to HYP (Harvard, Yale, Princeton) has begun, and he will stay focused. That's why he has to keep it a secret. The pocketful of breath mints. The weird smell in the bathroom. He can't tell his achievement-obsessed father. He can't tell his hired college consultant. And he certainly can't tell Julianne, the "vision of hotness" he so desperately wants to love. Only Parker's little sister Danielle seems to notice that he's withering away.
On the day Liz Emerson tries to die, they had reviewed Newton's laws of motion in physics class. Then, after school, she put them into practice by running her Mercedes off the road. Why did Liz Emerson decide that the world would be better off without her? Why did she give up? The nonlinear novel pieces together the short and devastating life of Meridian High's most popular junior girl. Mass, acceleration, momentum, force—Liz didn't understand it in physics, and even as her Mercedes hurtles toward the tree, she doesn't understand it now. How do we impact one another? How do our actions reverberate? What does it mean to be a friend? To love someone? To be a daughter? Or a mother? Is life truly more than cause and effect? Amy Zhang's haunting and universal story will appeal to fans of Lauren Oliver, Gayle Forman, and Jay Asher.
Jennifer can't go on like this—binging, purging, starving, and all while trying to appear like she's got it all together. But when she finally confesses her secret to her parents and is hospitalized at the Samuel Tuke Center, her journey is only beginning.
As Jennifer progresses through her treatment, she learns to recognize her relationship with food, and friends, and family—and how each is healthy or unhealthy. She has to learn to trust herself and her own instincts, but that's easier than it sounds. She has to believe—after many years of being a believarexic.
Adult Fiction
Meet Dolores Price. She's 13, wise-mouthed but wounded, having bid her childhood goodbye. Stranded in front of her bedroom TV, she spends the next few years nourishing herself with the Mallomars, potato chips, and Pepsi her anxious mother supplies. When she finally orbits into young womanhood at 257 pounds, Dolores is no stronger and life is no kinder. But this time she's determined to rise to the occasion and give herself one more chance before she really goes under.
With luminous, lyrical prose, Binary Star is an impassioned account of a young woman struggling with anorexia and her long-distance, alcoholic boyfriend. On a road trip circumnavigating the United States, they stumble into a book on veganarchism, and believe they've found a direction.
Binary Star is an intense, fast-moving saga of two young lovers and the culture that keeps them sick (or at least inundated with quick-fix solutions); a society that sells diet pills, sleeping pills, magazines that profile celebrities who lose weight or too much weight or put on weight, and books that pimp diet secrets or recipes for success.
Everyone knows a couple like Jack and Grace. He has looks and wealth; she has charm and elegance. He's a dedicated attorney who has never lost a case; she is a flawless homemaker, a masterful gardener and cook, and dotes on her disabled younger sister. Though they are still newlyweds, they seem to have it all. You might not want to like them, but you do. You're hopelessly charmed by the ease and comfort of their home, by the graciousness of the dinner parties they throw. You'd like to get to know Grace better.
But it's difficult, because you realize Jack and Grace are inseparable.
Some might call this true love. Others might wonder why Grace never answers the phone. Or why she can never meet for coffee, even though she doesn't work. How she can cook such elaborate meals but remain so slim. Or why she never seems to take anything with her when she leaves the house, not even a pen. Or why there are such high-security metal shutters on all the downstairs windows.
Some might wonder what's really going on once the dinner party is over, and the front door has closed.
Restricted takes readers into the mind of a nineteen-year-old girl named Erin. Brought on by the obsession over weight and calories, and fueled by low self-esteem, she falls victim to an eating disorder. The world she enters is a world where thoughts are overrun by fears, lies are no longer fiction, and reality is miles away. The healthy nineteen year old that used to be is replaced by a weaker girl unable to keep up with her peers. Erin's distorted thinking and actions eventually take a toll on her body and mind. In order to get better, change is the only option. The journey told starts during the height of the sickness and follows Erin through the many challenges and lessons of treatment. In order to start her process in recovery, she must face her greatest fear: herself. Based on the author's own experiences, Erin's story is not unique. There are millions around the world who are living her story, still struggling to find their way.
Every expectant parent will tell you that they don't want a perfect baby, just a healthy one. Charlotte and Sean O'Keefe would have asked for a healthy baby, too, if they'd been given the choice. Instead, their lives are made up of sleepless nights, mounting bills, the pitying stares of "luckier" parents, and maybe worst of all, the what-ifs. What if their child had been born healthy? But it's all worth it because Willow is, funny as it seems, perfect. She's smart as a whip, on her way to being as pretty as her mother, kind, brave, and for a five-year-old an unexpectedly deep source of wisdom. Willow is Willow, in sickness and in health.
Everything changes, though, after a series of events forces Charlotte and her husband to confront the most serious what-ifs of all. What if Charlotte had known earlier of Willow's illness? What if things could have been different? What if their beloved Willow had never been born? To do Willow justice, Charlotte must ask herself these questions and one more. What constitutes a valuable life?
After an episode of heart failure, Alice arrives in the eating disorder clinic of Seaview Hospital, where she detachedly watches a circus unfold…starring her perfectionist mother, Syd ("she'd been a synchronized swimmer in college"), her counselors ("the therapists are like tuning forks for epiphanies"), and the resident anorexics, bulimics, and compulsive eaters. But it is newcomer Maeve Sullivan, at once raucous and tender, with her fleshy body and hedonistic appetites, who turns Alice's adventure beyond her own distorted looking glass into a new perception of herself—and who wakens an attraction that touches Alice's soul and changes her life forever.
anthologies
Pick up a magazine, turn on the TV, and you'll find few women who haven't been fried, dyed, plucked, or tucked. In short, you'll see no body outlaws.
The writers in this groundbreaking anthology reveal a world where bodies come in all their many-splendored shapes, sizes, colors, and textures. In doing so, they expand the national dialogue on body image to include race, ethnicity, sexuality, and power—issues that, while often overlooked, are intimately linked to how women feel about their bodies. Body Outlaws offers stories by those who have chosen to ignore, subvert, or redefine the dominant beauty standard in order to feel at home in their bodies.
In our appearance-obsessed society, eating is about much more than hunger and sustenance. Food inspires pleasure and anxiety, shame and obsession. We are constantly judged on how we look, so we've come to judge ourselves (and others) on what and how we eat. Exploring the bonds between appetite and remorse, hunger and longing, satisfaction and desire, this anthology is for every woman who's ever felt guilty about eating dessert, or gushed over a friend's weight loss, or wished she had a different body.
Here, collected for the first time, 19 writers describe their eating disorders from the distance of recovery, exposing as never before the anorexic's self-enclosed world. Taking up issues including depression, genetics, sexuality, sports, religion, fashion and family, these essays examine the role anorexia plays in a young person's search for direction. Powerful and immensely informative, this collection makes accessible the mindset of a disease that has long been misunderstood.
A baby no one knows about. A dangerous hidden identity. Off-limits hookups. A parent whose problems your friends won't understand. Everyone keeps secrets—from themselves, from their families, from their friends—and secrets have a habit of shaping the lives around them. Acclaimed author Ann Angel brings together some of today's most gifted YA authors to explore, in a variety of genres, the nature of secrets: Do they make you stronger or weaker? Do they alter your world when revealed? Do they divide your life into what you'll tell and what you won't? The one thing these diverse stories share is a glimpse into the secret self we all keep hidden.
non-fiction/self-help Books About Eating Disorders
Jenni Schaefer and Ed (eating disorder) are no longer on speaking terms, not even in her most difficult moments. In her bestseller, Life Without Ed, Jenni learned to treat her eating disorder as a relationship, not a condition-enabling her to break up with Ed once and for all. In Goodbye Ed, Hello Me Jenni shows you that being fully recovered is not just about breaking free from destructive behaviors with food and having a healthy relationship with your body; it also means finding joy and peace in your life.
10 million people in the U.S., including 1 in 5 women, suffer from eating disorders. While this issue has long been associated with teenage girls, doctors are now reporting that a growing number of women are also developing these disorders later in life or have hidden these problems for years. For women in their thirties, forties, fifties, and beyond, issues of loss from divorce, death, and empty nest syndrome as well as marriage and career pressures can trigger an eating disorder.
Psychotherapist Joanna Poppink offers a comprehensive and effective recovery program for women with eating disorders, based on her thirty-year professional practice treating adults with anorexia, bulimia, and binge eating. She shares her personal struggles with bulimia, along with stories from a wide-range of clients she has counseled. Poppink primarily addresses women who have been suffering with eating disorders for years while they manage their careers, marriages, and families.
Anorexia, bulimia, binge eating, exercise addictions…these disorders can be devastating, but they are in no way unbeatable. Therapist Carolyn Costin, herself recovered from anorexia, brings three decades of experience and the newest research in the field together, providing readers with the latest treatments, from medication and behavioral therapy to alternative remedies.
Does every woman have an eating disorder? It's a bold question but one that must be asked. Why is it that today's women—successful students, career women, wives, and mothers—are struggling more than ever with food and weight? Even those who don't suffer from a clinical eating disorder seem to have some sort of issue around food and weight.
We live in a culture of culinary abundance but are taught to do whatever it takes to shrink our flesh. From an early age, women are bombarded with messages regarding what size and shape they should be, a campaign that takes a toll on their relationship with food, their self-esteem, and their health.
It's hard to go a day without seeing an advertisement for a new diet product, overhearing a conversation about weight between colleagues or a plan of attack between friends as they brace themselves for dining out, or reading a headline about our nation's obesity crisis.
The Sacred Bombshell Handbook of Self-Love is your passport to become the woman you were born to be. If you've been looking for a sign, this is it. Love-Body-Spirit™ coach, advice columnist, and motivational speaker Abiola Abrams reveals 11 self-worth secrets with assignments to awaken your feminine energy, reclaiming the word "bombshell" to mean a woman who deliciously embodies her mind, body, spirit—and joy.
Abiola's transformational coaching is buoyed by her Guyanese family lessons and overcoming personal challenges from disordered eating to a "failed" marriage. If you have everything going for you, except what you really want, this journey is for you.
Self-love is sacred. Being empowered is your "femergetic" birthright. Consider this your playbook to activate your Big, Brave, Brazen, Bombshell Breakthrough Life!
The first of its kind, A Hunger So Wide and So Deep challenges the popular notion that eating problems occur only among white, well-to-do, heterosexual women. Becky W. Thompson shows us how race, class, sexuality, and nationality can shape women's eating problems. Based on in-depth life history interviews with African-American, Latina, and lesbian women, her book chronicles the effects of racism, poverty, sexism, acculturation, and sexual abuse on women's bodies and eating patterns.
A Hunger So Wide and So Deep dispels popular stereotypes of anorexia and bulimia as symptoms of vanity and underscores the risks of mislabeling what is often a way of coping with society's own disorders. By featuring the creative ways in which women have changed their unwanted eating patterns and regained trust in their bodies and appetites, Thompson offers a message of hope and empowerment that applies across race, class, and sexual preference.
Aimee Liu, who wrote Solitaire, the first-ever memoir of anorexia, in 1979, returns to the subject nearly three decades later and shares her story and those of the many women in her age group of life beyond this life-altering ailment. She has extensively researched the origins and effects of both anorexia and bulimia, and dispels many commonly held myths about these diseases with the persuasive conclusion that anorexia is a result of personality. Using her own experience and the stories of many recovering anorexics she's interviewed, Liu weaves together a narrative that is both persuasive in argument and compelling in personal details.
"Unbearable Weight is brilliant. From an immensely knowledgeable feminist perspective, in engaging, jargonless (!) prose, Bordo analyzes a whole range of issues connected to the body—weight and weight loss, exercise, media images, movies, advertising, anorexia and bulimia, and much more—in a way that makes sense of our current social landscape—finally! This is a great book for anyone who wonders why women's magazines are always describing delicious food as 'sinful' and why there is a cake called Death by Chocolate. Loved it!"―Katha Pollitt, Nation columnist and author of Subject to Debate: Sense and Dissents on Women, Politics, and Culture (2001)
Winner of four major awards, this updated edition of Joan Jacobs Brumberg's Fasting Girls presents a history of women's food-refusal dating back as far as the sixteenth century. Here is a tableau of female self-denial: medieval martyrs who used starvation to demonstrate religious devotion, "wonders of science" whose families capitalized on their ability to survive on flower petals and air, silent screen stars whose strict "slimming" regimens inspired a generation. Here, too, is a fascinating look at how the cultural ramifications of the Industrial Revolution produced a disorder that continues to render privileged young women helpless. Incisive, compassionate, illuminating, Fasting Girls offers real understanding to victims and their families, clinicians, and all women who are interested in the origins and future of this complex, modern and characteristically female disease.
This is a warm and compassionate guide to understanding the emotions that underlie eating problems: shame, anger, guilt, sexual difficulties, and the fear of success. Clearly written for people concerned about food and weight issues, it is intended to help readers see food as their friend and nourisher, not their enemy. French Toast For Breakfast is filled with practical exercises, dialogues from actual therapy sessions, straight-forward answers to common questions, an in-depth comparison of treatment options, and a look at relapse—how to prevent it and what to do if it occurs. It also includes a unique questionnaire to help readers determine which path to peace is best for them.
poetry
For three years, Eireann Corrigan was in and out of treatment facilities for her eating disorders. By the time she graduated high school, her doctors said she was going to die if things didn't change. That July, her high school boyfriend attempted suicide. In one gunshot moment, everything was altered.
In a striking and vivid voice, Eireann Corrigan recounts these events, finding meaning in the hurt, humor in the horror, and grace in the struggle that life demands. You Remind Me of You is a testament to the binding ties of love and pain, and the strange paths we take to recovery.
Fierce and fearless, The Glimmering Room beckons readers down into the young speaker's dark underworld, and because we are seduced by Cruz's startling imagery and language rich with "Death's outrageous music," we follow willingly. Peopled with "ambassadors from the Netherworld"—the orphaned and abused, the lost and addicted—Cruz leads us through this "traveling minstrel show / Called girlhood—" which is at once tragic and magical.
Ranging from the mundane to the ethereal, the themes of Brock-Broido's first collection are interesting and sometimes startling. The poems range from those concerned with time, especially the conjunction of the past and the future; those influenced by things or places specifically American, poems that appear vaguely autobiographical; and those based on actual historical or contemporary events, usually involving, and often narrated by, a child.
Told in three parts and covering subjects such as anorexia, rape, self-loathing, love, and loss, How to (Un)cage A Girl is a celebration of girls and women in a three part poetry collection that is powerful, hopeful, authentic, and universal.
graphic novels
Like most kids, Katie was a picky eater. She'd sit at the table in silent protest, hide uneaten toast in her bedroom, and listen to parental threats that she'd have to eat it for breakfast. But in any life a set of circumstance can collide, and normal behavior might soon shade into something sinister, something deadly. This hand-drawn story of struggle and recovery takes a trip into the black heart of a taboo illness, an exposure of those who are so weak as to prey on the vulnerable, and an inspiration to anybody who believes in the human power to endure towards happiness.
As a young artist living in Portland, Lacy Davis's eating disorder began with the germ of an idea: a seed of a thought that told her she just wasn't good enough. And like ink in water, that idea spread until it reached every corner of her being. This is the true story of Lacy's journey into the self-destructive world of multiple eating disorders. It starts with a young and positive Lacy, trying to grapple with our culture's body-image obsession and stay true to her riot grrrl roots. And while she initially succeeds in overcoming a nagging rumination about her body, a breakup with a recovering addict starts her on a collision course with anorexia, health food obsession, and compulsive exercise addiction. At the request of her last real friend, she starts going to a twelve-step Overeaters Anonymous course, only to find that it conflicts with her punk feminist ideology.
Blending bold humor, a healthy dose of self-deprecation, vulnerability, literary storytelling, and dynamic and provocative artwork by illustrator Jim Kettner, Ink in Water is an unflinching, brutally honest look into the author's mind: how she learned to take control of her damaging thoughts, redirect her perfectionism from self-destructive behaviors into writing and art, and how she committed herself to a life of health, strength, and nourishment.
—
Of course, while books about eating disorders can be helpful and therapeutic, if you or someone you know is suffering from disordered eating or any related disorders, please get help beyond the written word. If you are in the U.S., the contact helpline for the National Eating Disorder Association is (800) 931-2237. Also consider speaking to a therapist, in person or online.